Marvin and Mae Acosta are proof positive that some good things are worth the wait. Last Friday, they came forward to claim their Powerball winnings of $528.8 million more than six months after the drawing.
The hefty windfall is part of the Jan. 13 Powerball jackpot of $1.6 billion, the biggest purse in U.S. lottery history.
The Acostas bought their winning ticket at a 7-Eleven store, located in Chino Hills in Southern California's San Bernardino County. Two other winning tickets were sold in Tennessee and Florida.
The couple has chosen to take the cash option, which amounts to $327.8 million before taxes. They are among 98 new millionaires for fiscal year 2015 – 2016 from the California Lottery.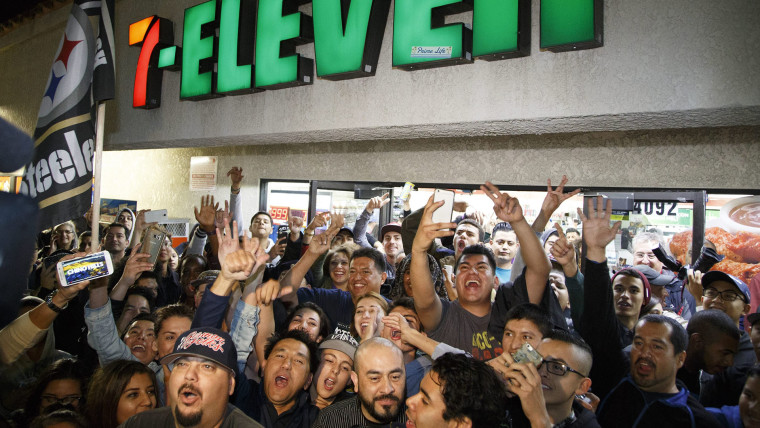 Not surprisingly, the couple is carefully eschewing the limelight, a move recommended by many financial experts. Their prepared statement issued in a lottery news release said:
"We are thankful and blessed for the rare gift that has been placed in our care. We have engaged a team of advisers to educate and guide us through this process so that we can be good stewards of these new resources. While many decisions are still to be made, we have committed nearly all of this new resource to a Trust and to charities that are important to us. While we are very grateful for the wonderful wishes and encouragement we've received, it is not our intention to become public figures, and we ask for and appreciate privacy going forward. Thank you."
RELATED: How to stay anonymous if you win the lottery
California Lottery headquarters spokesperson Alex Traverso told TODAY that before the ticket was claimed, his office received calls from attorneys claiming to represent the winner. "They asked some of the usual questions, such as, 'Can they remain anonymous?' and 'What information needs to be disclosed?'" said Traverso.
"The winners were smart and assembled a team with not only attorneys, but financial advisers, security people, and created a comprehensive plan," he said. "They had it all together when they came in Friday to get the claim process started."
Traverso said the lottery also directs winners to its Winner's Handbook, available online for free. "Start the next chapter of your life with the facts!" the site advises.
"We think it's very helpful information," Traverso said. "We don't force anyone to do anything. The Acostas may have read it cover to cover and that was very encouraging."
RELATED: 9 ways to handle your money if you win the lottery
Indeed, nearly one-third of all lottery winners go bankrupt according to the Certified Financial Planner Board of Standards. "Realize it's not a bottomless pit of money. Don't spend wildly in the belief that it'll last forever," Ric Edelman, chairman and chief executive officer of Edelman Financial Services, told us earlier this year. "A financial adviser can tell you how much income you can receive monthly from your winnings — you need to live on that amount or less."