Have you caught what's going around? No, it's not the latest winter cold, but rather lotto fever. As the new jackpot soars to a record-breaking $1.5 billion, people all over the country (and even in China) are lining up in hopes of purchasing a lucky ticket.
Update: Here are the winning numbers for the Jan. 13 Powerball drawing:
"There is not an official estimate of how many people are playing," Kathleen Jacob, public affairs specialist at the North Carolina Education Lottery, told TODAY. "But to give you an idea of how many tickets are being purchased, of all the possible number combinations that exist for the Powerball, it's estimated that over 85 percent of them will be used in Wednesday night's drawing."
RELATED: Powerball jackpot hits $1.5 billion: Here's how to stay anonymous if you win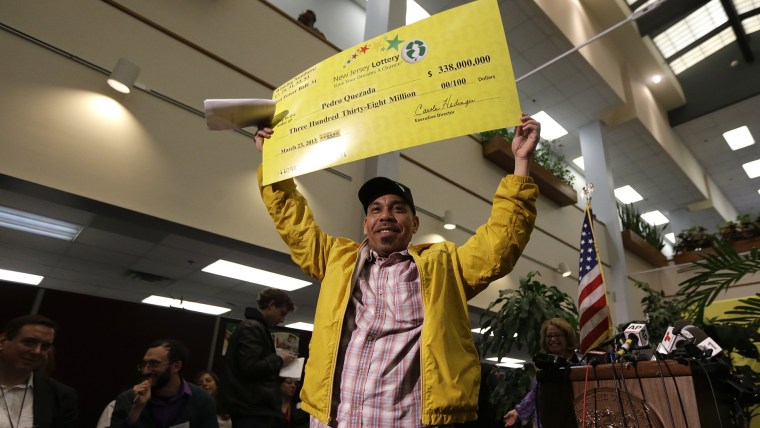 So whether it's your first time playing or you're a lottery veteran, we wanted to let you in on some basics of the game so you know exactly what you're getting yourself into and how it all works.
1. Where can you get a ticket?
It might seem like a silly question, but many first-timers might not know where to purchase a ticket — not every grocery store or bodega sells them. Log on to your local lottery website and there will be a list of stores where you can purchase your ticket. Here's a handy website to find dealers.
And if you're hoping to buy tickets online, that depends on your state. For example, in North Carolina, you can buy tickets online through a subscription service at lucke-zone.com. "However you can't buy tickets online for a same day drawing," Kathleen Jacob, public affairs specialist at the North Carolina Education Lottery, told TODAY.
2. How much does a ticket cost and how do you play?
According to the official Powerball website, tickets are $2 each unless you opt for the Power Play option. That costs an additional $1 and must be selected when you buy your ticket. Powerball players with the Power Play add-on option who win any prize other than the jackpot will win a larger cash prize — at least double the prize amount. For example, the Match 5+0 prize (all five numbers selected, but not the Powerball number) grows to $2 million instead of the standard $1 million, paid in a cash lump sum. For any lower prize amounts, you have a chance to multiply your winnings by as many as five times, or by 10 times whenever the jackpot is $150 million or less.
RELATED: 9 ways to handle your money if you win the Powerball jackpot
3. When is the next drawing?
The actual drawing will take place just after 10:59 p.m. Eastern Standard Time on Wednesday, Jan. 13. In many states, you have until 59 minutes before the drawing to purchase your ticket, according to Powerball officials. But some states might stop sales earlier, so be sure to check your local rules. The jackpot is won by matching all five white balls drawn in any order and the red Powerball.
4. Even if nobody wins the jackpot, there are other smaller prizes.
So you didn't hit the jackpot, but guess what? There's still plenty of other prizes to be had. Even though no one won Saturday night's drawing, three players who bought tickets in Michigan won a million dollars each after successfully picking the first five, according to the Michigan Lottery.
"That's why we always remind players to double check their tickets," said Jacob. "On Saturday four Powerball players won $150,000 and five players won $50,000. There's lot of other cash prizes besides the jackpot." You can win $50,000 if you have four white numbers and the Powerball, and you can win $100 if you get either four white balls and no Powerball or three white balls and the Powerball.
5. Buying more tickets boosts your chances, but not by much.
Let's be frank. The odds of you winning the jackpot are slim to none. Ticket holders have a 1 in 292.2 million chance of winning Powerball. That's been compared to flipping a quarter and getting heads 28 times in a row.
So buying more tickets increases your chances though right? Yes and no. For example, if you buy 10 tickets, you have 10 times the odds, but you're still up against tremendous odds. Even if you buy 100 or 1,000 tickets, you still are only increasing your chances of winning by very little. The only way to guarantee a win would be to buy every possible combination, which would end up costing you $584.4 million.
RELATED: How to improve your chances at winning the Powerball
6. It's best to use Quick Pick…sort of.
Have your lucky numbers? Want to use your grandmother's birthday as part of your theoretical winning combo? "The odds of winning the jackpot are the same no matter how you choose your numbers," said Jacob. "Because more people use Quick Pick, more winning tickets are Quick Pick tickets. You are just as likely to win a prize if you choose the numbers yourself."
But, according to Lottery World, "Quick Picks are popular as they generate numbers completely randomly, giving the player a better chance of covering the number matrix of that particular lottery. Given that the majority of special numbers chosen are linked to calendar dates and therefore picked from a smaller range of 1 – 31, there is an increased likelihood that should your numbers come up, you will be sharing the prize."
7. Non-winning tickets can be used again.
Didn't win the jackpot? You can actually use the same ticket again to enter second-chance drawings. It varies by state what the exact process is to enter, so it's important to check your local website to find out the exact rules. "Some states including North Carolina have a replay option for players," said Jacob. This option simply makes it faster and easier for a player to reuse the same numbers. There's also other second-chance drawings where you can win a variety of prizes from cars and Superbowl tickets to cash depending on the state. It's free, so why not?
8. Take into account how much you'll have to pay in taxes.
While the jackpot number keeps rising, so too does the amount of taxes you'll have to pay if you win. "Everyone talks about winning, but few consider the tax implications," James W. Oliver Jr., who runs J.C. and Associates Tax and Financial, told TODAY.
"If Joe Lucky was fortunate enough to win the $1.4 billion jackpot, his taxes would be (assuming that he is single and was laid off (no job), $554,345,687. He would get a standard deduction of $6,200 because he is single. But he would not be allowed to claim his exemption of $3,950 because his winnings phases out his exemption. Mr. Lucky's effective tax rate would be 39.6 percent so we could round that up to 40 percent. And we have not considered state and/or local taxes depending on where Mr. Lucky lived, and his taxes would change a little bit if he were married."