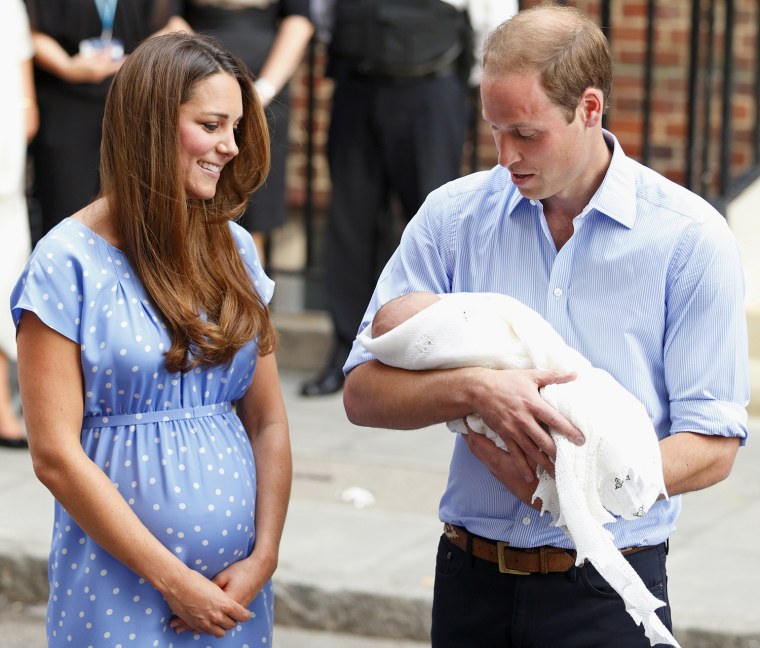 She wore a lovely blue dress and carried the future king of England in her arms, but something else caught the public's attention when Duchess Kate emerged from St. Mary's hospital after giving birth.
All eyes were on the 31-year-old royal's cinched waist and the remnants of a baby bump clearly visible on Kate's famously thin frame as she showed off her infant on Tuesday.
Now, her decision not to hide her post-pregnancy body in a flowing gown or try to squeeze it into Spanx-like shapewear is getting kudos from women around the world.
The founder of Netmums, a popular online U.K. parenting site, praised Kate for being a healthy role model for mothers everywhere and dispelling the myth that all women should be "perfect postpartum."
"In a couple of minutes on the steps of the Lindo Wing, Kate has done more for new mums' self-esteem than any other role model," Siobhan Freegard said, according to a post on the site.
"Sadly, too many celebrities often have ultra-fast tummy tucks or strap themselves down to emerge in tiny size six jeans, leaving everyone else feeling inadequate. Kate shows what a real mum looks like - and natural is beautiful."
Kate's body pretty much looked like that of a typical woman one day after giving birth, said Dr. Iffath Hoskins, an associate professor in the department of obstetrics and gynecology at New York University School of Medicine. The baby bump will decrease after the child, the fluid and the placenta are out, but the muscles of the uterus continue to be enlarged and expanded, she added.
It takes about six weeks for the uterus to shrink back down to its pre-pregnancy size, said Dr. George Macones, a professor in the department of obstetrics and gynecology at the Washington University in St. Louis School of Medicine.
Exercise has no effect: the uterine muscles get smaller on their own with time, both experts said.
Kate's natural post-pregnancy look got the thumbs up from many new mothers.
"Best part was that Kate actually looked like she had just given birth!" one commenter wrote on the TODAY Moms Facebook page.
"She looked great! I'm sure many women don't want many people to see the post baby tummy only a day after birth. I didn't," added another.
What do you think about Kate's decision to show her bump? Let us know on the TODAY Moms Facebook page.