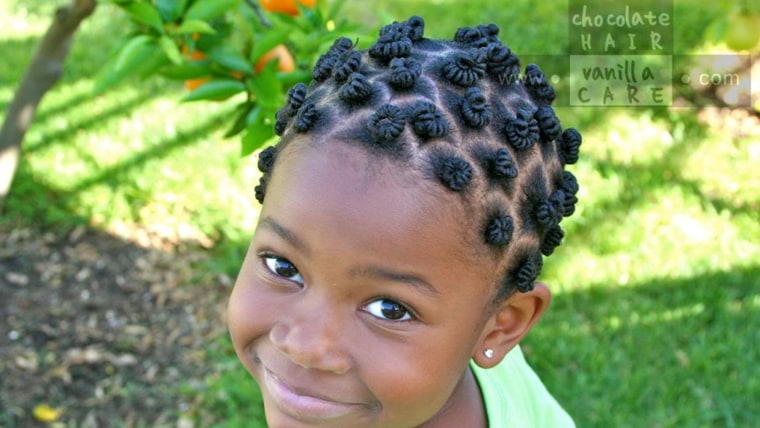 African-American women know well the work and time it takes to keep their hair healthy, styled and maintained. But what happens when you're the non-black parent of an African-American girl? How does one learn the ins and outs of curls and cornrows, beads and braids?

The answer used to be trial and error, or guidance from African-American relatives or friends. But now a bevy of blogs demystify black hair care for kids, aimed at adoptive parents of black daughters, moms in interracial families, and even African-American moms who just want to learn more.
When Rory Mullen adopted her baby at 6 days old, caring for her daughter's African-American hair was not big on her list of worries.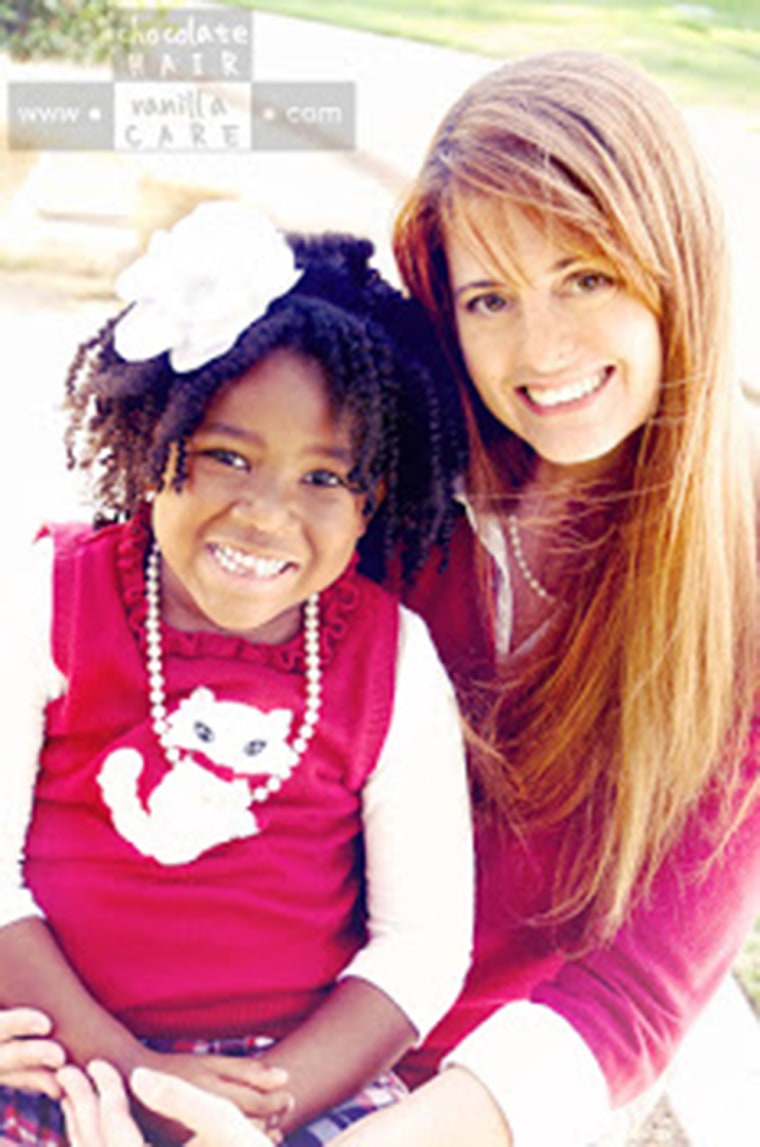 Mullen, who is white, says, "I was a motorcycle riding tomboy who wore nothing but ponytails underneath my helmet, so caring for my own hair was something I never did." And since her baby daughter Boo (a family nickname) arrived with a full head of hair, Mullen knew she was going to need help.
In 2010, when Boo was 2, Mullen started the blog Chocolate Hair/Vanilla Care, to chronicle the mother-daughter journey of Boo's haircare. At the time, she says, while there were blogs for adult hair care and products, there weren't many geared to younger kids. Initially, her audience was mostly other trans-racial adoptive parents. "So many times adoptive parents want to know what 'miracle product' will 'fix' their child's hair," she says. "They are usually disappointed with my answer. First of all, there's nothing about the hair that needs to be 'fixed' or 'tamed' or 'controlled'—the thing that needs to be addressed is the understanding of the unique requirements of natural hair." (Natural hair refers to the natural texture of African black hair that has not been altered by flat irons, hot combs or chemicals.)
So Mullen's blog content has always focused on natural hair care, although she also writes about everything from adoption to crafting. She covers seasonal hair maintenance and styling and has created a vast library of amazing hair styles with intricate names like, "Cornrows into a Puff with Front Side Bang" and "Versatile Yarn Flat Roe Twists Up-Do." The name of her blog was inspired by a book she read while preparing to adopt, "I'm Chocolate, You're Vanilla: Raising Healthy Black and Biracial Children in a Race-Conscious World."

Toronto mom Megan Wiigs was inspired to start "Hair-raising Adventures" after reading blogs such as Mullen's. Wiigs, a speech pathologist, is white and her husband is black. When their daughter JJ turned one, her hair texture changed significantly, says Wiigs. "Being a fan of big curly hair, I loved her growing 'fro," says Wiigs, who noticed that many people in their ethnically diverse neighborhood would comment positively about JJ's "big, wild, crazy head of hair."
But Wiigs says that others "would look at her hair, shift their gaze from her hair to me, and then quickly look away. I began to see a pattern in terms of these opposite reactions. In general, people who were not black loved her big hair and went out of their way to tell me so. People who were black looked away."
At first Wiigs didn't worry about it. But every time she visited her husband's family, they would insist on doing her daughter's hair, and Wiigs was always surprised by how good the hair looked after being well-vaselined and coaxed into twists and braids.
Her "aha" moment came when a black friend warned her that if she continued to leave JJ's hair loose, "it would get more and more knotty, break, and possibly even lock, or form dreadlocks. She went on to say that I needed to put JJ's hair into braids or twists, to protect it."
Wiigs was surprised to find that hair bloggers included not just white moms, but also lots of black moms, "some of whom didn't have a lot of experience with natural hair because they had been relaxing their hair since they were children themselves."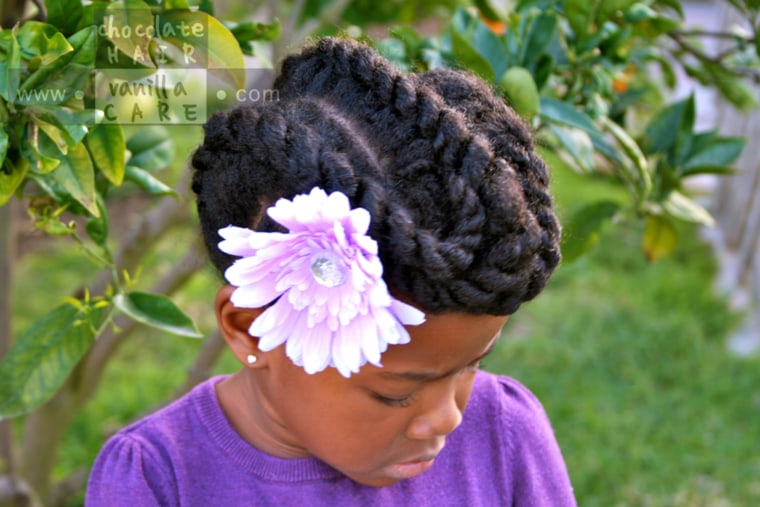 Wiigs, who no longer updates her site, looks back fondly on the hair education and the friendship she got from other moms via blogging. "They laughed with me when I tried to put too many beads in JJ's hair, cried with me when she cut a chunk of hair out when I wasn't looking, and counseled me when JJ wanted her hair in extensions," she says.
Tiffany Pinnix, an African-American mom of two in southern California, started the blog Diva Locks in 2011 because she wanted to document her daughter's changing hairstyles.  
Pinnix says that moms of all races come to her blog looking for styling advice, and she says that hair care for her daughter Jordyn, now 10, has been a continuous learning curve. "I didn't know how to do a cornrow braid when I first started this hair journey. I've definitely improved in styling hair and also improved in my knowledge of hair care as well, and that's the most important thing."
Now 6, Mullen's daughter Boo is well-versed in styles and haircare, says Mullen, "such as the personal responsibility she must undertake when wearing her curls free." She will often give Mullen drawings of what she wants her hair to look. (Some of her favorites styles are done in shapes and characters, such as hearts and shamrocks or Hello Kitty and Mickey Mouse.) Boo's hair is usually styled once a week, but she also wears what Mullen calls "protective hair styles," which can last a month or two.
"What I love most is my daughter appreciates her hair and has never thought of it as a burden. Whereas some people feel that sitting for long hours to do hair would be unreasonable for a child, her perspective is quite the opposite," says Mullen. "She doesn't understand how some girls have to do their hair every day. That's just crazy to her."