Millions of American children are no longer going over the river and through the woods to get to grandmother's house. They're already living there — in many cases, with their parents.

The weak economy has caused more young adults to move back in with their parents, and some of those kids are bringing their own children along with them.
That's a mixed blessing for grandparents. While it's nice to have a new generation to dote on, it also means having to adjust to diapers, night-time crying and baby-proofing just when parenting responsibilities should be winding down.
"There's nothing like grandkids," said Elizabeth Harvey, 50, whose daughter and grandson are currently living with her and her husband at their home in St. Louis. "But, you know, I keep saying it would be nice to be a grandma from a different address."
The crowded house also means that the joy of being a new grandparent can quickly be tempered by stress more akin to being a new parent.
"It's an overwhelming feeling. I mean, you've already raised your kids and now you're going back and starting over again," said Anne Leone, whose household includes two teenagers, her adult daughter Joanne, her daughter's boyfriend and their baby.
The situation isn't that uncommon. A Pew Research Center report released earlier this month found that about 7.7 million U.S. children were living with a grandparent in 2011.
In eight out of 10 of the cases where a grandchild was living with a grandparent, the Pew researchers found that at least one of the child's parents also was in the household.
The number of grandchildren living with their grandparents rose sharply during the recession that ran from 2007 to 2009. It has since appeared to stabilize at those higher levels, according to the Pew analysis.
Related: Are you unable to save enough for retirement?
Gretchen Livingston, a senior researcher with Pew Research Center and the report's author, said that suggests even as the economy slowly got healthier, many of these young families continued to struggle to make it on their own.
"There seems to be a lag time in the recovery," Livingston said.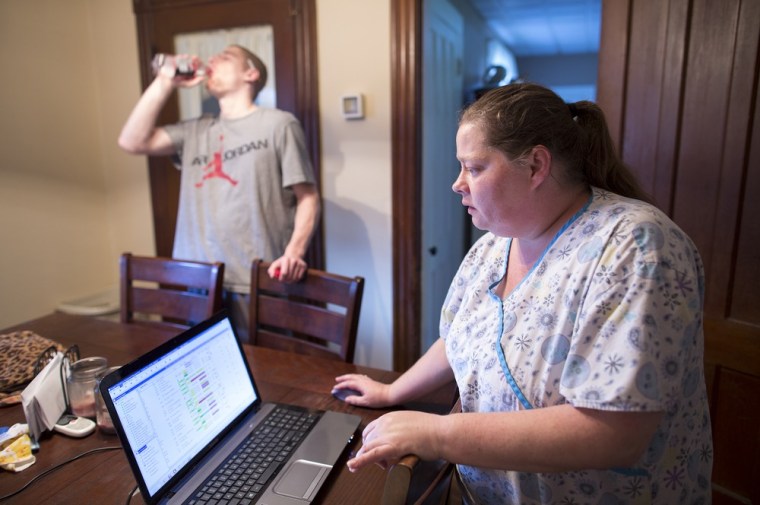 A surprise baby
Leone, who is 42 and divorced, initially thought her daughter Joanne was joking when she revealed that she was pregnant.

"It was a surprise," said Joanne, who is now 20 and mom to an 8-month-old baby boy.
Joanne said she hoped her young family could find a place of their own. But even though both she and her boyfriend work as aides in the same hospital as Anne, Joanne said they quickly realized their paychecks would not be enough to cover rent and other expenses.
The advantage of living with her mom is that she has her family around to help out with child care and parenting advice. But both she and Anne also say it can be hard for the new parents to establish their own parenting routines while living under grandma's roof.
"I try to stand back as much as I can and let them be parents, but that's difficult," Anne said. "Your nature is to just jump in."
The bustling household is also more expensive. Anne often puts in 12 hours a day at the hospital where she works as an emergency room nurse manager, and yet she still mostly lives paycheck to paycheck. She's cashed out her retirement to keep up with housing costs.
"It's strapping me in that aspect, because by the time I retire I'm going to have nothing left," she said.
Coming closer together
Harvey, the mom in St. Louis, said she and her husband had become accustomed to living on their own when her daughter, Tameka Jenkins, said she would be moving back in with her baby boy in tow.

"Once the children had left the house we had become selfish," said Harvey, who works part-time for the Social Security Administration and keeps busy running a side business and staying active with her church.
Still, she said that having her daughter and grandson in the house also has taught her to be more patient and compassionate, among other benefits.
"What it has done is caused our relationship to be closer, whereas I thought for years we really didn't have a relationship that I wanted to have," Harvey said.
For Jenkins, 27, it's been especially difficult to move back in because her family places a strong value on independence.
"I love my parents and I'm grateful for them, but I'm just – I'm used to having my own bubble," Jenkins said.
Jenkins was in the midst of what was supposed to be a brief stay at her parents' house when she found out she was pregnant in December of 2011. She found her own apartment and landed a job as an admissions representative for a small college.
But then her son was born, and the evening hours her job demanded combined with the stress of raising a new baby with multiple allergies started weighing down on her.
She gave up that job and took another one, which didn't work out. This past June, she moved back in with her parents.
Jenkins said it's been hard to keep her spirits up while she juggles being a single parent with trying to find a good job. After attending college on and off, she also is still trying to finish her college degree.
She has found support and strength from her church and from the memory of her late grandmother, who she said was a stickler for getting an education.
"The only thing that keeps (me going), honestly, is God and my grandmother," she said.
Allison Linn is a reporter at CNBC. Follow her on Twitter @allisondlinn or send her an e-mail.