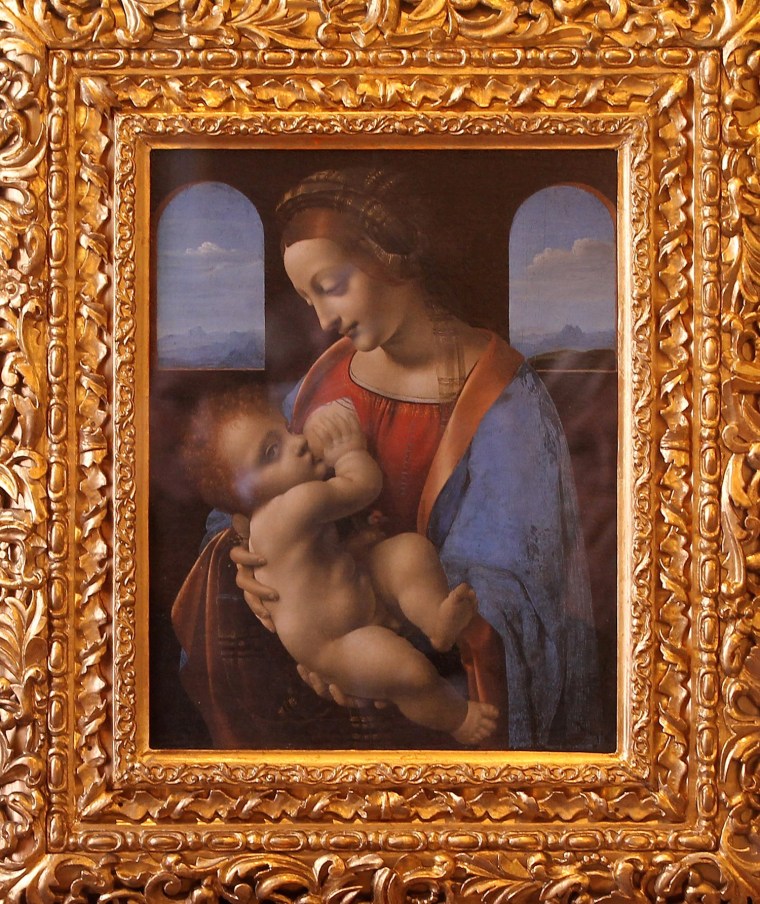 Supporters of public breast-feeding, you've got a friend in high places: The Vatican.
In an interview with La Stampa, a daily Italian newspaper, Pope Francis seemed to endorse the idea of nursing in public. As he was asked about the problem of hunger, the pope recalled a woman he encountered with a crying, hungry baby:
"There are so many children that cry because they are hungry," the pope said in the Sunday interview. "At the Wednesday General Audience the other day there was a young mother behind one of the barriers with a baby that was just a few months old. The child was crying its eyes out as I came past. The mother was caressing it.""I said to her: madam, I think the child's hungry.""Yes, it's probably time…" she replied."Please give it something to eat!" I said. "She was shy and didn't want to breast-feed in public, while the Pope was passing. I wish to say the same to humanity: give people something to eat! That woman had milk to give to her child; we have enough food in the world to feed everyone."
The pope is clearly making a point about feeding the world's hungry: We have the resources to do it, he's saying, so we should. But he's also got a more literal point: If your baby is hungry, you should go ahead and breast-feed, even in public, even if you're in the presence of the pope himself.
"So Francis is backing breast-feeding in public! That is sure to warm [the hearts] of pro-nursing feminists and maybe raise a few eyebrows among the traditional set," wrote David Gibson of Religion News Service. But, he also notes that the pope's sentiment rings true with religious tradition.
"The earliest symbol of God's love for humanity was the infant Jesus at Mary's breast," Gibson wrote.
The popular pope was recently named Time magazine's person of the year and has won praise for his humility and common touch as he has espoused a more inclusive Catholic Church. Now many mothers, Catholic and not, are joining the chorus of praise.
Commenting on Gibson's story, a woman named Audrey wrote: "As a breast-feeding mother and a non-Catholic married into a Catholic family this article put a smile on my face … maybe I will go to Mass after all."
The New York Times' Motherlode blog noted that the pope has not shied away from nursing mothers, kissing an infant who was being held next to another baby being breast-fed.
"I nursed my baby whenever was needed during Mass," wrote Gloria, a commenter on the Motherlode blog. "I was always discreet... my baby would always drift off to sleep afterward and I could once again participate fully in the celebration of Mass. It is great to see the Pope validating such natural, human interactions between mother and child."
Denene Millner, who blogs at MyBrownBaby, wrote that although she's not Catholic, Pope Francis' message "just might make me stop in my nearest Catholic church for a service or two."
She recalled going out of her way to make sure she would not need to nurse her daughters in her own Baptist church, feeling that breast-feeding in church would "incur the wrath of the good deaconesses and church ladies who were so very modest that they handed out handkerchiefs to any women who sat in the front pews in skirts and with bare knees."
Millner wrote that she even missed part of her mother's eulogy to feed her baby in the lobby, a decision she regrets.
"I'm not sure that Pope Francis holds any sway over the Baptist church or heathens or anyone who falls in between," she wrote. "But I do know that I'm digging that dude — for his stance on homosexuality, abortion, poverty and now, a mother's right to feed her baby on demand, wherever our children demand it. Go 'head, Pope Francis."