It's an easy mistake to make. You're running out the door in icy temperatures and you throw a chunky winter coat on your child before jumping into the car. But what's cozy for kids as they play outdoors isn't necessarily the safest when buckling up.
Bulky winter coats can pose a serious threat when worn under the straps of car seats and even booster seats, by creating too much space in between your child's body and the harness itself.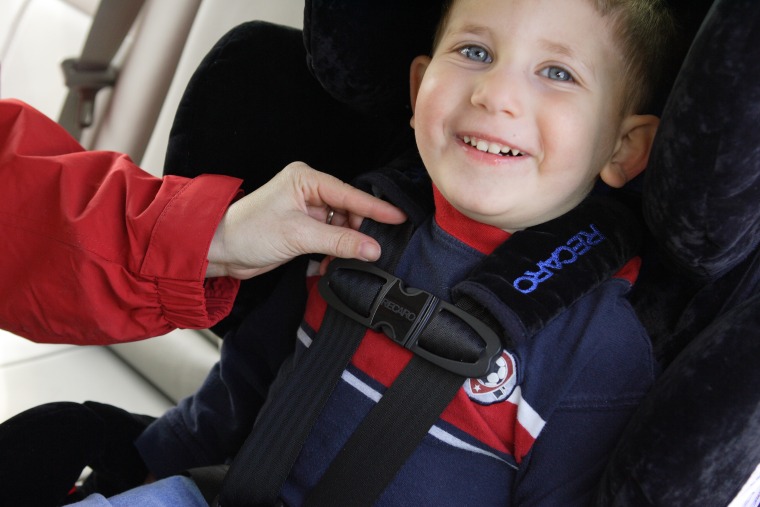 "Anything between the child and the straps is compressible; it's like having space, which creates more risk that the child could thrust forward into the straps in the event of a crash," said Dr. Benjamin Hoffman, medical director of the Tom Sargent Safety Center at Doernbecher Children's Hospital in Portland, Oregon.
An expert on the subject of child safety, Dr. Hoffman says that the first rule of thumb when you buckle your child up is that you don't want them wearing anything more than what they'd be wearing indoors, such as a sweatshirt or a sweater.
"Car seats are designed to be tightly attached to the vehicle and the child attached tightly to the car seat," explains Dr. Hoffman. "Anything that interferes with that increases injury."
Dr. Hoffman says that when teaching technicians how to safely install car seats, they use a fairly straightforward trick. With your thumb and your index finger, pinch the harness near the child's collar bone. If you are unable to pinch any excess webbing when you pinch the strap, the harness is considered snug enough. This is called the pinch test and it is one of the top five things to keep in mind when you do a car seat checkup, according to Safe Kids Worldwide.
To keep warm, Dr. Hoffman suggests several tricks to keep your child safe and comfortable while driving.

"If it's an older child, take their jacket and put their arms through it backwards over the harness. If the child is younger, tuck a blanket around the straps. There are some items that aren't manufactured by the car seats to keep a child warm, but we don't recommend using anything that alters the way a child interacts with a car seat. The bottom line is that nothing should come between a child and the car seat straps."
This doesn't just apply to young infants; children in booster seats should follow the same rules.
"This goes back to basic physics. If a car is going 40 mph. every person in it is also going 40 mph until something stops. The best thing we can do is attach the body as tightly as we can to the vehicle itself."
Taking the time to remove your child's coat before buckling up might feel like a hassle if you're running out the door, but this extra step can make a serious impact.
"I can see why this approach could be considered difficult," says Dr. Hoffman. "But remember, most crashes occur within 6 miles of home at relatively slow speed. But even at 30 mph, the force on a 10-pound infant is more than a 10-pound bowling ball falling from a 3 story window. Take the time -- I've seen what can happen in the event of a crash."