It's been a mother-daughter reunion 27 years in the making, marked by anguish, mystery and a happy ending thanks to social media.
Katheryn Deprill, dubbed the "Burger King baby," is finally getting to know her biological mom, Cathy Pochek, after an emotional appeal on Facebook went viral last month.
On Thursday, the two women clutched tissues as Pochek spoke publicly for the first time in a TODAY exclusive interview. They were joined by Brenda Hollis, Katheryn's adoptive mother.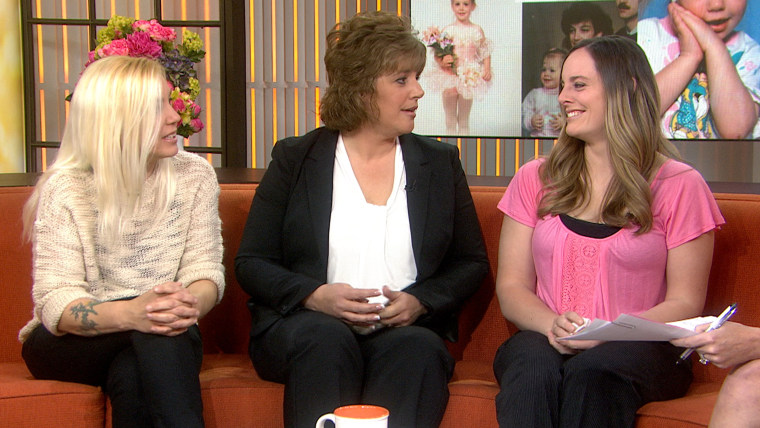 Deprill and Pochek recalled their first meeting.
"It was very exciting, just lots of emotions," Deprill said. "And actually, it was kind of awkward." 
A hug broke the ice.
"I was extremely nervous," Pochek said. "I knew I was at the advantage, because I had seen interviews that she had done, and I was just so proud of her, and how articulate she was in expressing her feelings, and grateful for her mom for a beautiful childhood that she gave her." 
Deprill was found wrapped in a red sweater in the bathroom of a Burger King in Lehigh Valley, Pa., on Sept. 15, 1986. She was adopted by Brenda and Carl Hollis, who revealed the dramatic story to her at age 12 when she was working on a family tree project for school.
Deprill has been talking about finding her birth mom for a long time, so her adoptive mother recently suggested she turn to social media for help. 
"I said, 'Why don't you put it on Facebook just for fun and see what happens?' Never in a million years did we expect this to happen," Hollis recalled.
On March 2, Deprill posted a photo of herself on Facebook holding up two pieces of paper that explained her birth story and asked for help finding her biological mother.
"Please help me find her by sharing my post," it read in part. "Maybe she will see this."
She saw it, indeed, along with almost 33,000 people who shared the post. Pochek reached out to an attorney to make the connection and the two women met for the first time on March 24th.
Pochek, 44, says she was raped on a spring break trip when she was 16 years old, but she never went to the police or told anyone — not even her parents — about the attack. She hid the pregnancy and feared she would be questioned if she took the baby to a hospital, so she says she gave birth by herself in her bedroom, then left Katheryn at the Burger King.
Pochek acknowledged that by coming forward, she was risking being judged and criticized for her actions, but felt it was important to share her story.
"If we can help some other girl who is in the situation that I was in, it's worth a little bit of judgment that people might bring upon us. If it's just one girl that we can help, it's worth it," Pochek said.
Deprill is now a mother of three, while Pochek is married and has a 23-year-old stepson.
They marveled at several coincidences in their lives. They're both emergency medical technicians, drive the same make and color car, and have almost the same name: Catherine Anne and Katheryn Ann. And perhaps the oddest coincidence? Pochek babysat Deprill's husband when he was young.