The ultrasound tech squirts gel on her belly, the expectant mom looks at the beating heart on the flickering screen, and a dozen friends and family members huddle in for a closer look -- drinks in hand.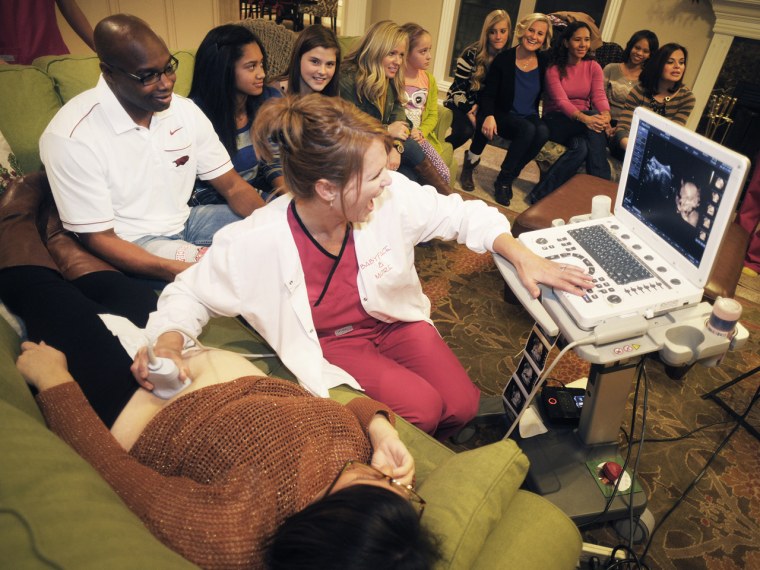 Welcome to the new frontier in pregnancy oversharing: the ultrasound party. Good luck selecting the right gift.
Thanks to improved ultrasound technology, parents-to-be can now invite friends and family to share in an intimate viewing of baby in utero.
"It's our opportunity to see those little fingers and toes again," said Kimberly Enderle, a 29-year-old Rogers, Ark., mom due in February who decided to host an ultrasound party just for fun.
With the exception of two women in lab coats and a buzzing console next to the chaise lounge, the Enderles' party was like any other family gathering. Drinks, snacks, friendly banter. Once the machine was ready, though, Kimberly asked husband Jonathon to corral the guests around the two monitors and hit the lights.
Suddenly there was a baby on the screen.
The techs pointed out various body parts while family members speculated on the origins of nose and cheek genes. There was cooing, commentary, and from the 3-year-old big brother-to-be, brutal honesty.
"Looks like a monster," he said. "I like monsters!"
Licensed ultrasound techs Teena Gold and Christy Foster, both members of the American Registry for Diagnostic Medical Sonography, perform 3D/4D ultrasound weeknights and Saturdays around northwest Arkansas. The pair founded Baby Face and More as soon as they could afford a high-quality mobile ultrasound machine of their own. Now they charge $100-$350 to help parents indulge their craving for another glimpse of baby. Guests optional.
"Gender reveal is probably the bulk of our work," Gold said, referring to parties where parents and guests find out the gender of the unborn baby together in real time.
The Enderles weren't going for a dramatic moment; they already knew they were expecting a boy. This party was about getting a longer, less-hurried look.
"It's more of an experience and less of an in-and-out procedure," said Gold, pointing out that medical ultrasound often does not allow parents to savor the wonder of the life growing inside them.
"This way gets you out of that clinic setting," added Foster.
Whatever the parents' motivation, the ultrasound  party trend appears to be spreading. From California to Florida, services like Peek a View and Miracles Imaging help expectant parents turn a procedure into a party.
But not everyone thinks taking ultrasound home is a good idea.
"It's exciting to share the experience of finding out the gender of your baby with your loved ones," said Dr. Amber Sills, an OB/GYN from Bentonville, Ark.
But there can be frightening risks, as well.
"What if the ultrasonographer started the ultrasound and there was no heartbeat?" she asked. "Or what if the fetus had not developed a skull/head/brain? This happens more than most people realize. What do you do then?"
Sills points out that ultrasounds have traditionally been used to diagnose chromosomal disorders, malformations, and to aid in estimating fetal weight or the amount of amniotic fluid -- not for entertainment value.
"Revealing gender has never been a reason to do an ultrasound," she said.
And then there's the issue of safety.
Since 2008, the FDA has taken an "unapproved" position on keepsake ultrasound videos and images. Technically, ultrasound is approved only under a prescription when medically indicated because the long-term effects of the technology are not known.
"As far as we know, at this time, it's safe," said Dr. Shea Moses, a Jackson, Miss., OB/GYN who uses 3D/4D ultrasounds in her practice, including multiple ultrasounds every week for high-risk pregnancies.
Moses said she's not concerned about repeated ultrasounds because no radiation is used. However, she does questions their practicality. Visually, they're not necessarily accurate, plus they're hardly cheap.

"That's a lot of money you could spend on diapers," Moses said.
While the ultrasound reveal parties are a more recent fad, storefronts in the U.S. for parents who want a prenatal "keepsake" have been controversial for years. In 2009, for example, Connecticut passed a law limiting obstetric ultrasounds to medically necessary procedures. In Asia and Southeast Asia, where prenatal ultrasound is widespread, the procedures are often used for selection of boy babies, causing worries among health officials about gender imbalances.
As for "jinxing" a pregnancy, the ultrasound entrepreneurs dismiss the fear.

"Anything can happen at any time," said Gold of Baby Face and More, adding that she and Foster only do parties after the parents have received confirmation that the pregnancy is progressing normally.
Sills, however, worries that expecting parents may want to schedule these parties as early as possible, without first going through the procedure with a doctor.  She recommends parents first get a routine anatomy scan that is read by an OB or a radiologist, pointing out that ultrasonographers do not have the diagnostic skills that radiologists do.
"If the ultrasonographer at the party sees something irregular during the scan, they will likely not say anything due to the potential legal implications," she said. "It's kind of a liability nightmare."
Gold and Foster admit they're not doing diagnostic work at the parties, but point out they're both professionals who haven't given up their day jobs or their medical ethics.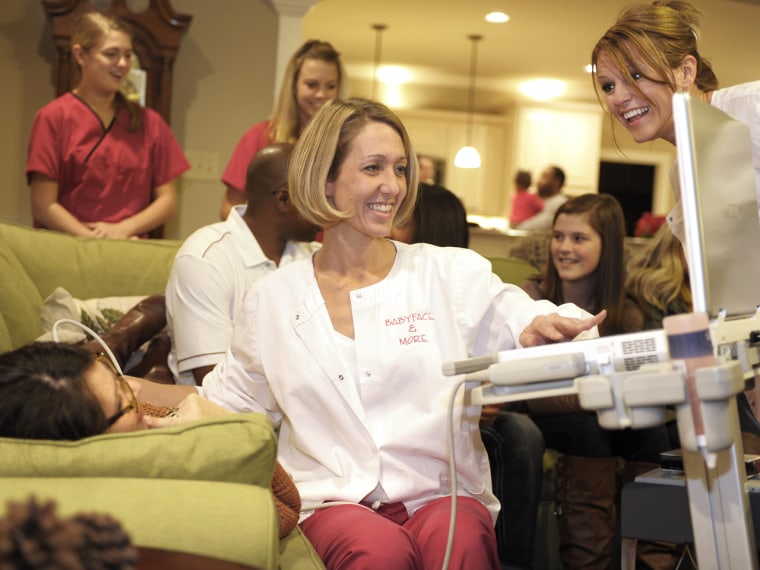 "If I see anything worrying I take the mother aside and tell her she needs to call her doctor right away," said Foster, who acknowledges that she and her partner have seen things that require follow-up.
More often, though, they get to share fun surprises, such as the unexpected twins they found during their first gender reveal party.
As for the Enderles' party, after about twenty minutes of listening to the whoosh of baby's heartbeat and watching him sleep, interest in the ultrasound waned.
"I don't know why they keep showing that," said Frank Enderle, Jonathon's 90-year-old grandfather, gesturing toward the monitor. "You can only see so much of it."
But as guests drifted off for seconds on sandwiches, the baby moved and a collective "Aww..." swept the room. Everyone was re-engaged, including Grandpa Frank.
"Looks like an old man," he said.
Would you invite people to watch your live ultrasound? Or will you skip this new trend?
Lela Davidson is the author of Blacklisted from the PTA, and Who Peed on My Yoga Mat? Her thoughts on marriage, motherhood, and life-after-40 have appeared in hundreds of magazines, websites, and anthologies.