Updated May 11, 2012
After losing her legs while shielding her two children from a deadly tornado this spring, Stephanie Decker deserves a special Mother's Day.
So TODAY decided to give her one.
More:
Send your mom a TODAY e-card
Read about more mom heroes
Learn more about the Stephanie Decker Foundation
Decker, her husband Joe, and their two children flew to New York for a week of fun and pampering. First up: seeing the musical "Spider-Man: Turn Off the Dark," which was a big hit with 6-year-old Reese and 8-year-old Dominic, as well as their parents.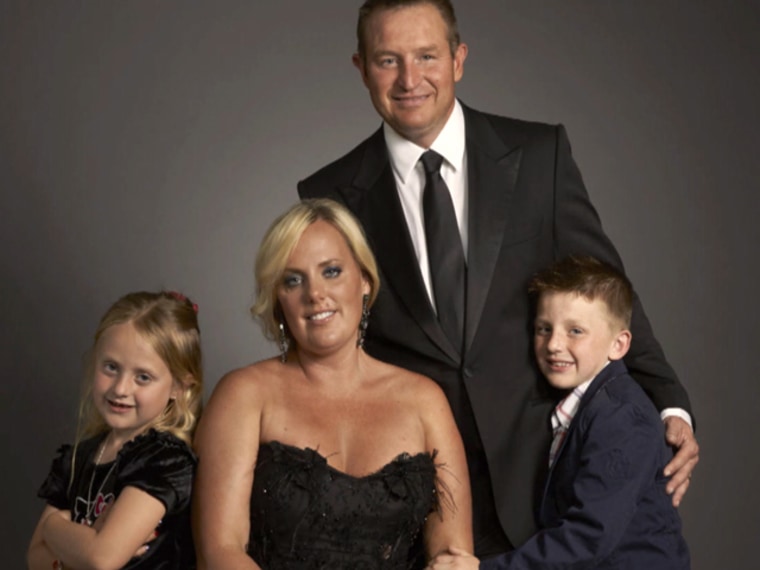 Then Stephanie and her family got to enjoy a day of pampering, topped off by a super-glam photo shoot, organized by style and beauty expert Mary Alice Stephenson and photographed by Nigel Barker of "America's Next Top Model." They all got to take in a Yankees game. And since she lost her wedding ring (along with her house and most of her family's possessions) in the 175-mph tornado, husband Joe gave her a new one.
"That's a whopper!" TODAY's Ann Curry cried, admiring the very sparkly new ring.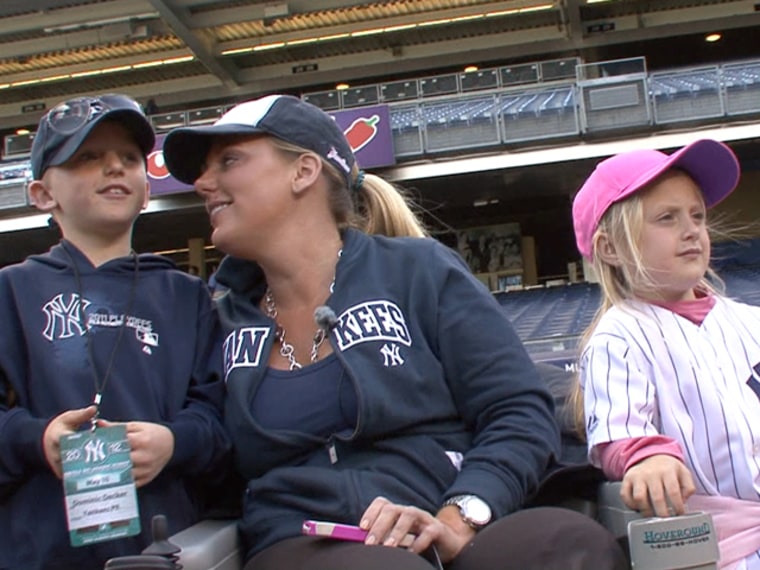 "I think she earned it," Joe said. "She's my hero. I love her greatly."
Reese told Curry that she knows what her mom did for her and her brother. "I like that she took care of us," she said. "She loves us, and I love her too."
Though Stephanie enjoyed the glam life and certainly loved her new ring, she told TODAY Moms the biggest highlight of the week for her was actually going to a New York Yankees game. She and her family are huge Yankees fans, so meeting some of the players was a thrill.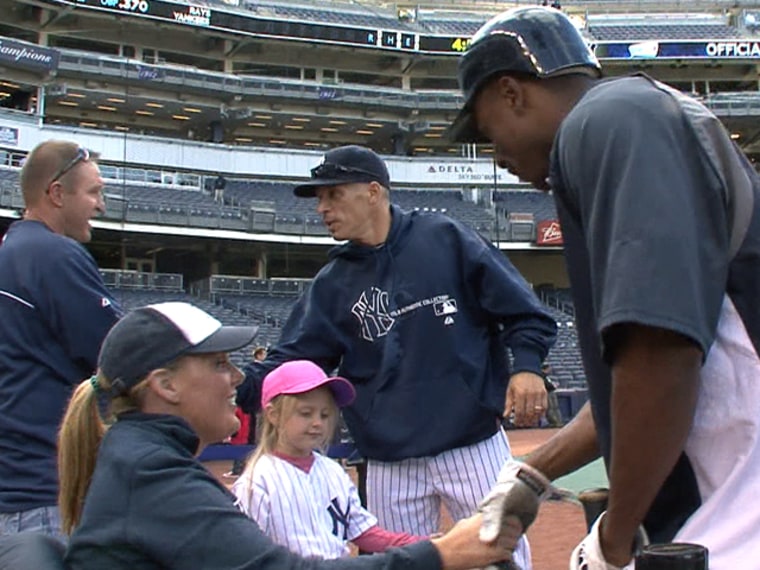 "They gave us such a warm welcome, and they took the time to talk to our kids," Decker said backstage at TODAY. "That meant a lot."
One of her first goals after getting out of the hospital was to attend her son's baseball games (her husband is also a baseball coach). She was able to do that, and even got to throw out the first pitch at a University of Louisville baseball game. So watching her children meet their baseball heroes was a fitting gift for this mom on Mother's Day.
All along, Stephanie has said she just acted on instinct and did what any mother would do to protect her children. And her words to other moms this Mother's Day are simply to follow that instinct: "Just take care of your child. Most mothers out there protect them just like I did. Take care of them. Hold them close."
Indiana mom Stephanie Decker says she simply acted on instinct when a deadly tornado struck on March 2. As her home was ripped to shreds, she threw a blanket over her two children and lay on top of them, shielding them with her body as debris rained down. They emerged without a scratch; Stephanie lost one leg below the knee and the other leg above the knee.
She has blogged for TODAY Moms as she made her way through surgeries, rehab, and finally home, where she recently celebrated her daughter's 6th birthday and got her first prosthetic foot. TODAY brought Stephanie to New York this week for a Mother's Day surprise. She knew something was up, but she had no idea what! Here's what Stephanie wrote for us earlier this week.
This is such an exciting week for us as we head to NYC! We are still so completely overwhelmed at the support from our friends, family and our newfound friends all over the world!! We will be eternally grateful for everything that has been done for us! I love and have read all the notes and cards mailed to me and I am inspired by all of your kind words!
Our first night in New York was fabulous! Took the kids to see Spiderman and it was incredible. What an enthralling show and the kids are mesmerized! Looking forward to day #2. However, it is filled with surprises that I am being kept in the dark about!! I wonder what NBC has up their sleeve? More to come on our journey... and I will fill you in on today's surprises!
Want to read more? TODAY Moms is celebrating Mom Heroes, those everyday wonder women who quietly change the world. Check back every day this week for a new winner.
Do you know a mom hero who deserves thanks? Send her a TODAY.com e-card.  
Anyone with an Xbox can be a big winner this Mother's Day -- download the TODAY app on your Xbox and use it to watch TODAY videos, and you could win a trip for two to a Beaches Resort. Click here for details.
For Mother's Day gift guides, video and more, check out our special section here.
Find out about Stephanie Decker's fund for tornado victims, the Stephanie Decker Foundation. Read more about Stephanie Decker's amazing story, in her own words: 
The following people and companies contributed their time and services to give Stephanie a real Mother's Day surprise: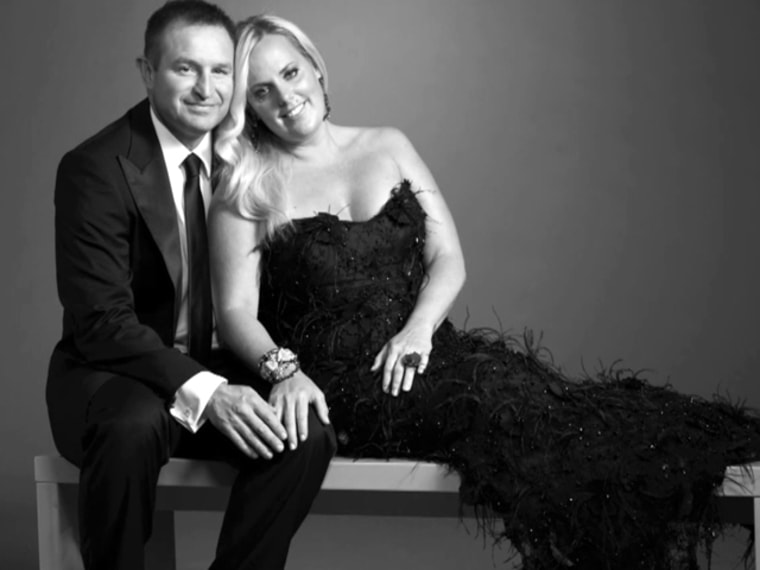 _Mary Alice Stephenson, style and beauty expert.
_Milk Studios 
_Nigel Barker
_Frederic Fekkai
_Make up by Nicole Bryl
_Guerlain Spa and Beauty
_Calvin Klein
_Tommy Hilfiger
_Chaps by Ralph Lauren
_Hugo Boss
_Hello Kitty
_Spiderman, the musical
_Porter House restaurant
_The Waldorf Astoria Hotel
_The New York Yankees
_MICHAEL Michael Kors
_Coach
_Victoria's Secret + VS Beauty
_Hat Attack
_White and Warren
_Albright Fashion Library
_Shaun White Apparel
_Target - Gwen Stefani Harijuku for Girls line
_Fragments