If that mountain of presents in the living room is blocking your view of the Christmas tree, straining your budget and troubling your soul, there is another way.
Inspired by the notion that Jesus received three gifts from the Wise Men on December 25 -- gold, frankincense and myrrh – many parents are saying they, too, want a three-gift Christmas for their children.
Some do it for religious reasons. Others try it to save money, ease the stress of the holidays or get away from the commercialism that permeates December.
Stacy Myers, a mom of two who lives in Marion, Va., said all of those factors played a role when she and her husband adopted the rule after their first child was born.
"We decided we wanted to simplify Christmas here at our house by using the three-gift rule so that we could focus on the real reason for the season, which is the birth of Jesus, instead of 'Gimme, gimme, gimme' and 'What can I put on my list?'" Myers said.
"It just comes down to trying to change your mindset how you view this time of year -- kind of switch it to family and your faith instead of stuff, because stuff just piles up in your house."
Myers, who describes herself as a "debt-free frugal housewife" and shares budgeting tips on her blog, Stacy Makes Cents, said the three-gift rule is also a great way to save money during the holidays. She gasped at the results of a recent Gallup poll that found the average American expects to spend $786 on Christmas gifts this year.
"Oh my goodness, no," she said, noting the family makes a lot of home-made presents. "That's shocking."

Glennon Doyle Melton adopted the three-gift rule when she realized she was spending so much time scrambling to buy presents and decorations that she didn't get many moments to just enjoy the Christmas season. So the mom of three, who lives just outside Washington, D.C., sat down with her children a few years ago to let them know things needed to change.
"My kids weren't even asking for things that they wanted. It was just whatever the commercial was that told them that they should want that thing," said Melton, who recently advised readers of her popular blog, Momastery.com, to teach kids that Christmas is a time to be grateful for what they already have.
"All those gifts just end up in the donation pile or in the trash anyway. That gift rush in the morning is like a sugar rush. It's awesome for five minutes and then it's over."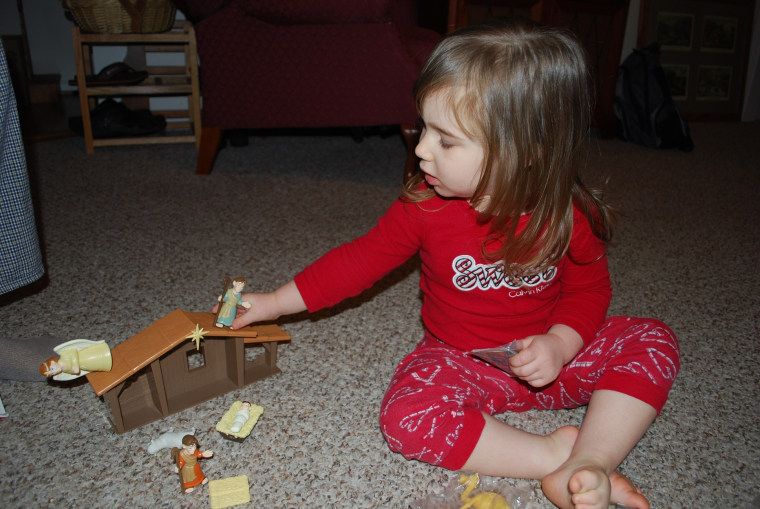 Melton now asks her kids to come up with a list that includes something they want, something they need and something to read. There's also a bonus in her version of the three-gift Christmas: she asks each child to come up with a present idea for someone in need.
Like Melton, many families customize their approach to the rule. 
Myers models her list after the Wise Men and gives her children a "gold" present, or something a child would want and treasure, like a favorite toy; a "frankincense" present, or a gift that will be used in worship or spiritual life, like a Bible; and a "myrrh" present, which is something for the body, like clothing or shoes.

"When I see other people and then I see how we do things here, I can tell it seems as though our Christmas is not as stressful," Myers said.
"When I think back to when I was a child, I don't remember what I got for Christmas. But I remember the things that we used to do together, when we would go out and look at Christmas lights or when I would make cookies with my mom."
Whether you plan to limit presents or not, have a family meeting about what your kids actually want so their wish list is thoughtful and generated by their own wants, instead of ads on the TV, Melton advised.
"You need to do what makes your Christmas happy and peaceful," she said.