It's tough for kids to say goodbye to the excitement of the day, so falling asleep can be so much sweeter with a parent at their side, reading their favorite bedtime story.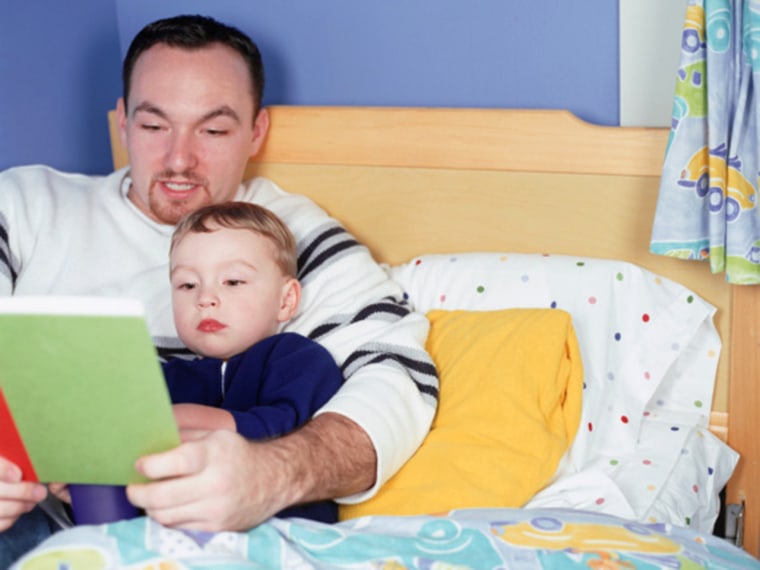 But this ritual most adults remember so fondly from their own childhoods is under pressure from the same modern stresses that are intruding on other family times.
In a new poll, only 13 percent of British moms said they read a story to their children every night, even though three-quarters recalled being read to on a daily basis when they were kids, according to The Guardian.
Almost a tenth said they feel too stressed to read bedtime stories, while 13 percent revealed they don't have enough time to take part in this activity with their kids.

The poll of 2,000 U.K. women with children age 7 or under was conducted by British retailer Littlewoods.
Overall, 64 percent of respondents said they read their children bedtime stories at some point during the week.
American moms and dads are more likely to take part in the ritual. In a poll conducted by Harris Interactive this spring, 87 percent of U.S. parents said they read bedtime stories with their children, but only one in three parents did so daily. More than 1,000 people with kids age 8 or younger took the online poll in April.
Experts who study the benefits of bedtime stories say it's a worrisome trend.

"When parents read to their kids that's what I call unhurried time. It's not their usual hurried-up voice so the parent is really there for the child," said Dr. Barry Zuckerman, a professor in the department of pediatrics at Boston University School of Medicine.
"This is a special time and a special gift, both that they can give their child and actually the child's interest in this time is a gift for them. Part of being a parent is to make sure that those kinds of times – they don't have to be hours, they can be five or 10 minutes – that they preserve them."
The benefits of parents reading to children are numerous, everything from stimulating a child's cognitive, social and emotional development, to exposing them to language and storytelling, Zuckerman said. Bedtime stories also provide a special opportunity for parents and kids to interact, and create a "quieting tradition" as the child gets ready to go to sleep, he added.
"Most family rituals – from families eating together to doing a variety of activities together – are declining because adults are busy and because everyone is on their machines," Zuckerman said.
"Parents actually have some authority and say, 'This is what we do – the machines aren't at bedtime. I'm going to read you a story and I'm going to be here with you.'"
Attention, moms: 1 in 10 working mothers takes two weeks or less for maternity leave. We're putting together a future story about returning to work very quickly and would like to hear from you. If you'd like to discuss your experience, send an email to reporter JoNel Aleccia. Thanks.