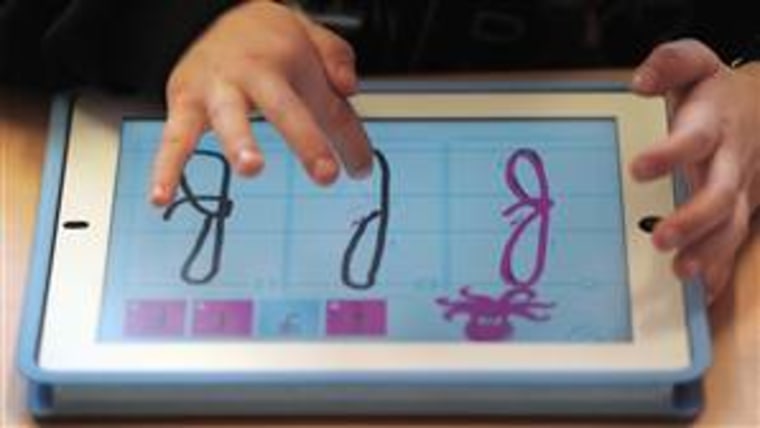 A doctor who helped write guidelines discouraging media use by babies and toddlers says he's had second thoughts about the iPad and other devices.
Dr. Dimitri A. Christakis, a Seattle pediatrician who studies the effect of media on children, now says that kids younger than 2 may actually benefit from 30 minutes to 60 minutes a day of screen time — as long as it's interactive, not passive.
"I believe that the judicious use of interactive media is acceptable for children younger than the age of 2 years," he wrote in an opinion piece this week in the journal JAMA Pediatrics.
It's a somewhat surprising position for the researcher who admits he's developed a reputation as the "anti-TV guy," especially when it comes to the youngest viewers. He co-authored the American Academy of Pediatrics 2011 guidelines that frown on media use by kids younger than 2.
In the new piece, however, Christakis notes that the guidelines, updates of 1999 recommendations, were written before the 2010 debut of Apple's iPad and the slew of tablets and devices that followed.
"The statement was drafted with no knowledge that such a device would ever exist," wrote Christakis, director of the Center for Child Health, Behavior and Development at Seattle Children's Research Institute.
"Now, 3 years later, we still know surprisingly little about how iPads and other interactive media technologies affect children's cognition — research is simply unable to keep up with the pace of technological advances —and these devices are increasingly popular."
Even without hard data, however, Christakis said he has concluded that interactive iPad and device apps that engage a baby may be as mentally stimulating as old-fashioned toys such as blocks or even a See 'N' Say, which allows kids to develop a sense of accomplishment by matching animal images and sounds.
They're all very different than passive television viewing, which is known to have detrimental effects on cognition, or videos or DVDs aimed at babies, which can be overstimulating and potentially harmful, Christakis said.
That's a view echoed by Elizabeth R. Sowell, a neuropsychologist at the Keck School of Medicine at the University of Southern California. She told TODAY that guidelines based on TV viewing aren't comparable to those for interactive screen time on devices used by babies and toddlers.
"The brain is developing so rapidly during that period of time and interactive challenges, whether it's blocks or playing games on the iPad, that's really going to wire the brain differently than passive viewing," said Sowell, who is also principal investigator at The Saban Research Institute of Children's Hospital Los Angeles. 
Both Christakis and Sowell cautioned that parents need to closely monitor their babies' screen time. Just as there have been problems with too much internet use in older kids and teens, there's the danger of "compulsive use of iPads" among the youngest users.
And, iPad or other device use should never interfere with the full range of social, physical and other activities that babies need to develop, Christakis added.
"I do hope parents will take to heart that they should put some limits on it," he said. "This is not just to allow their child to play willy-nilly for hours and hours."
Hear more from Dr. Christakis in his recent TED Talk.