Even before I had kids, I always wondered if I could do both – be a mom and follow my career path. I found my answer along the way.
My adventure into becoming a momtrepeneur happened five years ago when I became a new mom. I had so many questions about parenthood. I wondered about the environment that my children were going to be growing up in. Over lunch with my friend Paige, we talked about how amazing it would be to create a safe haven for families,and our eco-friendly baby boutique, The Little Seed, was born. We were both new mothers with a desire to share our experiences with others and so our community started.  Building a business was not easy -- it was a roller coaster ride filled with surprises at every turn -- but we were strong. We developed our own clothing line and even partnered with Target to launch The Little Seed for Target.

Throughout the journey of being a new mom, I started sharing my messy life --the syrup on the hands and the Sharpies on the walls -- and I discovered that I was not alone. Thousands of other families were living like us in happy chaos. My online community grew as I shared the honest, funny, and touching moments. The community became my mommy group, a place where I could laugh, learn, and be inspired.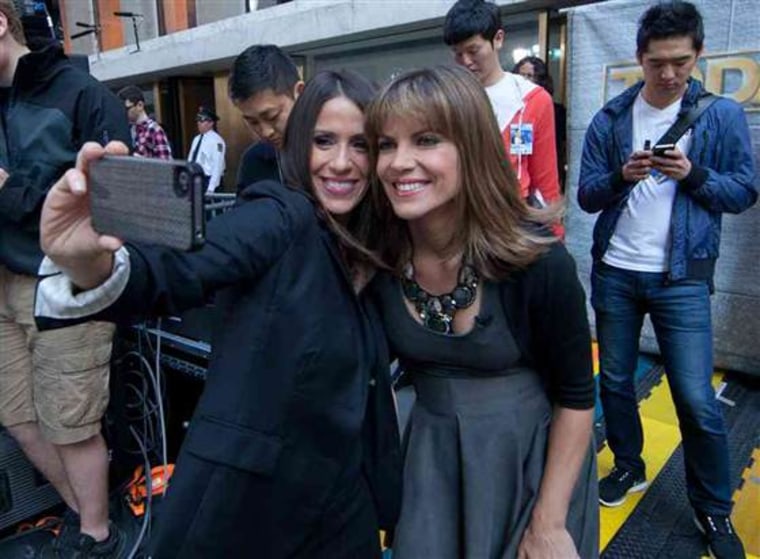 So, when it comes to being a momtrepeneur, my experience is that, yes, you can do both. You can be a great parent and still have a career. You don't have to give up one to be good at the other. It is definitely a balancing act and sometimes you fall down, but you can always get back up and become stronger than before. Everything started to unfold from there. I launched Moonfrye.com, a place where families could share stories and adventures in parenthood, and I became Target's Mommy Ambassador, connecting with parents across the country. I wrote my first book and was still able to pick my kids up from school and take them on ice cream dates. I am 100 percent aware that this is a privilege and I am grateful for every minute of it. I will be honest, it has been hard and often times I feel like I am spinning, trying to keep it all together. But at the end of the day, I just do my best and when one day is tough, I try harder the next day.
I'm continually inspired to hear the stories of other momtrepeneurs, incredible woman who are building dreams  and showing the world that they can be moms, business leaders, and super heroes all at the same time.
On TODAY this morning, we featured three amazing momtrepeneurs who gave advice on starting your own business.
Kristi Taylor came up with her business idea during a holiday shopping trip with her children. She was trying to help her kids make wish lists while still buying gifts for other family members. MonkeyWish.com was launched as a universal gift registry allowing users to add items from retailers or stores for any occasion.  Taylor is the mother of three children: Lauren, 16;  Dylan, 13; and Katie Grace, 6, the "Monkey" for which the site was named.
Taylor's advice:
Believe in yourself, you can do it! My dad always said that with every trial comes a new opportunity. If you find yourself in a "trial" don't focus on the problem, find the opportunity. It is there. Don't be afraid of hard work because hard work is the only secret sauce to success. Do what you love and love what you do.
Sonia Kang, the founder of Mixed Up Clothing, wanted to be there more for her kids. Inspired by this, she combined the teaching aspect of her nursing career with her hobby, sewing. Being from a multicultural background, she would create clothes  using fabrics that depicted a culture and would sew it into fun silhouettes like dresses, boy button-down tops, and bloomers. People admired her work and started ordering items from her. Sonia, who has four kids ages 20, 13, 7 and 4, also finds time to volunteer with her hospital as a liaison between families and medical personnel.
Sonia's advice:
Surround yourself with positive people who believe in you. For me it's anyone from my grandmother who's always saying, "Yes, mija, you can do it," to the baseball moms who help carpool my son from practice or games. It's the other momtrepreneurs who are running their own businesses that help by giving advice and the occasional "Atta girl!"
Casey Wiegand is a wife and mama to three kids all under the age of three. She owns her own kids art studio, A Little Artsy. 
Wiegand's advice:
I Go for it! I believe that we each have a purpose, a specific one. And I think everyone has a story to tell and passions that were placed there for a reason! I had several people in my life that were discouraging. But those people live their lives in fear - not in truth. When you feel called to accomplish something or a dream to pursue, you go for it. Your true friends and family will see that passion and do everything they can to support you. Don't let anyone tell you otherwise. Being an entrepreneur is very challenging, but so rewarding.
Are you a momtrepreneur? Please share your story with us for a chance to be featured on TODAY, TODAY.com and Moonfrye.com.