The U.S. Secretary of Education Arne Duncan made the day of many parents of high school kids this week when he suggested that a later school start time would be beneficial, as it would give teens the opportunity for more sleep.
Duncan said that studies have shown that students do better if they start their school day rested and that while a later start time could be problematic for bus schedules, it's 'common sense' that tells him teenagers are struggling to wake up early and make it to the buses, the Associated Press reported. However, Duncan also said that the decision is up to local schools and says he can't dictate when superintendents should have schools start.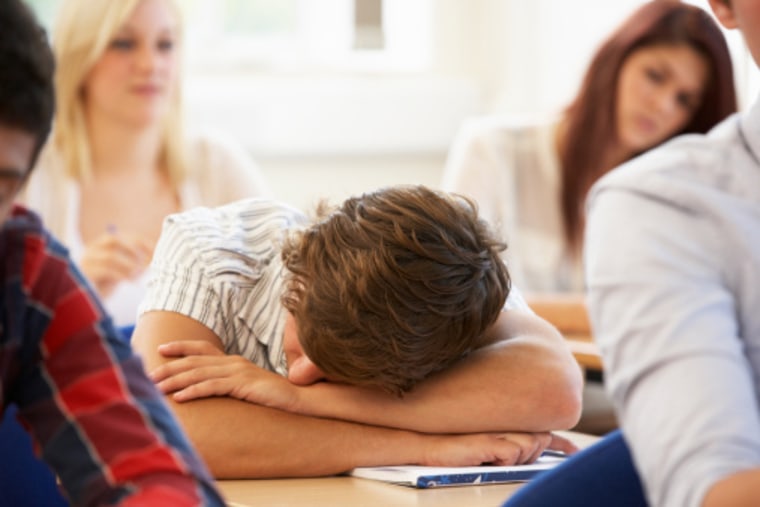 With a teenager that recently began high school and now rises to a 6 a.m. alarm so that she is on her way by 6:55 a.m. and seated in class by 7:30 a.m., I, for one, want to give Sec. Duncan a big high five.

Yes, the combination of my kid not being a natural early bird, plus her need to wear the right outfit and braid her hair just so, makes for a harried time in morning. (Not to mention, it's quite an adjustment from previous years. In our school district, middle school starts at 8:40 a.m., while elementary school begins at 8 a.m.)
But more than that, there is the rest of the day. Sports practices go until the dinner hour. And then there are hours of homework, resulting in a late bed time.

That 6 a.m. alarm comes way too early.
The debate over later high school start times is nothing new and there's been plenty of research that points to the effect sleep can have on school performance. One 2012 study found that a later start time — from 7:30 a.m. to 8:30 a.m. — increased middle school kids' standardized test scores in math and reading by 2 to 3 percentile points.    
While some high schools have adopted later start times or have classes on a block schedule, others, such as Carlmont High School in Belmont, Calif., have one day a week —Wednesdays — where school begins nearly an hour later than the usual 8 a.m. start.

Mary Vargo, the mom of a junior at Carlmont, is all for a later start every day, and believes the science that says it's a biological effect that causes teens' clocks to shift causing them to stay up later and therefore wake up later. She has seen it happen to all of her three kids.
"My oldest son, now 22, could not get to school on time. He suffered in all first period classes," she said. Meanwhile, her youngest is 16 and races out the door every morning to get to Carlmont. Vargo said her son had a choice to go to another school that had a 9 a.m. start time, but he chose the early start so he could be with his friends. "I guess friends trump sleep," she said.
For Susan Relicke, a mom of a freshman at St. Thomas Aquinas High School in Fort Lauderdale, Fla., the early start has been a huge adjustment. While school begins at 8 a.m., her daughter gets there at 7 a.m. for leadership and tutoring a few days a week, which means she has a 5:30 a.m. wake up call. "I think an 8:30 to 9 a.m. start time would be perfect," she said, adding, it's nice that her daughter has to wear a uniform, which saves time in the morning getting-dressed routine.
What do you think? Should high schools have later start times? Weigh in on the TODAY Moms Facebook page.