When snow descended on Atlanta and it became too dangerous for kids to get home, E. Rivers Elementary School principal Matt Rogers threw his students the sleepover of a lifetime.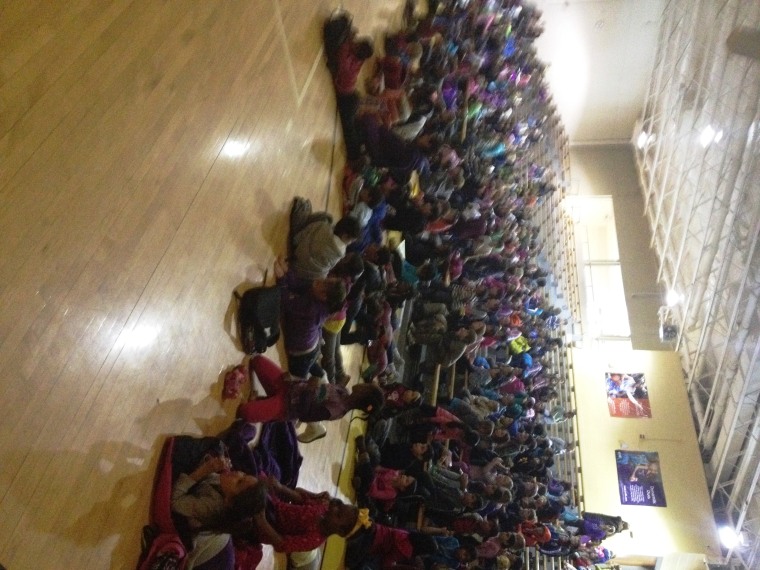 After movies and pizza, he used tablecloths and even his own dress coat as blankets to cover slumbering students. Teachers hugged and comforted the little ones who were scared — and if they were lucky, got a few minutes' sleep on their own classroom floors.
Many students were stuck at school Tuesday afternoon as the storm moved in, and by about 8 p.m., Rogers decided that it was safest for everyone to stay put. The school was one of several where students were stranded overnight due to a snow and ice storm that surprised and paralyzed the region.
Ninety-four students and 31 adults — mostly teachers along with a few bus drivers and parents — hunkered down for the night.
"Our beautiful little snow flurries at 12, 12:30 turned into a fast-moving snow incident and we ended up having a lot of our kids that are bus riders and car riders stuck here at school with us," he said. "We had a snowcation. A little, mini snow vacation overnight."
The kids watched "Free Willy" while munching popcorn, ate pizza for dinner in the cafeteria and had a paper airplane-making contest. After breakfast Wednesday morning, they did something Georgia kids don't usually get to enjoy — a snowball fight.
"One of my students said, 'Mr. Rogers, it's like a party.' Yeah, it's like a big slumber party," Rogers, 41, said Wednesday morning as 61 students were still at school.
"We've been having a good time," said an exhausted Rogers, principal of the 670-student school for the last four-and-a-half years.
The kids spent the night on tumbling mats in the gym, using coats and even tablecloths as blankets. "I was using my dress coat," Rogers said. "We were using anything and everything we can find."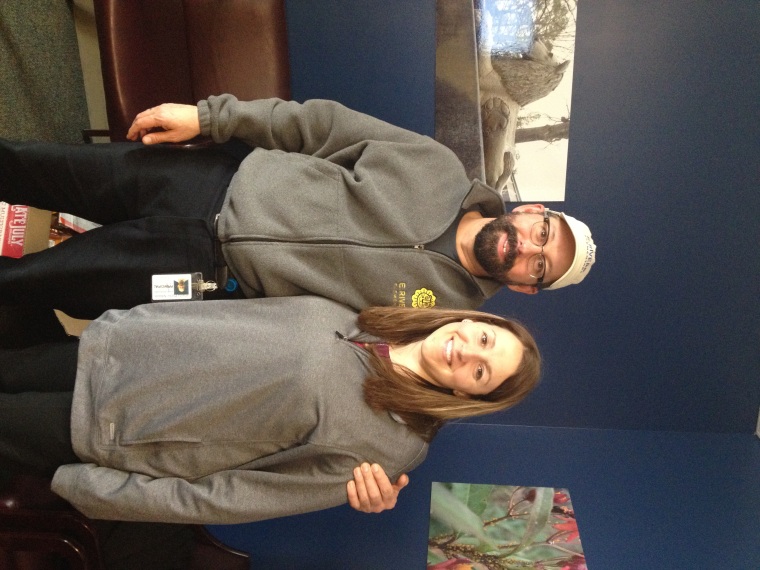 After dinner, the kids finished the movie and most fell asleep by 10 p.m. Rogers said. "By that time, kids were tired and they crashed," he said.
School officials fielded phone calls from parents all evening, and let kids call home whenever they wanted to.
A few of the youngest students were upset, likely never having spent the night away from home before, Rogers said.
"We probably had about three to four kids that were crying, so we got them up here (in the office), and they talked to their parents," Rogers said. Some of the kids' teachers were at school, "so they felt safe."
"We were hugging a lot of kids and letting them know that this was an adventure they would never forget," said fifth grade teacher Lindsay Treharne, who manned the phones most of the night.
While the kids managed to get some sleep, most of the teachers and other adults did not.
"My teachers are the rock stars of this whole event," Rogers said. "They've been answering phones. They have been entertaining the kids. They've been playing with the kids, putting blankets on the kids.
"Just anything and everything," he said, "and most of them have not slept at all."
In the morning, the youngsters had French toast sticks and fruit, and Rogers invited them to a snowball fight.
"They were excited," he said. "They were anxious to get out in the snow."
Treharne didn't hesitate to spend the night at school, where seven of her students were stranded.
"With my kids I give them a sense of family all the time," she said. "I wanted to make sure they were safe here."
"It was just something you sign up for when you become a teacher," said Treharne, 34, who slept for about 90 minutes Tuesday night on her classroom floor. "You'll take care of your children whenever necessary."
She praised Rogers as a great leader.
"He makes sure everyone is safe and accounted for," she said. "He also make sure the kids are having fun. There was always a sense of fun, never a sense of urgency. It was always light and fun the whole time."
Rogers said he would do it all again just for the experience.
"I thought last night was a very memorable, fun evening," he said. "It was stressful but what it did was it pulled our community together. We made it a memorable event for our kids and staff and it turned out to be awesome."