NFL players may have the advantage in size and speed, but when it comes to grammar and spelling, some of them take a backseat to second-graders.
A class at Elmwood Franklin School in Buffalo proved this last week by easily executing an assignment from their teacher Mark Saldanha, correcting the spelling and grammar mistakes in tweets by a trio of NFL players. New England Patriots receiver Wes Welker, San Francisco 49ers cornerback Chris Culliver and Detroit Lions wide receiver Titus Young each had their tweets turned into correct English by the class in a matter of about 10 minutes. The corrected tweets were put on big pieces of paper, photographed and posted on the school's Facebook page.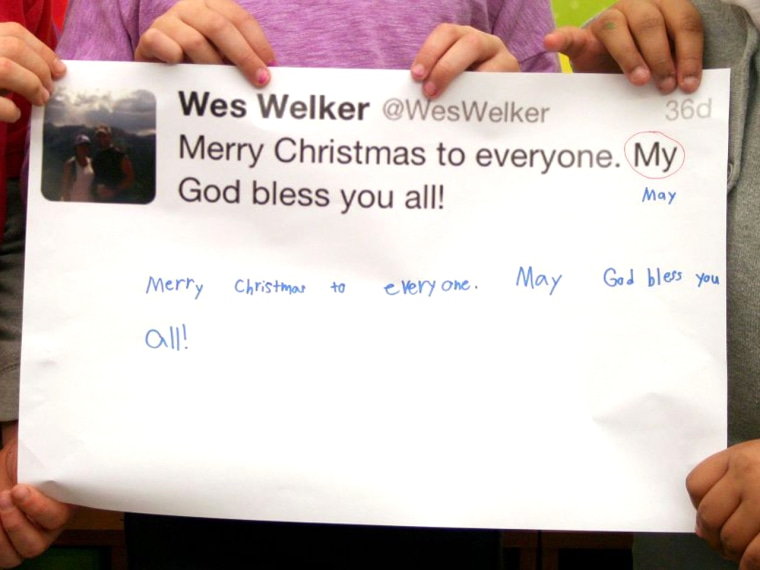 "We split the students into groups, and they corrected them with only a little teacher assistance,'' Saldanha told TODAY.com. "They all picked up on the mistakes.''
Looking to create an assignment in advance of the Super Bowl, Saldanha came up with the idea after reading controversial comments by Culliver regarding gays last week.
"Cullivan made some obscenely ignorant statements, so I went to his Twitter page to find out more about him, and it was just littered with spelling mistakes and grammar mistakes,'' Saldanha said. "I thought my second-graders could do much better than this, so I put it to the test.''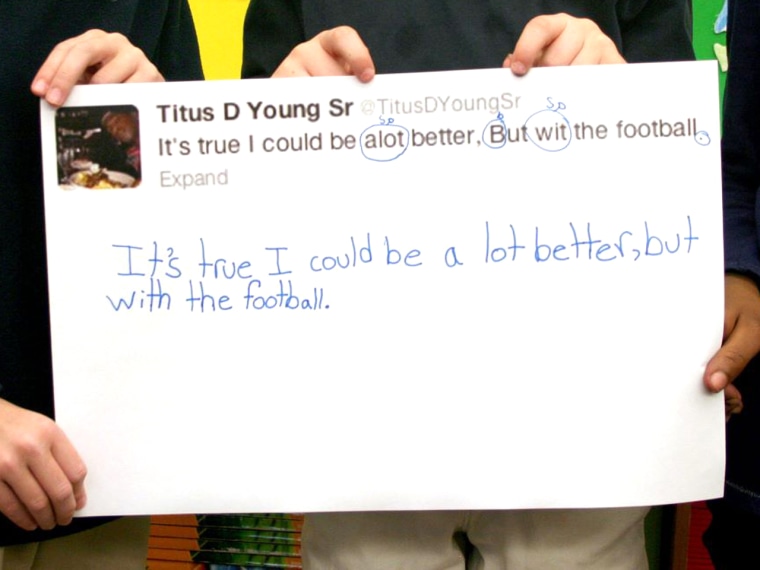 Saldanha, 36, who has been teaching at Elmwood for three years, inspected other Twitter accounts of NFL players to find more mistakes and then distributed them to the students. The class fixed Culliver's tweet of "I pray to God I'm never dieing broke" with the correct spelling of "dying.'' They changed Welker's "Merry Christmas to everyone. My God bless you all!'' to "May God bless you all.'' Then they tackled the whole range of mistakes in Young's "It's true I could be alot better, But wit the football.''
"About 90 percent of the kids found all the mistakes,'' Saldanha said. "I'm very proud that they can spell better than some NFL players.''
The three players have not responded on Twitter to having their tweets dissected, and Saldanha said the only negative feedback came from people thinking the class was picking on the pros.
"There were people defending poor grammar, saying it's not that important to sound educated,'' he said. "I think most fans are like, 'Shame on them, they went to college. Kids look up to them.' I don't know the 40-yard dash time of my students, but it's a good bet they won't be NFL players, so they need to have a great foundation of writing, spelling and grammar.''
This wasn't the first Twitter-themed lesson Saldanha has cooked up. He previously had his students write on topics like what they did over the weekend or how to make a paper snowflake in 140 characters or less.
"It helps get them writing concise sentences,'' he said.
Saldanha has also set himself up to be called out on his own tweets if they don't meet the standards set by his class.
"Now everything I do, I can't make any mistakes,'' he joked. "All my tweets better be grammatically correct. I'll probably never tweet again.''