Laura King expected a tally of good food on her restaurant tab. A credit for her children's good manners, on the other hand, came as quite a surprise.

King, her husband and their three children, ages 2, 3 and 8, recently feasted on pizza, pasta and mushroom ragu at an Italian eatery near their home in Kingston, Wash. The kids – no strangers to restaurants -- quietly enjoyed their meals.
"They were just being their normal selves," King told TODAY.com. "Our server came to our table and just really thanked us for having exceptionally behaved children."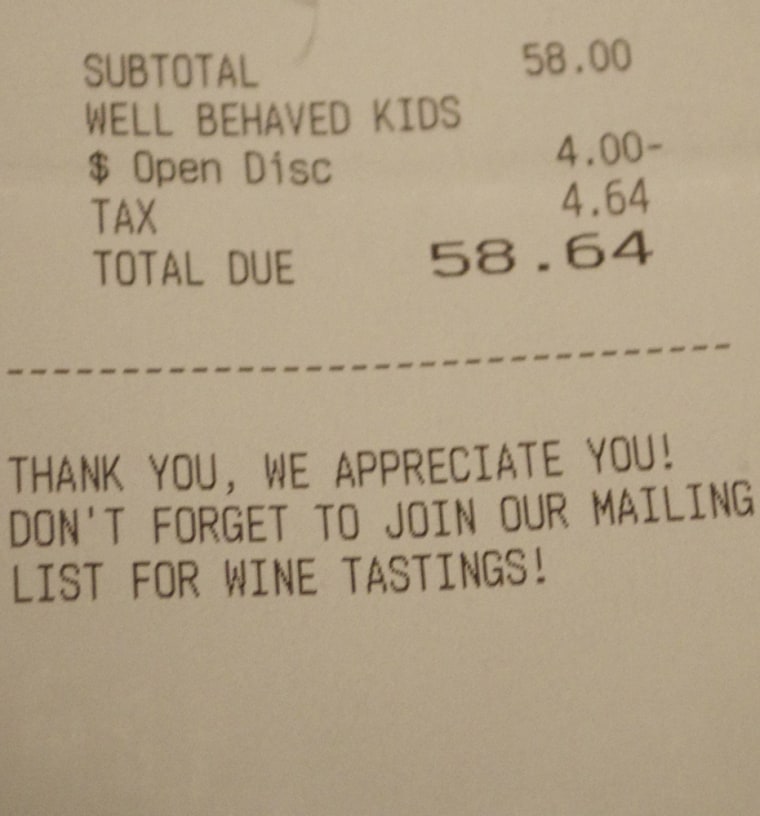 Then, the server brought out a bowl of ice cream for the children to share and when the family checked the bill, it turned out the dessert was on the house. The restaurant had applied a "well behaved kids" discount of $4, which covered the ice cream.
An image of the receipt quickly went viral after one of King's friends posted it online.

Rob Scott -- who owns Sogno di Vino, the restaurant King visited -- said he routinely offers complimentary desserts to customers with well-mannered children, but this was the first time he had actually typed the discount on the receipt.
He fondly recalled the King family, describing the children as the epitome of good behavior: they were very polite, didn't neglect to say "please" and "thank you," and stayed seated during their visit. That's often not the case when kids come to his restaurant, Scott said. Many end up shouting or running around the eatery unchecked.
"So we go to the parents and say, 'I'm sorry but we really need little Johnny to sit down and not run around and yell and scream… because he's bothering some of the patrons.' And parents will take an attitude to the point where we're almost afraid to say something," Scott said.
"Sogno di Vino means 'to dream of wine' (in Italian), it doesn't mean Chuck E. Cheese. We love Chuck E. Cheese, they do a great job. That's why you go to Chuck E. Cheese, so the kids can play."
Unruly children are an ongoing source of friction in the restaurant industry. One Pennsylvania eatery simply announced kids under 6 are no longer welcome.
Other restaurants have posted signs on doors and menus reminding parents that children should use indoor voices and stay tucked in chairs.
The issue is packed with emotion for both sides, said Peter Post, etiquette expert and director of The Emily Post Institute.
Parents want to be able to take their children out to a restaurant and feel stung if they perceive their little ones aren't welcome, Post said. Many interpret comments about their kids' behavior as someone else trying to discipline their offspring.
"They don't want it to appear that they are bad parents," Post said.
On the other hand, people paying for a special night out expect an experience that doesn't involve unruly kids, he said.
Post urged families to practice good table manners at home before ever taking children to a restaurant. He also advised parents to choose the eatery carefully: a five-star establishment probably doesn't make a lot of sense.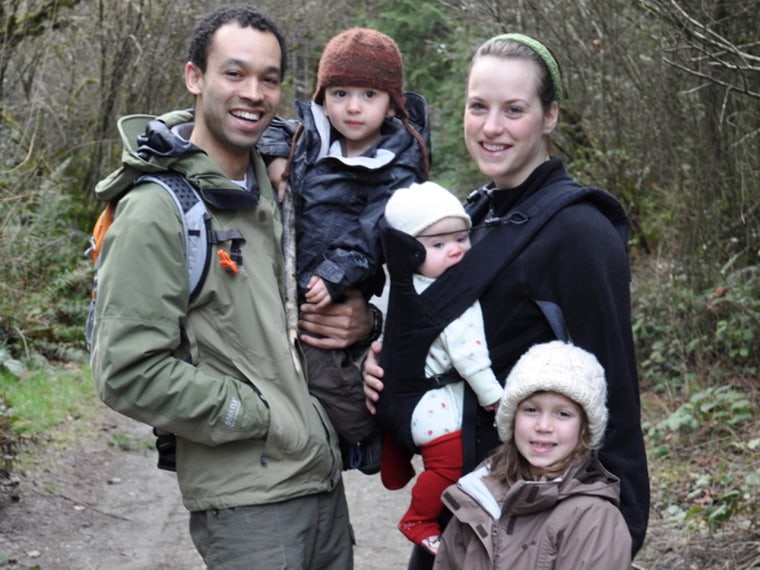 Restaurant patrons being bothered shouldn't criticize the parents directly, Post said. Rather, they should ask a waiter or a maître d' to deal with the situation.
King's rules for restaurant-ready children are simple.
She doesn't take her youngest kids out if they haven't napped that day.
They get a snack before the family heads out -- taking very hungry children to a restaurant where they have to wait for their food is not a good idea, she said.
Finally, King and her husband engage the kids, talking about the people around them, the art that's on the wall and the music that's playing.
"Just try to enjoy your kids when you're out with them and I've found that our kids usually respond pretty well to that," King said.