Something remarkable happened when Lizette Hernandez took her son to see Santa at Macy's Herald Square in New York on a recent blustery morning.
Like many children with autism, 7-year old Donovan usually can't stand malls and department stores, his senses overwhelmed by the sights, sounds and smells of places packed with people.
"If it's too crowded, too noisy, he wants to go home right away. He'll cover his ears because of the noise," Hernandez told TODAY Moms.

"And if it's very, very overwhelming for him, if he starts to panic, he will start to cry and have a complete meltdown."
But nothing bothered Donovan during this visit, which was designed for children with autism and other special needs. 
The family was invited to come at a specific time before the store opened, so there were no crowds and lines. The store Santa was engaging, but he also understood Donovan's limits and didn't push him, Hernandez said.

"It was great. He was able to interact and it brought so much out of him," she recalled, expressing her gratitude on her blog.
"We were able to take an amazing family photo, which we'd never get to do because he's either holding onto his ears or panicking."
One in 88 kids in the U.S. has an autism spectrum disorder and many have trouble processing and integrating sensory information, which makes sights and sounds painful, unpleasant or confusing, according to Autism Speaks.
So all around the country, shopping centers and other venues are now hosting "quiet Santa" events for children who might otherwise find such visits overwhelming and never get the chance to meet the big guy in a red suit to let him know their Christmas wishes.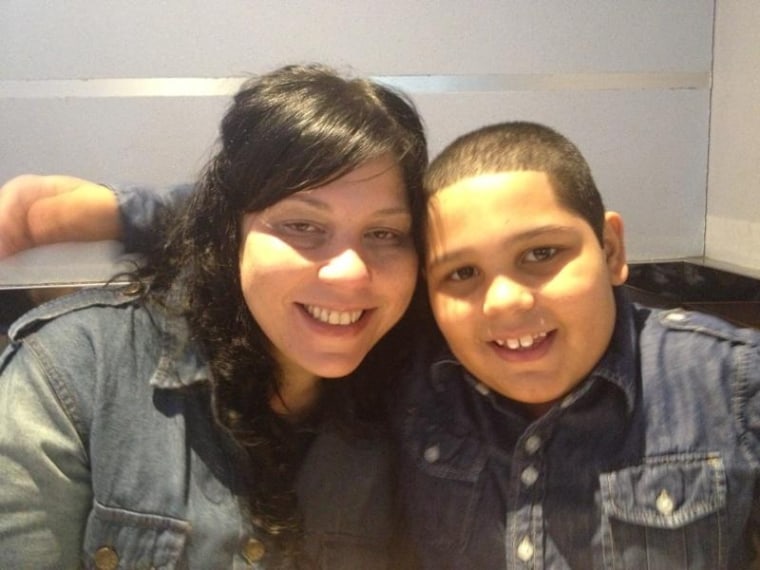 "For a lot of these parents, this is the first time their child has ever met Santa. This is the first time they've ever gotten a picture with Santa. It means so much to the families," said Jacqueline Murray, a spokeswoman for AbilityPath.org, part of a California-based non-profit that advises malls on how to make their spaces "sensory friendly" for kids with special needs.
AbilityPath.org worked with more than 140 shopping centers this year, more than three times the number that took part when the effort started three years ago.
Murray said malls are advised to hold the events outside regular hours, and pause the music, shut down the escalators, dim the lights, and turn off all water features to take away as many distractions as possible.
Each family gets an appointed time to see Santa so there's no line that might overwhelm the kids. A waiting area with tables, chairs and coloring books lets children wait in a calm environment. And the big guy himself is specially trained for the occasion.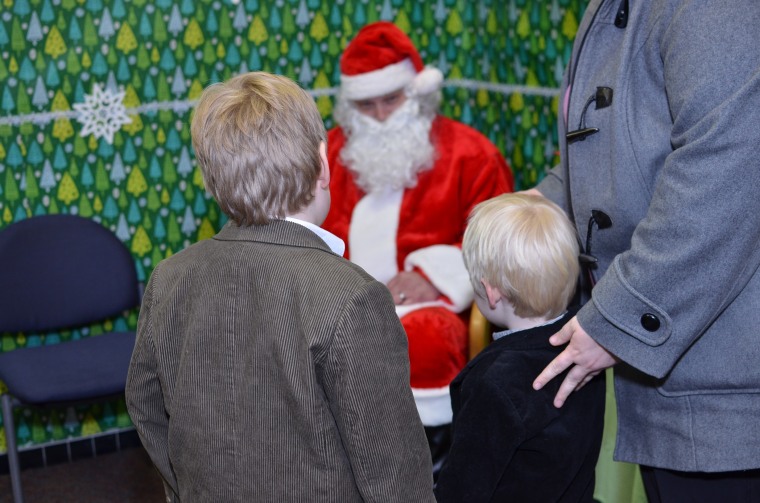 Some Santas even have personal reasons to take part. Jim Sheldon, whose 8-year-old son Steven has autism, helped organize a "quiet Santa" event in Madison, Wis., last year after hearing about a similar effort in New York. Sheldon has never tried to take his son to see a typical mall Santa, knowing the boy wouldn't have the patience to stand in line and would end up being overstimulated by the lights, the people and the noise.
So for the second year in a row, Sheldon is putting on a red suit and white beard to let children like Steven have the chance to talk to Santa. The event takes place at an education center and is staffed by volunteers.

"It's a wonderful feeling… knowing that you're giving these kids just a little glimpse of what every other kid gets to do on Christmas," Sheldon said.
"It's not the typical, 'Ho, ho, ho!' Santa Claus. It's a very quiet, very understated Santa."
Some of the children sit on Sheldon's lap, but there's also a chair next to him if they feel more comfortable sitting there. Sometimes, a parent sits in the chair with the kid on his or her lap during the visit—whatever makes that child most comfortable.
Sheldon takes his cues from each little visitor, adjusting his demeanor accordingly. The event has doubled in size since last December, so a second volunteer will help play Santa this weekend. Sheldon can't wait to bring Steven to see him.
"My son can see Santa this year," Sheldon said proudly.