Wednesday marked the end of the first-ever Global Kids' Fashion Week in London. It was a three-day, celebrity-mom-infused event that featured high-end designer duds – from Missoni to Marni to Fendi – for the elementary school set.

With a luxury children's wear market estimated to be worth around 500 million pounds in the UK alone — about $750 million US dollars— some might be wondering, what took so long?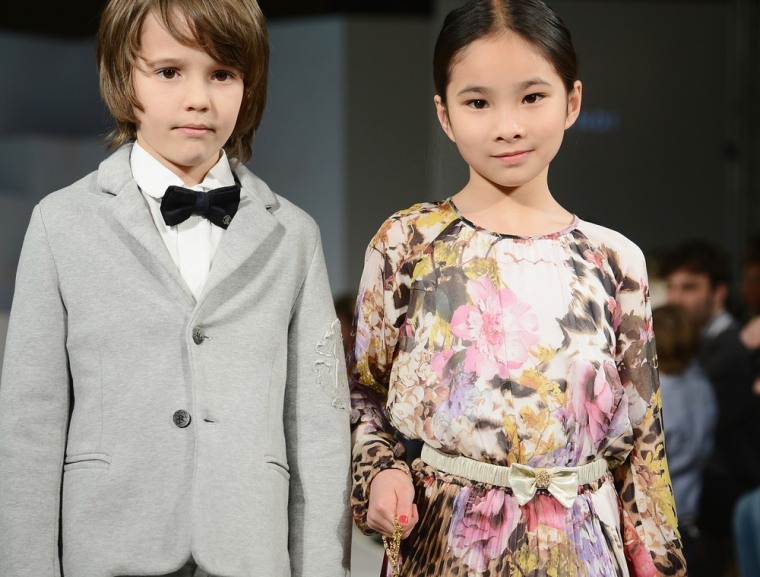 But others question whether luxury designers ought to be marketing to children (and their credit card wielding parents), in the first place.

The Financial Times' Vanessa Friedman wasn't a fan of the London Kids' week even before it started, writing that kids' clothing should be "a place of freedom" where children can play around with identity and perception— and fashion shows deliver images that are too rigid and "fully formed." Her fear, it appears, is that kids will see a homogenized view of style, and won't learn to experiment with their own innate sense of expression.
And in a story for the Daily Beast, writer Tom Sykes raises another question:
"Does the rise of mini-me kid fashion represent a threat to our kid's innocence, too much pressure to grow up too young, or is high fashion for kids simply an aberration of interest only to a limited class of 1 percenters?"
Jeanne Sager, a senior writer for The Stir and mom to a 7-year old daughter in Callicoon Center, NY, has weighed in on the issue of buying a toddler a pair of $150 True Religion jeans. And she generally agrees with Friedman's take on Global Kids' Fashion Week. "There's a merit to buying quality clothes for elementary school kids," says Sager, "because I do think kids can be cruel to one another about their clothing choices."
But most of all, Sagar believes that kids need to feel that they can have fun in what they're wearing--- that they can get them messed up, and run around outside, and be kids. And $500 dresses just don't give you that sense of freedom. Sager is also concerned about what, exactly, a child in a pair of Little Marc Jacobs pants or a mini-Burberry coat is being taught about the value of money.
For some parents though, kids fashion, like adult fashion, is about playing dress up—and they don't see any harm in letting kids indulge in some of the fun of fashion too, every now and again. Kelly Philips Erb, a tax lawyer and legal blogger says her 8-year old daughter loves Project Runway and often designs and sews clothing for her dolls. "Fashion," Erb explains, "especially on the runway - is mostly about fantasy, which kids love."
Tracey Manner, Think PR director for Alex and Alexa, the company that sponsored Global Kids' Fashion Week, says she's found some of the controversy surrounding the event quite interesting, especially if you look at the kids fashion market through an international lens. In Europe, she explains, there are many more kid-focused fashion magazines, and the industry is widely accepted.
"We obviously understand that people have concerns," she said. "And we took everything very seriously, so that ever last detail was done in a tasteful and kid-appropriate way." For instance, boys and girls were separated backstage. No photographers were allowed to take pictures of children before they were fully clothed for the runway. And the show's organizers vetted the outfits very carefully.
"There was a sports bra and hot pants set for example," Manner said, "that we didn't use because of taste and decorum."
What do you think? Does having a Fashion Week geared to kids sent a wrong message or is it something that's fun and harmless? Weigh in on our TODAY Moms Facebook page.