Being a law student is notoriously difficult— as is raising seven children, including three who have been diagnosed with autism. But this Sunday, when 40-year-old Jennifer Wood steps on stage to accept her degree from the Illinois Institute of Technology's Chicago-Kent College of Law, she says everything she and her family have been through to get this point will have been worth it.
For Wood, of Plainville, Ill., her law school commencement marks the emotional culmination of a three-year dream to become a family lawyer that can help shepherd clients through the jumble of legal rights and red tape that can easily overwhelm any parent of a child with special needs, something she well knows from her personal experience with her three biological autistic sons, Trip, 11, Wheeler, 9 and Tate, 7.
Wood says the epiphany of wanting to become a lawyer happened seven years ago, when her divorce from her first husband (the biological father of Trip, Wheeler and Tate) involved extensive child custody litigation.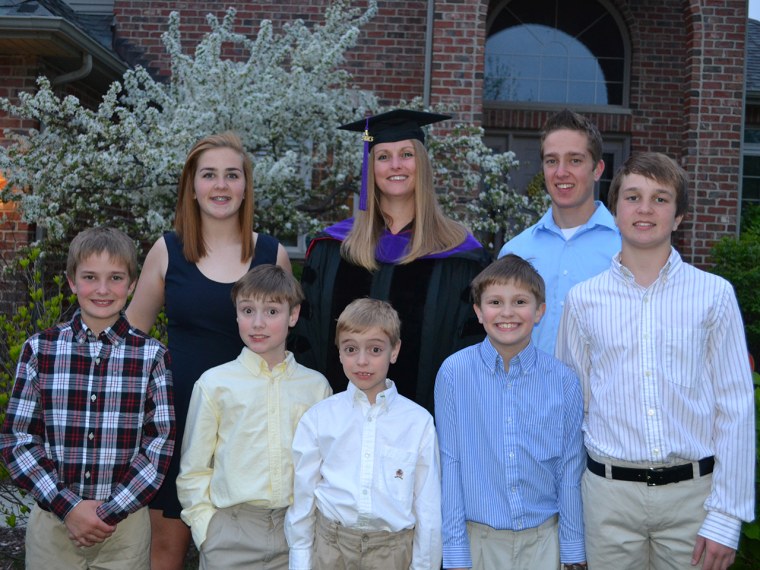 "There was this one moment where all the parties were there—my attorney, my children's attorney, the judge," Wood says. And they all wanted to throw "the standard legal fixes" at the problem by instituting an every-other-weekend visitation and parenting plan for the three boys.
"In that second, I realized nobody in the room understood that the typical dad weekend arrangement wasn't going to work for my children," explains Wood. As young kids with autism, her sons needed strict regularity in their daily lives. At that point in their development, she had to drive them to school the same way every day or they would "freak out in the back seat."
She recalls trying to explain this all to the lawyers and the judge, to try to get them to see divorce and custody proceedings through the eyes of a mother who has three kids with autism and to understand that her boys had to see their father every Friday, because they couldn't grasp the concept of every other in their weekly routine.
At the same time, Woods, a high school teacher before law school, had been volunteering to help families with special needs children navigate their IEP (or Individualized Education Plan) meetings with teachers and school administrators. "Because I am interested in education and knew the school system, I could help these mothers with special needs children get what they needed and deserved," she says.
But she could only "take the families so far." When an IEP meeting goes sour and families and school administrators can't agree on an education plan, parents, under the Individuals With Disabilities Education Act, have a final "due process" hearing before an educational tribunal in their school district. After months of work, though, Woods couldn't take "her families" through that due process hearing— they needed a lawyer.
"I just felt so protective of these moms and dads I had been advocating for, and then I couldn't take them to the end," Woods says..
That's when she realized she had to become a lawyer to see them to the finish line, and make sure their children got the speech and occupational therapies and the individualized educational attention they deserve under the law.
"There were so many times over the past three years that I really doubted myself," confesses Wood, who had a two-hour train commute to campus every morning, cooked dinner and put her children to bed each night, and then burned the midnight oil for as long as she possibly could, highlighting her casebooks and squeezing in her written assignments.
"I would think, 'Oh you just can't teach an old dog new tricks.' And I am an old dog compared to these brilliant kids I've met at school," she says with a laugh. Wood recalls how hard it was her first semester because all of her exams had to be taken on the computer, and her fellow classmates (a full decade and a half younger and raised on laptops) could type twice as fast as she could— meaning her answers contained half as much information as theirs and law school is graded on a curve. She also marveled at their ability to study in Starbucks, as opposed to the library or at home as she says her generation used to.
She's also grateful that her fellow students were enormously supportive of her journey calling her "Mama Woods" and then "Wheels" (her old college nickname). They even brought her family bags of groceries when her husband, Rich Wood, 41, an environmental compliance manager, lost his job, out of the blue, one Friday afternoon, midway through her first year of law school.
"My professors were also all enormously supportive of me." Woods said. "They were always very aware of what I was going through, both in terms of my personal life and as an older student returning to law school for a second career."
While Woods's deeply personal motivation for returning to school and becoming a lawyer is unique, law schools across the country have responded to the growing number of parents who now enroll in their full-time programs, and face the unique challenge of balancing a heavy law school load, new community and their family life. Student-run support organizations frequently called PALS, "Parents Attending Law School," and a companion group, OWLS, "Older and Wiser Law Students," have started popping up on campuses from Phoenix School of Law in Phoenix, Ariz/, to Charlotte School of Law in Charlotte, N.C..
For many students returning to law school in their 30s and 40s, and for many parent-students, the PALS and OWLS groups help them adjust to school, and socialize with other young families. For instance, some PALS groups set up pumpkin patch events in the fall and family potlucks and picnics— outings many law students right out of college might not be keen on doing with their free Saturdays.
Claine Snow, a second year law student with three young children, and leader of PALS at Stanford Law School, says his organization had 22 active families this past school year, and that the Dean of Stanford Law is particularly supportive of new students with children, and tries to connect new student-families with an existing student-family, as a kind of law school and parenting mentor for the first year of classes.
And last month, The University of Baltimore Law School's Parents In Law School (PILS) organization hosted a panel, "Can You Have It All? Finding Work/Life Balance," in which student-parents could ask a panel of alumni practical questions about how to study for the upcoming Bar exam full-time with children at home and how to find family-friendly employers.
Wood takes the Illinois Bar at the end of July and is still looking for a full time position in the Chicago area. "If you want a fighter," she says, "someone who has been through this with their own family, who was the client, someone who knows how to deal with schools and family law, I'm the person for you."