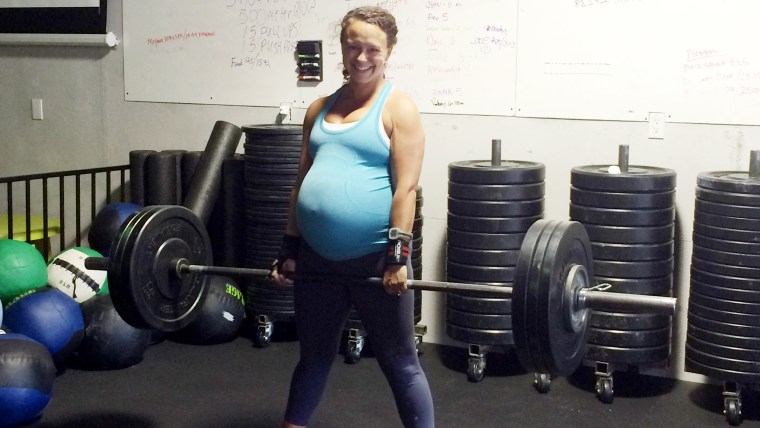 Anyone who's ever waddled through nine months of pregnancy would be wowed by the sight of a mom-to-be at 40 weeks, dead-lifting weight as part of a Crossfit regime.

Meghan Leatherman, 33, of Phoenix, continued her Crossfit workouts to remain healthy during pregnancy; she was so dedicated to it she worked out the day she went into labor, though she told TODAY she "wasn't able to give it my all."
While she was in her 40th week of pregnancy she set a personal record—a 165- pound back squat. A week earlier, she dead lifted 215 pounds, another personal record.
"I was still setting personal records, which surprised everyone, including myself," she says, adding she had been doing Crossfit for more than two years, often with husband, Chad, 34, when she became pregnant.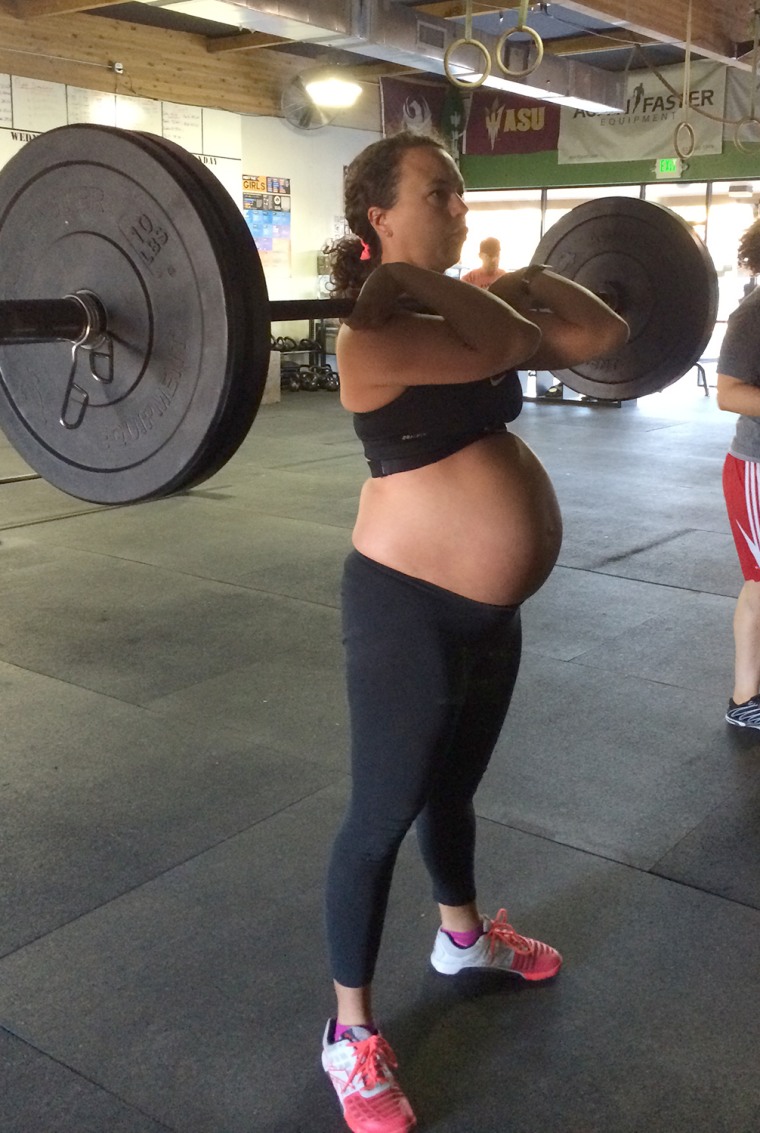 While novices might see a mom-to-be lifting and worry that she is doing something wrong, experts agree that pregnant women should maintain their current workout programs, with some modification.  
"I am a proponent of physical activity during pregnancy. [I believe] that pregnancy should not be a state of confinement," says Dr. Raul Artal, chair of the department of obstetrics, gynecology, and women's health at St. Louis University School of Medicine.
"I strongly believe that women should be active during pregnancy."
Artal has been instrumental in writing the American College of Obstetricians and Gynecologists' policy on exercise during pregnancy. He says the only thing banned outright is SCUBA diving.
But there are some restrictions on exercise. If a woman was a marathon runner prior to becoming pregnant, she can continue her long runs. But a sedentary woman shouldn't begin long runs or any kind of intense exercise (Leatherman agrees: "I am not advocating that any woman should start Crossfit [while pregnant]. They should maintain what they had been doing").
"If you are a fit person … there is nothing really wrong with you going on and continuing to do it," says Jennifer Wuyscik, an athletic trainer at UPMC Sports Medicine in Pittsburgh.  
Wuyscik says that if moms-to-be continue weightlifting, they need to remember their breathing.
"When you are weightlifting, breathing is really important … a lot of people's tendency is to hold their breath."
Artal says that there is no research on pregnant women doing Crossfit, but there are a few studies of men who do Crossfit. When they lift weight, about 90 percent of their blood flow is redirected to the muscles.
"Can a fetus sustain it? Probably a healthy fetus in some can sustain it," he says.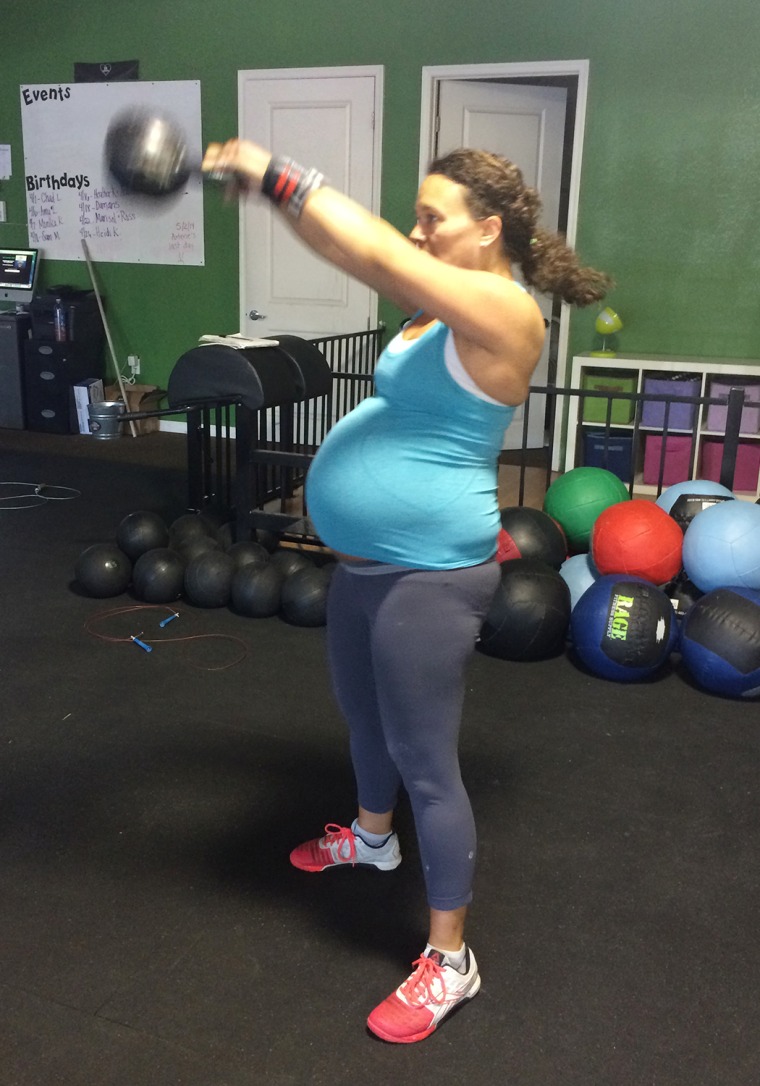 There are other things moms-to-be need to consider while exercising, regardless of the routine. Shadman Habibi, a certified nurse midwife at Ronald Reagan UCLA Medical Center, says her patients often forget to drink enough water while working out.
"Pregnant women get dehydrated much faster than women who are not pregnant," she says.
Your center of balance changes when you've got a baby on board, so expectant moms need to be extra careful. Toward the end of pregnancy, hormone changes also affect women's bodies. As the body prepares for labor, it releases the hormone Relaxin, which will loosens the ligaments to make delivery easier. But this means it is easier for women to injure themselves.
"That hormone does cause the joints to be softer," Habibi says, adding it is the reason that late-stage pregnant women often find it harder to get off the couch, out of the car, or even walk down the street.
But the benefits of exercise far outweigh the risks. Women who remain active throughout pregnancy have less risk for gestational diabetes, high blood pressure, and preeclampsia. While there is no research on it, Artal says that fit moms heal faster.
"Women who are physically fit will recover much better," he says. "It is just like an how an athlete will recover much easier from a marathon run than someone who is not physically fit."
Leatherman didn't set out to break records — she simply wanted to remain healthy. As her belly grew, she modified her regime because she couldn't manage some lifts with her protruding stomach. She also hiked and walked her dog, doing something active daily.  
"The doctor was very supportive, I never had any [health] issues," she says.
On May 3, she gave birth to a healthy baby girl, Florence, who was 6 pounds 11 ounces.
Leatherman also thinks that her recovery has gone well because she was in good shape. She plans on returning to the gym as soon as next week, as long as the doctor approves it. She will bring Florence to watch her workout, which will include less strength training and more conditioning at first.
"It's important to see [workouts modeled] at a young age," she says.  
For more inspiration, see this 9-months-pregnant ballerina or the mom-to-be who surfed her way through 9 months of pregnancy.