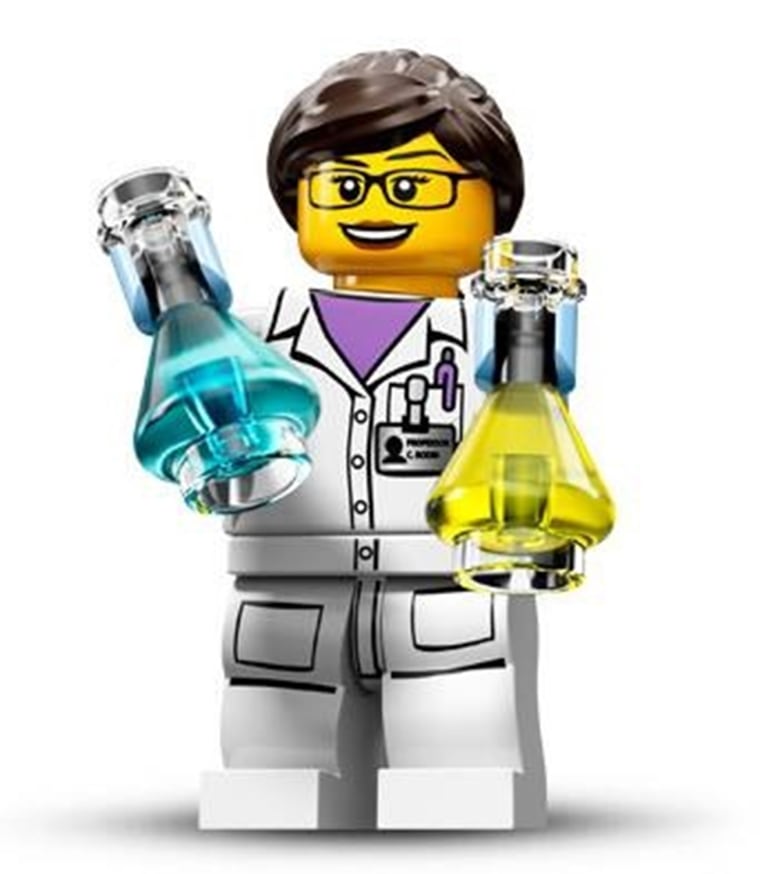 This LEGO minifigure isn't wearing pink, and she isn't showing any skin. Her wardrobe consists of a crisp white lab uniform and glasses, and her little claw hands grasp two itty-bitty Erlenmeyer flasks.

The "Scientist" just hit stores on Sept. 1 as part of LEGO's Minifigure Series 11, and she's already being hailed as a stereotype-busting hero of the toy aisle. Those who have kept a wary eye on LEGO's pastel-hued, cleavage-heavy, hair-salon-loving minifigures for girls say the Scientist is a big, big deal and the first of its kind.
"Let us hope that this is only the beginning," science editor and writer Maia Weinstock declared in an in-depth blog post for ScientificAmerican.com.
"I think this figure is a positive step because it portrays a woman in a STEM (science, technology, engineering and math) career without resorting to gender stereotyping by making her pink or calling her a 'lady scientist,'" Elizabeth Sweet, a doctoral candidate in sociology at the University of California, Davis, told LiveScience.
LEGO has been criticized in recent years for its highly profitable tactic of marketing its brainpower-building plastic brick toys almost exclusively to boys. In response, the Denmark-based company announced a special New Year's resolution for 2012: to "deliver meaningful play experiences to girls worldwide."
To that end, LEGO unveiled "LEGO Friends" specifically for girls ages 5 and up. The predominantly pink and purple products center around five friends named Olivia, Mia, Andrea, Stephanie and Emma who hang out at places like the Butterfly Beauty Shop and the City Park Café in a town called Heartlake City. The plastic gal pals got roundly panned for promoting gender stereotypes.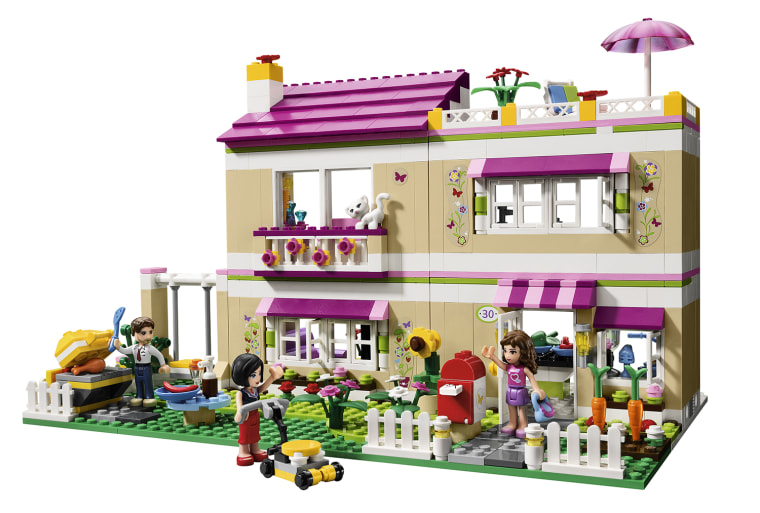 "Heartlake City is a pastel-colored, gender-segregated, stereotypically female suburban paradise," Anita Sarkeesian noted in her Feminist Frequency video blog. "The activities featured in the Friends themes, such as baking, cooking, caregiving, homemaking, decorating (and) hair-styling, are rooted in deeply stereotypical and limiting roles for women in children's toys, and sadly, in society in general."
LEGO did not respond to interview requests from TODAY.com about its efforts to market to girls or its new Scientist minifigure.
On its website, LEGO describes the toy with a detailed "bio" that reads, in part: "The brilliant Scientist's specialty is finding new and interesting ways to combine things together. She'll spend all night in her lab analyzing how to connect bricks of different sizes and shapes (she won the coveted Nobrick Prize for her discovery of the theoretical System/DUPLO Interface!), or how to mix two colors in one element."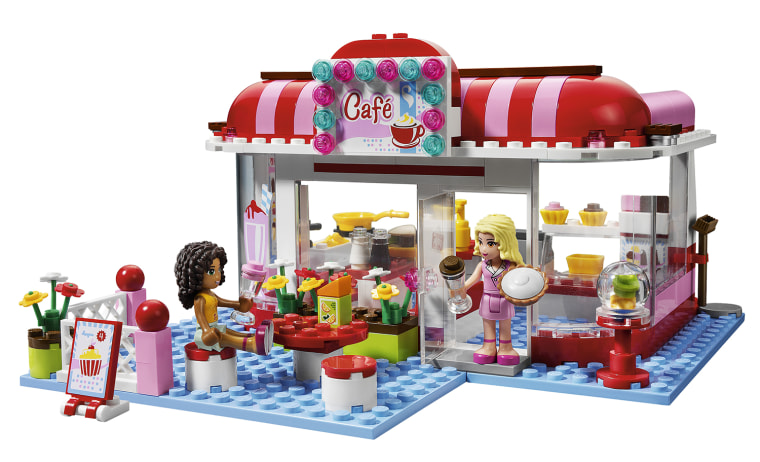 At a time when women continue to trail men in science and engineering professions, it's easy to see why LEGO's release of the Scientist is being celebrated as a significant step in the right direction. (After all, playing with LEGOs has been linked to accelerating children's math and spatial memory skills and may even lead to careers in math and science.)
Related story: Turn up the girl power in science
In a blog post she wrote last year about LEGOs and girls, science editor Maia Weinstock called attention to an even loftier purpose that LEGOs — and all sorts of toys — can provide for girls: the opportunity to inspire.
"Why not focus more on sets that show girls doing inspirational, socially valued — dare I suggest cerebral — things?" Weinstock wrote. "The characters could be scientists, engineers, CEOs, politicians, teachers, journalists, technology specialists, architects — the list goes on."
Need a Coffey break? Connect with TODAY.com writer Laura T. Coffey on Facebook, follow her on Twitter  or read more of her stories at LauraTCoffey.com.