As a single working mom with no college education, Jessica Aragon was once so desperate for diapers she considered stealing them. Back then, she remembers, she barely had enough money to cover childcare and rent at the end of the month, let alone pay for baby wipes and diapers for her 1-year-old.
"For other needs, like food, you could go to a food bank," Aragon, now 33, says. "But there was no help for things like diapers. I had to borrow money and sell everything I had -- the DVD player, the TV – to get money for diapers."
Sometimes she'd just have to skip a change and leave her baby wet so she'd have enough diapers to make it through the week. "It made me feel ashamed, like I was less of a mother," the Columbus, Ohio, mom says.
As it turns out, Aragon is far from alone. Thirty percent of the women interviewed for a new study published Monday in the journal Pediatrics said they'd experienced a time when they could not afford to buy the diapers their kids needed. And a full 8 percent reported that they would "stretch" the diapers they had when their supply was running short by leaving a wet diaper on their child or partially cleaning the diaper and reusing it.
In fact, worry over how to pay for diapers is now among the top stressors for low-income parents, next to concerns about food and housing, researchers say.
The concerns come as Americans continue to grapple with the effects of the deep recession and weak recovery, which has left many families scrambling to keep up with rising bills. The nation's median household income declined to $50,054 in 2011. After adjusting for inflation, that's nearly 9 percent lower than the peak in 1999.
The problem is especially acute for single moms, who tend to already be among the most economically vulnerable. The overall poverty rate was 15 percent in 2011, according to the most recent data available from the U.S. Census Bureau. But nearly 41 percent of female-headed households with children under age 18 were living below the poverty line, according to the Census Bureau. That compares to a little less than 9 percent of married-couple families with kids under 18.
The high percentage of moms who worry about affording diapers came as a surprise to the study's lead author, Megan Smith, an assistant professor of psychiatry, child study and public health at the Yale School of Medicine.

Smith started out looking into stressors that impact the mental health of moms and especially the factors that affected their ability to bond with their kids. The more moms she talked to the more she realized that a big stressor for some of them was the inability to pay for diapers.
"Some were taking off their kids' diapers and scraping off the contents and then putting them back on the child," Smith says. "While that has an incredible impact on the health of the child in terms of urinary tract infections and rashes, it also impacts the self-esteem of the mom."
Another big surprise to Smith: there are few federal dollars to pay for diapers. Neither WIC nor SNAP provide for diaper purchases.
For the study, Smith and her colleagues interviewed 877 pregnant and parenting women of various income levels in New Haven, Conn. The researchers located the women through health care providers and also by conducting outreach in various spots around the city, including schools, beauty shops, bus stops, playgrounds and grocery stores.
The women were asked questions about their basic demographics, mental health, substance use, trauma histories, health care and social service use, and basic needs -- such as food, housing, and diapers.
While the new study focused on mothers in New Haven, Conn., experts note that many families across the country struggle to afford diapers. "The results of the study support the reports I hear every day from diaper bank leaders across the country," says Joanne Goldblum, a study co-author and executive director of the National Diaper Bank Network, which helps provide diapers to low-income families.
A 2010 study commissioned by diaper-maker Huggies found that one in three of the 1,513 U.S. mothers surveyed had cut back on essentials such as food, child care or utilities to afford diapers for their children. Of those surveyed, 26 percent were living below the poverty line, 32 percent were above poverty but living in financial hardship and 42 percent were not experiencing financial hardship.
Mothers aren't the only ones having problems paying for diapers. Grandmothers were also having a tough time, the new study found.
That rings true for Debbie Bloom, 57, of Warwick, Pa.
Bloom is taking care of three grandchildren, the youngest of whom was 7 months old when he came to live with his grandmother almost two years ago. The diapers sometimes were enough to break the bank for Bloom who says she often paid her credit cards late, incurring penalties, so she could afford the $30 a week she spent on diapers.
For people with low incomes, the cost of disposable diapers can take a big toll. Cloth diapers aren't an option for many poor women, who don't have easy access to washers and dryers. Many laundromats don't allow diapers to be washed in their machines and, even when they do, the cost of frequent washes can be more than the mother can afford.
The researchers calculated that for a single mother working full time making the minimum wage, diapers would eat up more than 6 percent of the mom's gross income.

That often means tough choices. Yomaris Rodriguez, 20, sometimes had to forgo the phone bill to buy diapers for her older son, who is now 18 months old. "It cost a lot of money to buy diapers," the Hartford mother of two says. "To save on diapers I tried to potty train the older one by leaving him in boxers during the day." That was when her little boy was all of 10 months old.
Moms do whatever they can to make ends meet, says Pat Kennedy, head of the Greater Philadelphia Diaper Bank. "You see moms who are great moms, but who out of necessity are leaving their babies in the same diaper all day long," she says.
Studies have shown that diaper rash and urinary tract infections become more common when diapers are changed less frequently.
The new study, while it has its limitations, shows "a gaping hole in the safety net," says Carl Latkin, a professor in the department of health, behavior and society at the Johns Hopkins Bloomberg School of Public Health. "The vast majority of focus has been on food and security. Obviously when you are defining a safety net of basic necessities, I think most people would put diapers in that category."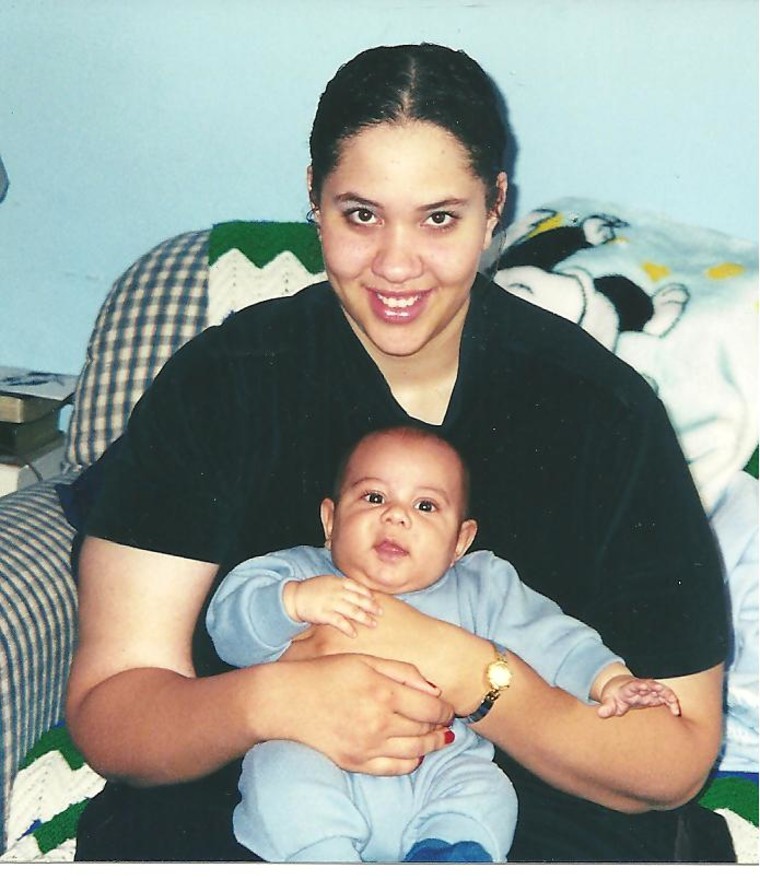 And the stress felt by the moms most certainly will trickle down to their kids, Latkin says. "There's a lot of literature about maternal stress and child outcomes," he adds.
That's why it's important to find a way to get moms the diapers they need, says Goldblum, the National Diaper Bank Network executive director. "If you can't provide for your kids in a basic way, how can you feel good as a mom?" she asks. "Everybody wants to the best for their children. I think that concept gets lost because people for some reason feel such anger towards mothers who are poor."

Diaper banks have helped ease some of the stress for Rodriguez and Bloom.
Aragon eventually had to move back in with her mom to help make ends meet. Now, 13 years later she is married and runs a business with her husband. She doesn't worry about the cost of diapers anymore, but every time she changes a diaper on her youngest kids she remembers those dark days when there weren't enough diapers.
"I feel a little psychotic now, always buying extra boxes, just in case," she says.
NBC News business reporter Allison Linn contributed to this report.