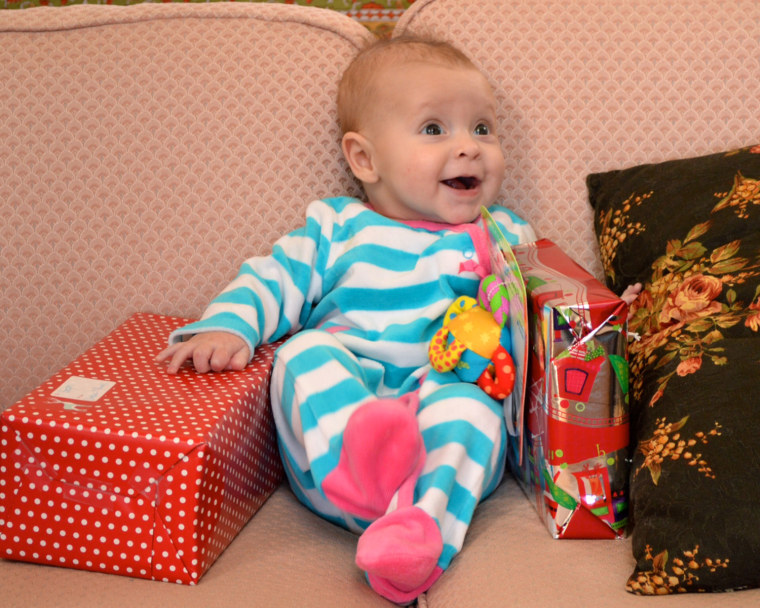 One of the best things about parenting is collecting all the firsts: the first smile, the first sneeze, the first haircut, the first holiday. You only get one crack at a first and if you miss it, then you have to write a whole blog post about how special "seconds" are and nobody's eager to read that. So let's hone in on the firsts.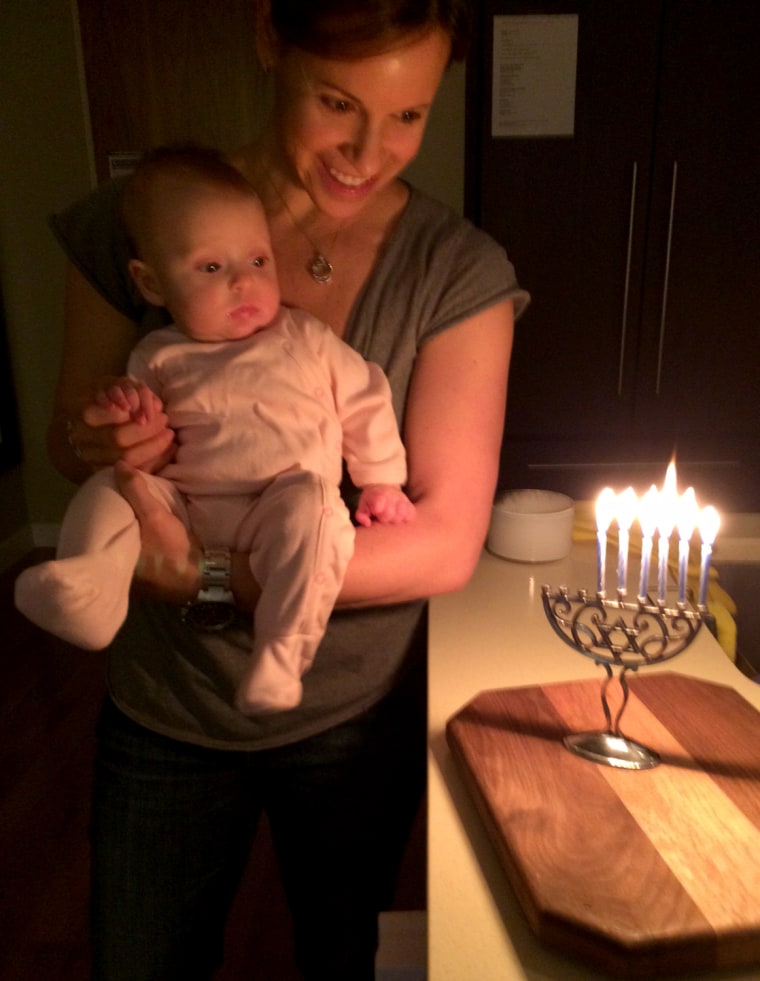 Harper experienced her first stretch, smile, giggle, wiggle, bath, bottle, Thanksgiving, Halloween, Hanukkah and Christmas in her 4-and-a-half wondrous months on this earth. Each was exciting in its own right. To a parent, excitement is measured in photos taken. I can wallpaper the Southern Hemisphere with the pictures we've taken of Harper. I'm not sure how my parents fully appreciated my upbringing without the ability to take pictures from any device anytime, anywhere.
While the little one doesn't know the difference between Christmas and, say, Thursday, the grown-ups certainly do. We celebrate both Hanukkah and Christmas in our new household, but since Hanukkah happened about 45 months ago (it was so early this year!), we placed all our December focus squarely on Christmas. Also, I'm a sucker for Dec. 25. The first time that Lexus "December to Remember Sales Event" commercial comes on every year, I honestly get chills. I'm half tempted to make that theme song my ringtone ... and I don't even have a car!
We went to Steph's parents' house up near Hartford, Conn., for the night. We obviously overpacked ... eight bags between the three of us. One would have thought we were going somewhere for two weeks. Once we got there, we set up the pack-n-play, organized her bottles for feeding, changed her bib for the fourth time (apparently she's teething and thus drooling at an alarming rate), and finally settled into the day. We played a cool game of "pass the baby." Have you played this? Every relative wants to hold the baby, talking about how good the baby is, how happy the baby, how calm the baby is ... right up until the baby gets fussy and then gets handed back to mom, or in this case, moms.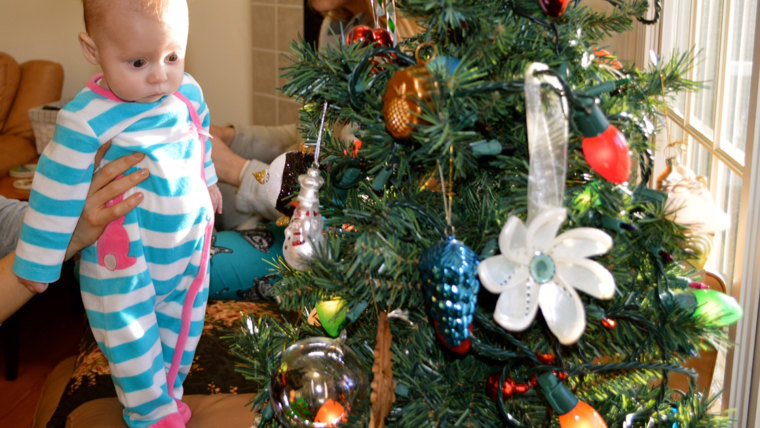 It was a beautiful Christmas Eve — the tree, the dinner, the company, the calories — followed by a perfect morning. Harper's gift to us was a 12-hour sleep followed by a huge smile when she woke up. It wasn't wrapped or anything, but we cut her some slack because she hasn't really figured out how to use her hands yet.
We bundled her up, warmed up the rental car, braved the cold, strapped her in the car seat, piled on the blankets, and headed out for the 30-second drive down the street to get coffee and donuts for the sleeping family. Christmas morning was underway.
While the holiday itself was relaxing and festive and so appealing to this Jew, it wasn't my favorite part. My favorite part was being able to share something I love with our daughter. It was the first time I truly felt that her joy was my joy. And while I was grateful and appreciative of all the gifts I opened (Thank you, Steph, for the amazing color photo printer. Now I can print pictures of Harper at all hours of the night.), I still rushed through that part to be able to take Harper back on my lap to enjoy everyone else's Christmas.
Next year at this time, she'll be standing up, maybe even walking, opening gifts of her own, handing them to Steph and me, doing calculus (did I go too far?). My point is, life goes fast. Enjoy collecting the firsts, big or small, while you can. Photograph them, talk about them, lock them away in your memory because there will undoubtedly be a time when you'll need just a little nostalgia to hold your hand and get you through your day.