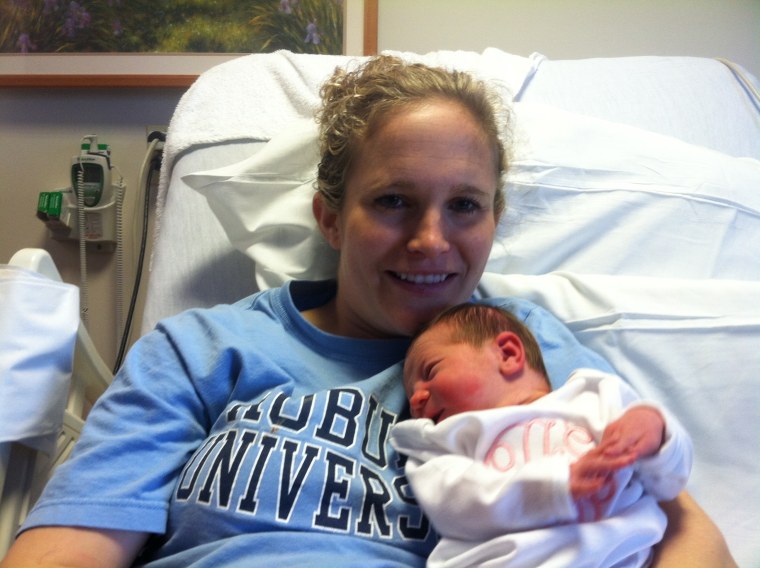 When his wife, in labor with their third child, turned to him in the car and said, "We're not gonna make it," Nick Anderson knew he had to keep calm.
They were stuck in gridlock on an Atlanta-area highway during the snowstorm this week, and their two daughters, ages 2 and 4, sat in the backseat.
"We were hoping and praying that we were going to make it to the hospital in time," Anderson told TODAY. "Things didn't quite go as planned." 
His wife, Amy, gave birth to Grace Elizabeth around 5:20 p.m. Tuesday on the side of Interstate 285, with the assistance of police officer Tim Sheffield, who called the birth "beautiful."
Mom and baby are healthy and doing well. "We're very happy," said Anderson, a high school special education teacher.
Amy was one week short of her due date on Tuesday, and her hospital bag hadn't yet been packed. When her contractions started, she called her husband.
It took Anderson two hours to get home to her; he'd heard that southbound traffic wasn't so bad on the highway, so he loaded the family in the car to begin their journey to the hospital.
For the first few miles, it was smooth sailing. "I was like, 'Man, we're gonna make it,'" Anderson recalled. He drove on the shoulder, put the hazard lights on and honked the horn to pass other cars.
"Finally my wife just looked at me and said, 'we're not gonna make it,'" Anderson said.
He pulled over and called 911, and an operator calmly said she would talk him through it. "It was wild," Anderson said. With his two older children in the backseat, he said, "I realized that if I'm freaking out it's only going to make it worse for them."
As Anderson stood outside the open passenger door, police officer Tim Sheffield arrived, and asked if they were having car trouble.
"I said, 'No sir, we're having a baby,'" Anderson recalled.
Anderson coached Amy along as she gave birth without pain medication. 
"I was the supporting actor and she did a fantastic job," he said.
Sheffield recounted on TODAY Wednesday that at one point, Anderson was starting to pull the baby out. "I said, 'No, no, no. Don't pull.'"
"And then the baby came out," Sheffield added. "It just happened quick. It was beautiful."
Paramedics arrived just two minutes after the the birth, and brought Amy and Grace to a hospital. Anderson said he and his wife are "so grateful" to the paramedics and Sheffield.
Anderson said the name Grace was already at the top of their list, because of their faith, but the circumstances of her birth made it even more fitting. "We felt that Grace was quite the appropriate name for her," he said.
For now, the couple is still taking it all in.

"We're just kind of waiting to wake up and look at each other like, "Did that really just happen?'" Anderson said.