Evonne and Deon Derrico had always wanted a big family – and they got one a lot sooner than anyone could have expected. In September, Evonne delivered quintuplets to add to their brood of four. Perhaps even more amazing than the arrival of five healthy babies was the fact that it was all natural—no fertility drugs involved.
"We did not expect this," Deon Derrico told TODAY's Savannah Guthrie.
As he spoke from the couple's home in Nevada, three of the newborns rocked peacefully in their pods. The other two babies will be coming home over the next two weeks.
"Multiples run very high in the family," Derrico said. "My mother miscarried triplets just prior to myself. So we wouldn't have been shocked to have twins again. But we could never have expected this."
In fact, quintuplets conceived naturally, are extraordinarily rare, said Dr. John Elliott, an obstetrician at Banner Desert Medical Center in Mesa, Ariz., who specializes in high risk pregnancies.
"The chance of this occurring to this family was about one in a couple million," Elliott said.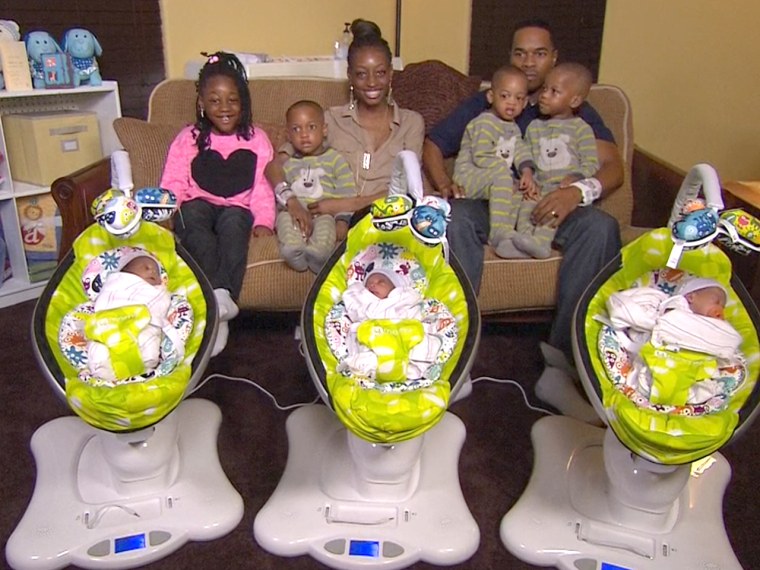 Even though they already had twins, the Derricos really thought they would just be building their family one, maybe two, babies at a time.
"We were trying for one more," Evonne Derrico said. "You know, you don't try for two or three or four at a time."
Not long after Evonne became pregnant, doctors delivered the news: she was carrying quadruplets. But two days later the Derricos got an even bigger surprise when their doctor revealed that there another baby coming.
"She said it so nonchalant," Evonne Derrico said. "And, 'Oh yeah, you're doing so good. By the way there's a fifth baby there."
Before the quintuplets, the Derricos already had 1-year-old twin boys, a 3-year-old son, and a 7-year-old daughter.
With nine now, Evonne's biggest concern is making sure they all get the attention they deserve.
"As a mother with nine children, you often think, 'Do I have enough love for all of them,'" she said. "I think that's been my number one priority to make sure that I'm not … I don't want anyone to feel neglected or unloved or mistreated."
Things have gone surprisingly well as the family adjusted to having doubled in size overnight.
"We're all sleeping," Evonne Derrico told Guthrie. "We're all in the room, one big happy family. We're on a schedule. We have to be on a schedule. It starts right now. So everything is going good. We are all getting enough sleep and it's working out amazingly well."
How do the other kids feel about the new additions?
"It feels good that I have my siblings here with me," 7-year-old Darian said when asked by Guthrie what she thought about it all.
"That's it," Darian said as her mom and Guthrie laughed. "That's all I got."