When it comes to math, and especially math competitions, there's a tendency to think of that old school yard taunt, "Boys rule, girls drool."
Well, a new study shows a way for girls to stop spitting and start counting better than the boys. All they need to do is take their time being accurate and stay in the game longer, says Brigham Young University economist Joseph Price, who co-authored the study that recently appeared in the Journal of Economic Behavior & Organization.
The study of 505 kids, evenly split between boys and girls in 20 classrooms and five schools, found that when math contests included more than one round of competing, girls performed as well or better than boys. However, if there was only one round, the boys prevailed.

In the study, students were paired against a classmate to see who got the most questions right during a 5-minute quiz. The student who got the most questions right won a small prize, and in the case of a tie, the prize was rewarded to who finished first. Since the schools shared past test scores with the researchers, they could compare how similarly-skilled boys and girls performed.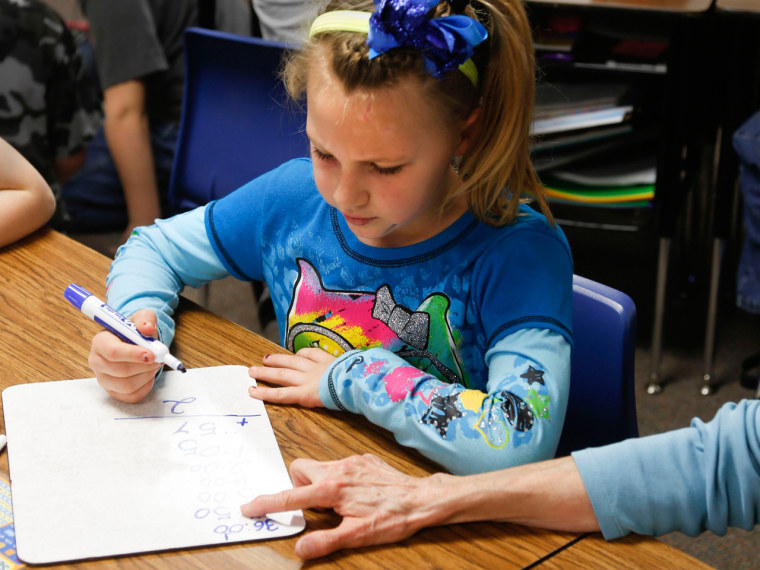 The researchers found that while the girls' and boys' talents matched up on paper, the boys had an edge in the first round of competition.
Price said it's not clear if the boys do better because their excitement caused them to over-perform or if it's because the girls were uncomfortable in the situation.
That all changed when more rounds of competition – rather than just one – were introduced, and when the speed component wasn't rewarded. The more the girls competed, and were told the competition wasn't a race, the better they did.
"The 'not a race' approach was one way that we could make the initial gender gap go away," said Price. "Our results would indicate that emphasizing accuracy over speed would be a good way to level the playing field."
So the next time your daughter says she isn't good at math, how should you – or a teacher – encourage her to thrive in a competitive situation? Is it just a matter of telling girls to slow down and persevere?
It's a question I face daily with my own kids, a teen daughter and elementary-school aged son, who are equally proficient at math. And yet my girl frets about being inadequate in math even though she makes good grades, while my boy constantly boasts of his math prowess.
Price, who has two daughters ages 8 and 1, says that while parents and teachers might hesitate to use competitions because they might seem to give an undue advantage to boys, they shouldn't.
"We find that this gender difference in the response to competition is very short-lived and disappears if we encourage girls to stay in the game or structure the nature of the competition slightly," Price said.
In other words, we parents and teachers should keep at it, along with our daughters. The researcher admitted he was surprised the initial gender gaps could be eliminated simply by extending the competition.
"I have two daughters and would love to see them feel comfortable competing at math and in other areas," says Price. "It is really encouraging to know that we can structure competitions in a way to make this possible. The next challenge, though, will be sharing this information with girls so that they will be more willing to participate in math competitions."
Are your daughters math-phobic, or mathletes? Discuss on our Facebook page.