4-year-old Harper and her BFF, Lola the bulldog, are a perfect pair for photographer Rebecca Leimbach, Harper's mom.
Rebecca Leimbach has photographed her 4-year-old daughter Harper nearly every day of her life. And from the start, there's was always competition for the camera's lens from Lola, the family's 7-year-old English bulldog.

"When Harper was a baby, Lola would always try to get in the frame and I'd tell her to 'beat it,'" says Leimbach, who along with husband Christopher experienced an agony-filled several years of IVF treatments before Harper came along. Leimbach, who calls infertility the "struggle of my life," says she's always wanted a sibling for Harper. "It weighed on me every time IVF would fail."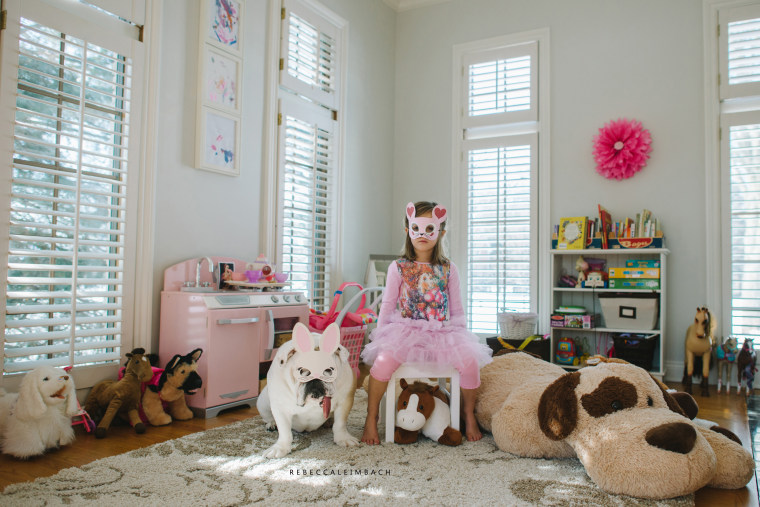 Then came the day that Harper emerged from her playroom dressed as a princess alongside Lola, who was bedecked in full tutu, necklaces and a tiara. Leimbach saw that Lola was the playmate she had been yearning for Harper to have.
"That's when I realized, I'm not going to feel bad about not giving her a sibling," the 40-year-old from Novi, Mich., said. "Lola is filling a bit of that void." Leimbach describes the as pair best buds, and says when they are in the house, Lola is rarely more than a few feet away from Harper. 
And while Lola is kind enough to let Harper play with her in any way, whether it's dress-up or hugging, there is occasional discord. "About every other day, I hear, 'Mom! She took my apples! She took my carrots! She ate my toy!'" says Leimbach, a stay-at-home mom.
Leimbach started photographing Harper and Lola in a series of playful scenes that show the spunky personalities of both girl and dog. While Harper is humorous and talkative, Lola is easy going and pretty funny, too.
In one of Leimbach's favorite photos, the two are sitting at the dining table for breakfast. Lola, having eaten the food on her plate, put her head on the table and fell asleep.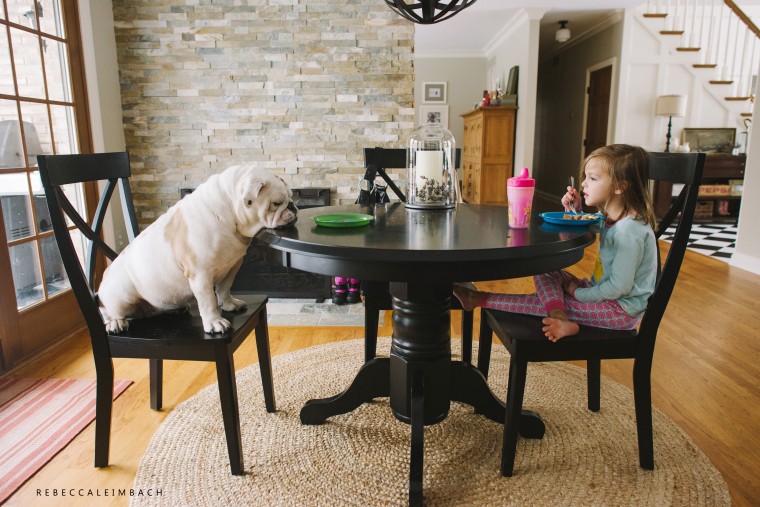 In another, which Leimbach calls, "Copacabana," the pair are dressed as the famed couple from the Barry Manilow song, which Leimbach often croons to her dog. "Her name is Lola, you know, so she's dressed as a showgirl and has a headpiece made of yellow feathers." Meanwhile, Harper is Rico, with a mustache and diamond (which is actually a candy ring pop).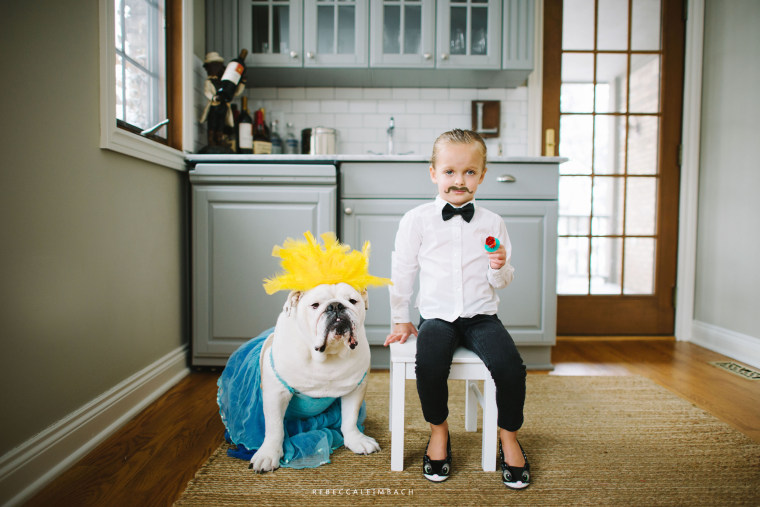 When Harper was an infant, she had colic and Leimbach says Lola was always patient with the crying baby. "I was in survival mode, but Lola was protective from the very beginning. She's like her secret service agent…always looking out for her."