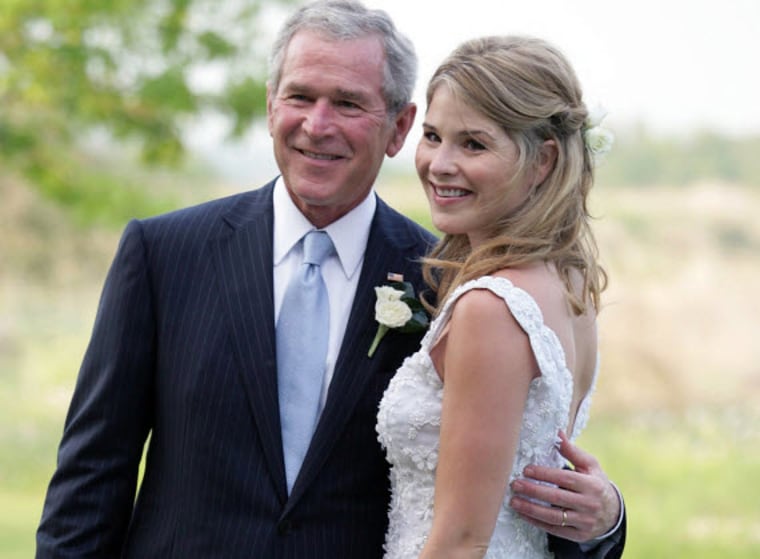 His daughter, Jenna Bush Hager, announced her pregnancy Wednesday on TODAY before taking a call from her dad, who said he's "fired up" to be a grandfather. Former President George W. Bush will add another title to his name come next spring: Grandpa.
"Hi, Popsicle" Hager said, raising questions about what nickname will be bestowed upon the former president and first lady, Laura Bush.
Both Hager and her twin sister Barbara famously call their own grandparents, "Gampy and Ganny."
When asked what moniker he wants his grandchild to use, Bush didn't hesitate.
"Sir!" he retorted.
WATCH: George W. Bush congratulates his daughter live on TODAY
Hager said she would like her father to go by "Pancho," but he had other ideas, referring to the nickname used by one of his former legal advisers.
"Jimmy Baker's grandkids call him 'Jefe,' and I kind of like the ring of that," he said of the Spanish word for "boss."
Some Twitter users couldn't help but make comparisons to Kate, the Duchess of Cambridge, who also is expecting.
Hager's announcement spurred a flurry of congratulatory Tweets for her and her husband, Henry Hager, who joined his wife on the set.
Story: Jenna Bush Hager: I'm pregnant

"A baby for former first daughter Jenna Bush Hager: Delight for Pres. George Bush and Laura Bush. Now our "Royalty" is with child," tweeted Jennifer Stanford.
Tweets poured in from staffers at TODAY, where Hager is a correspondent, and NBC News.
"Congratulations, @JennaBushHager! Can you say Grandpa GW?!?" tweeted White House correspondent Peter Alexander.
"So thrilled for you @JennaBushHager - congrats on your baby news!" wrote Savannah Guthrie, and Jeff Rossen tweeted, "Congrats to @JennaBushHager, the new mom-to-be!"
Carl Quintanilla weighed in on a pic of the expecting couple, saying "Now, this is what happiness looks like. Many congrats to Henry and @JennaBushHager!!" 
"George W. Bush is going to be a grandfather!" tweeted HuffPostPolitics. In addition to celebrity magazines like People, @PostPolitics, the Washington Post's political feed, and other news outlets quickly posted news about the pregnancy. 

None could be happier than the expectant grandparents, however.
"I'm thrilled for Jenna and Henry and, of course, for George and me to have the grandchildren that we've been really looking forward to," said Laura Bush.
Asked whether she would be the type of grandmother who spoiled their grandkids, she said there was "no doubt about it."
"Kind of like we did our daughter," her husband said.
More: Jenna on new magazine gig: I miss the slow Southern way
Jenna Bush Hager recalls nail-biting election nights past
Jenna Bush Hager: How my grandparents inspired my own love story 
Video: George and Barbara Bush love notes revealed 
Jenna Bush Hager: Matt Lauer is my 'older, obnoxious brother'
Jenna Bush Hager: How TODAY's men view the male grooming boom
Jenna Bush Hager: What you don't know about Chelsea Handler