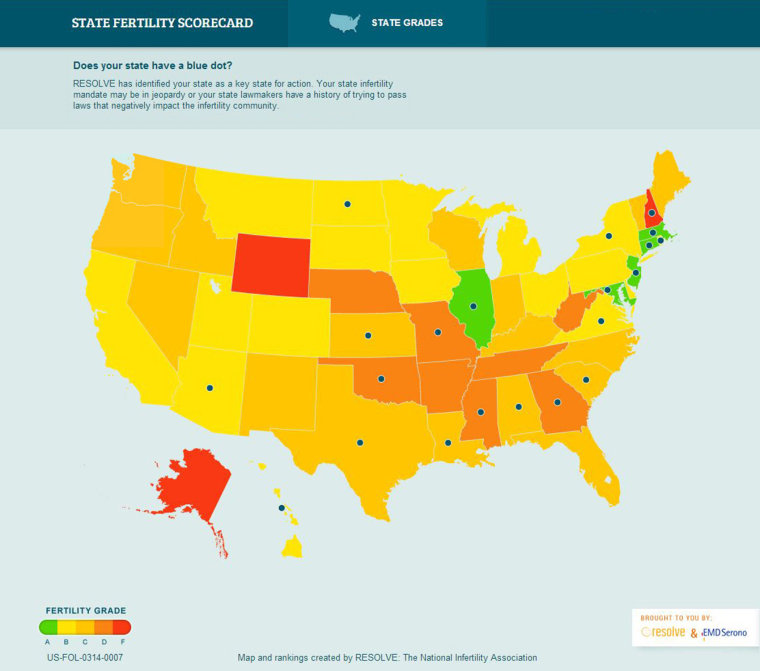 If you've got fertility problems, you may want to head to Connecticut, Illinois, Maryland, Massachusetts or New Jersey, a new report suggests.

The report out Monday scored each state in a "fertility report card," and gave its lowest scores, an F, to Alaska, New Hampshire and Wyoming. 
Several criteria went into the scoring algorithm, including whether a state requires insurance coverage for in vitro fertilization (IVF), the presence of support groups and the number of infertility doctors in the state relative to the infertile population.
"We believe that infertility is a disease and we would love to see it covered by insurance as standard of care," said Barbara Collura, president and CEO of RESOLVE: the National Infertility Association, which released the report. "Not everyone needs IVF, but if their diagnosis requires IVF, or surgery or drug intervention, we would want all of those covered."
Collura knows her position isn't popular with everyone.
"People look at infertility and say, 'Well, you're not going to die from it,'" Collura said. "It's a medical condition where the reproductive system doesn't work, whether it's on the male's or the female's part. There are a lot of things covered that make your health and life so much better, but they aren't life-saving treatments."
Among those, Collura said, are breast implants for women who have had mastectomies to treat breast cancer and devices and drugs that help with sexual function.
"The ability to reproduce is one of the most basic human desires and functions," Collura added. "Why can't we help fix the reproductive system?"
The RESOLVE rating system may not give the clearest picture, said Dr. Mark Perloe, medical director of Georgia Reproductive Specialists. For example, Perloe said, many patients in Georgia have good coverage because they work for companies based in Massachusetts. Beyond that, many patients get their information and support online these days — and if there isn't a good clinic locally, they travel to a state where there is one.
The biggest issue facing people with fertility problems may not be availability or insurance coverage, Perloe said, pointing to pending legislation in Georgia to "protect" embryos.
"My biggest fear is the politicians who want to shut down what we do," Perloe said. "There is a block of politicians who don't want IVF, who says 'God should make embryos, not doctors.'"