She's a mom of a toddler and a baby, doesn't sleep much, runs a thriving business that demands long hours and lots of travel, and she hasn't exercised in a whole week.
For any mom with little ones and such a crazy schedule, the lack of time or energy for exercise is no big surprise. When you're talking about Jillian Michaels, though, it's something of a shocker. But Michaels, the feisty, vocal, personal trainer on NBC's "The Biggest Loser," and author of the new self-help book "Slim for Life," doesn't give any excuses. Rather, like many new moms, she admits she's learning how to juggle work and motherhood and mostly how to be OK with what she does accomplish.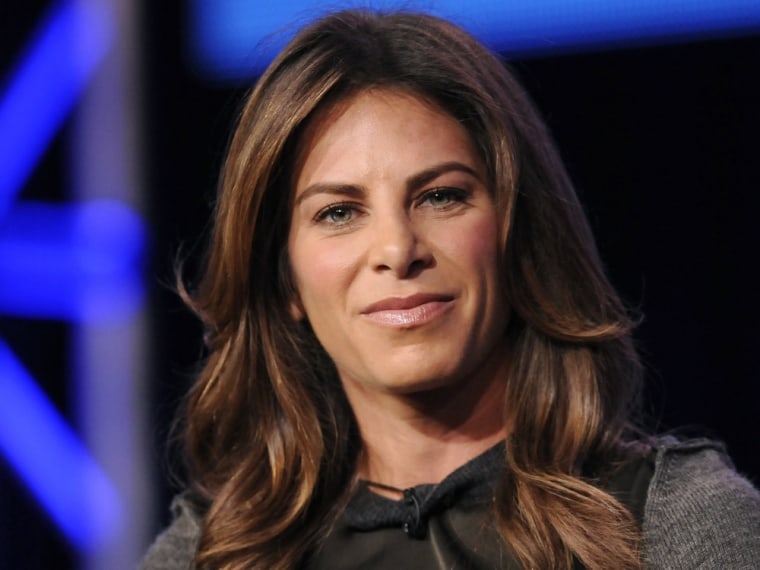 "I've learned if I don't get that time to work out, it becomes a matter of eating as cleanly as I can and getting sleep. It's a struggle to not feel guilty about it, " Michaels told TODAY Moms while in New York promoting her book. "If (I'm only able to) spend a couple of hours on a Saturday for a yoga class, the world is not going to end."

Michaels, who last year adopted 2-year-old daughter Lukensia from Haiti and in the same week welcomed son Phoenix into the world with partner Heidi Rhoades, fires off a list of adjectives to describe her chaotic entrée to motherhood. "It was confrontational, overwhelming, amazing, earth-shattering…At the end of the day, it was a rough ride in the beginning, but everyone turned out OK."
After years of motivating moms to take care of themselves, becoming one herself gave Michaels more empathy toward them. "Slim for Life," she says, is especially for moms who are "just overwhelmed by information, stressed financially, physically and emotionally exhausted, hungry, and tired. It's everything I deal with on a daily basis," she said.
Related story: Ask Jillian Michaels your health questions
However, while she has now walked a little in their shoes, Michaels says her advice to time-strapped moms seeking a healthier life hasn't changed.
"I see how completely difficult it is to make time to get to the doctor for yourself, to get to the gym, to do something for yourself," she says. "But what I ask of people is, instead of five hours a week, give me 3 and half hours in conjunction with good eating habits. If I can't get you to eat organic, choose these fruits and veggies over those. If you are eating out, eat this and not that."
Related story: Jillian Michaels shares tips to be 'Slim for Life'
When she travels for work, Michaels takes her whole brood with her, and says one secret she has discovered in maintaining the balancing act of work and family is to use an "80 to 20 percent ratio" approach. That is, devoting 80 percent of her time to her family, and 20 percent to everything else.
Michaels knows that when your family is your priority, you can't expect perfection in all areas. "Eating good for 80 percent and bad for 20 percent means you can still lose weight. 20 percent…that's enough. In a perfect world, it would be a much higher number. It will happen again one day."
In advising moms on getting back on the exercise wagon, Michaels is, not surprisingly, full of suggestions.
"Put the baby in a [carrier] and go for a hike. Or put the baby in a jogger and go for a walk. Put them in a play pen and do an exercise DVD. Trade off with your partner so you can go for a bike ride. Call grandma, your sister, brother or best friend to watch the baby so you can have some time."
Michaels said she and Rhoades use all the help from relatives they can get and also trade off with each other to find time to work out or just decompress, which she says translates into more happiness, energy and patience. "In the end, it makes us better parents," she said.
Tune in to Weekend TODAY on Saturday to see Jillian Michaels discuss her new book, "Slim for Life."