One of America's biggest families is getting a little bigger.
The eldest son of reality show super-parents Michelle and Jim Bob Duggar and his wife shared their happy news on TODAY Monday: Josh, 26, and his wife Anna, 25, said she is pregnant with their third child.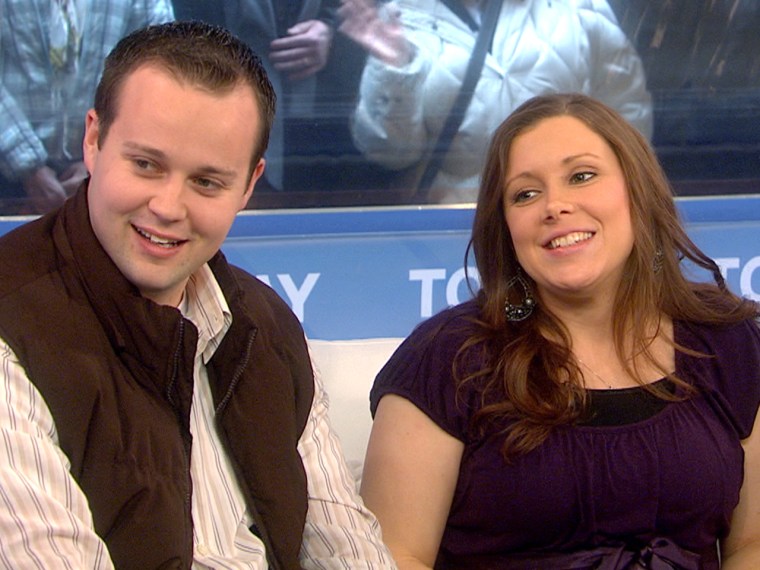 "We're expecting," Anna Duggar said. "Surprise!"
The large Duggar clan surrounded the couple as they made their announcement.
"No. 3 due on June 7," Josh Duggar said. "We're very excited."
Josh and Anna Duggar, who married in 2008, have a 3-year-old daughter, Mackynzie Renee, and a 1-year-old son, Michael James.
The couple will soon learn the gender of their new addition. They said they may keep everyone guessing on the name they will choose. Josh and his 18 siblings all have names that start with a J.
"We have Mackynzie and Michael, so we'll let everybody wait and see," Josh Duggar said.
The Duggars star in the TLC reality show "19 Kids & Counting," which chronicles their lives in their Arkansas home.

Could Josh and Anna be on their way to their own 19 kids?
"I'm from a small family of eight and I'm so glad that my parents had each of the children that they had," Anna Duggar said. "Children are a blessing."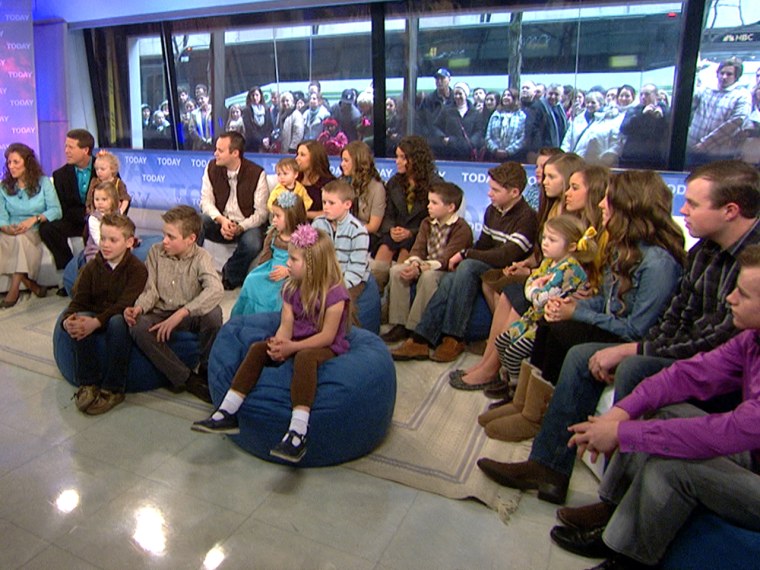 Michelle and Jim Bob Duggar appeared on the TODAY show in February 2012 to discuss their heartbreak after Michelle suffered a miscarriage with what would have been her 20th child.
"It's devastating, and many others have experienced very similar situations," Michelle said on the show. "Probably the hardest part is that when a loss like this occurs, people really don't know what to say.... We realize our sweet little Jubliee is with the Lord, and we will see her again someday."
Michelle had also suffered a miscarriage during her second pregnancy. That first miscarriage was what caused Michelle and Jim Bob to rethink their plan to have two or three children, and instead to eschew family planning and leave the number of children they have up to God.
Michelle, who's 46, has told TODAY Moms that her childbearing days may be behind her, but she certainly would have another if she could. "We would be open to more if God saw fit to bless us with more," she said.
The proud grandparents, along with all their children, also spoke about their new TLC three-part special "19 Kids and Counting: Duggars Do Asia," which airs March 12.
"We love our children to experience different cultures, and we had media opportunities over in Japan and China and so we took our whole family over there," Jim Bob Duggar said. "It really was a trip of a lifetime."
"It's like 14 hours on an airplane, it was long, but everybody worked together to make it happen," he said.