Is Khaleesi to the 2010s what Kim and Jennifer were to the 1970s? Not yet, but the made-up title of the "Game of Thrones" dragon-mother is popping up on baby-name charts, according to Social Security Administration data crunched by Vox.com.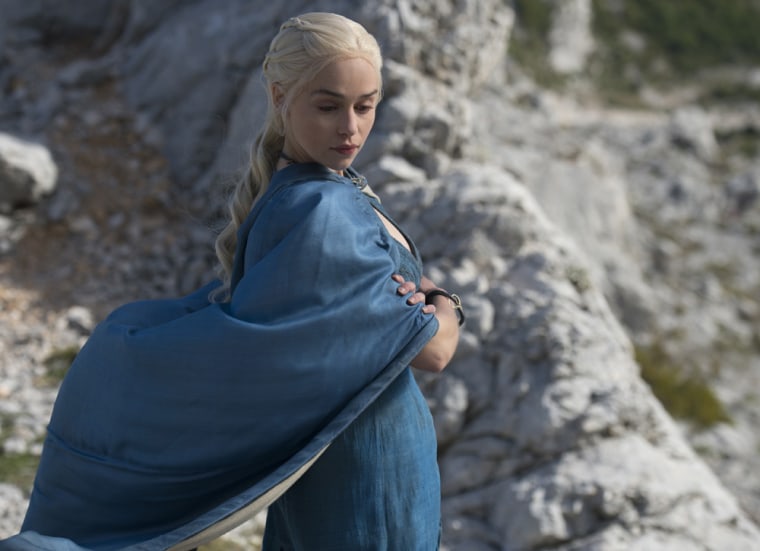 In 2012, 146 babies were named Khaleesi, which is the honorific given to Daenerys Targaryen in George R.R. Martin's "Song of Ice and Fire" book series and "Game of Thrones" HBO show. That number surpassed more common names, including Betsy and Nadine. ("Daenerys" isn't as popular — only 21 newborns were given that name.)

Arya, the youngest girl of the "Game of Thrones" Stark family, is also seeing her name climb the charts, Vox notes, with close to 800 girls getting that name in 2012
Pop culture has influenced baby names for years. Just ask a 1960s-born Lara if her folks watched "Dr. Zhivago," or a 1980s-born Madison if her parents enjoyed the mermaid movie "Splash." And ever since the "Twilight" books and movies came out, such names as Bella and Jacob have been climbing the name charts.
Khaleesi and Arya have a long ways to go to challenge the top girls' names, however. Sophia and Emma top that list, with Jacob and Mason atop the boys' name list.
Since the "Song of Ice and Fire" series will eventually span seven novels, with hundreds of characters already established, there are plenty more names in the land of Westeros for fans to pounce on. Daenerys' late partner's title, Khal, doesn't make the top 1000, nor does Tyrion, the name of the much-acclaimed character played by Peter Dinklage. Arya's sister Sansa doesn't make the cut either.
Author Martin's name creativity comes and goes, however. In a spoof on "Saturday Night Live," a fictional version of Martin (played perfectly by Bobby Moynihan) visited "Weekend Update" with some complaints. 
"Do you have any idea how hard it is to name 1,000 characters?" he whined. "I mean, sure, they all start off cool, like 'Daenerys' and 'Sandor Clegane.' But at some point, all I could muster was 'Jaime' and 'Robb.'"

And not all fans were thrilled with "Khaleesi" beating out "Daenerys."