The latest in lunchbox over-acheivers comes in the form of a Massachusetts dad who doodles cool artwork on his kids' plastic sandwich bags each day.
David Laferriere, a graphic designer and illustrator from Attleboro, started decorating his two sons' baggies with clever, Sharpie-sketched masterpieces back in 2008, when they were in second and fourth grade, and has continued the tradition every since.
"I started drawing on the bags as a way to jump-start my creative juices and have some fun with my kids, " said Laferriere, whose sons are now in 8th and 10th grades.
From robots and monsters to oozing lettuce and comical animals, the drawings are all done within one to three minutes, says Laferriere, a former newspaper designer who says he's accustomed to working fast. Each boy gets their own drawing, but sometimes themes emerge.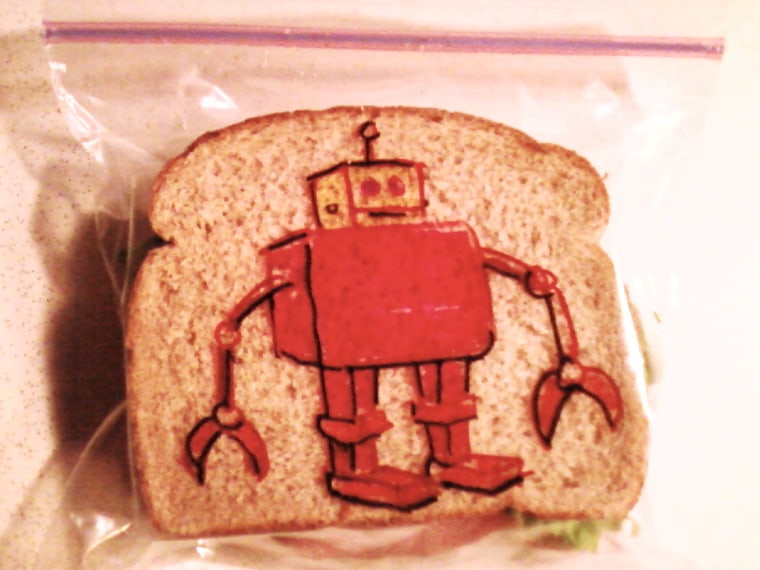 Laferriere recently designed each bag with a snowman throwing a snowball (see one here and here), and there was also one for himself, as he was chaperone for a class trip. If you put the three bags together, it looks as if they are having a snowball fight.

Laferriere posts each image to Flickr, where he adds catchy titles. He says his kids sometimes come home and ask what the drawing was supposed to be, and when they see the title, they'll say, "Oh, so that's what that was!"

Over the years, the drawings have become more complex as Laferriere started experimenting with different mediums. While he always used a black Sharpie permanent marker, the owner of a local art store turned him onto differently colored Sharpies when they were first introduced. "I love working with color so those makers took the bags to a new level."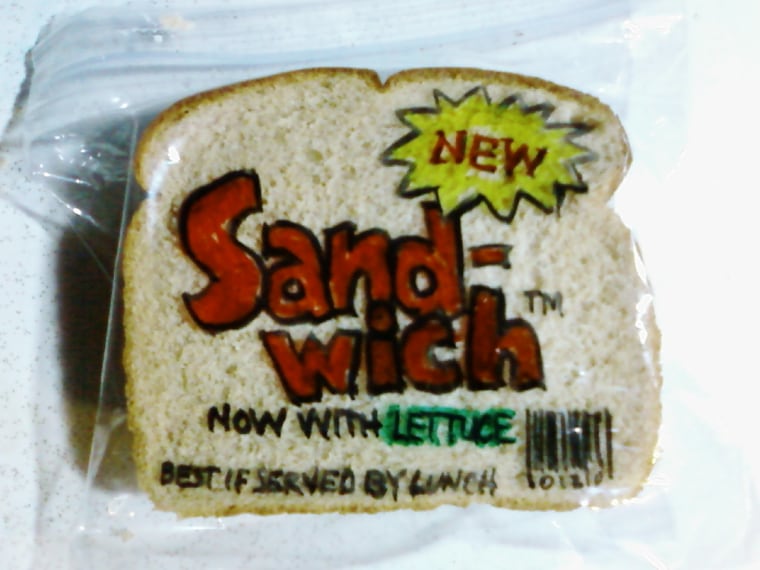 As for using so many plastic bags, Laferriere admits that, yes, he's had his share of grief from enviro-conscious folks who sometimes make rude comments online. "I have replied to those who tell me they love what I do but just wish I could find some more Earth-friendly way," he says, adding that he'd love to find a sandwich bag that decomposes. (For a year, one of his sons reused a plastic container for his sandwich, so Laferriere would draw on paper and then attach it to the container. Those 364 drawings can be seen here.)

So how do Laferriere's lunch-making skills compare to his artistic chops? He says he doesn't have to work too hard at that, because his oldest will eat anything and his youngest sticks to peanut butter and jelly. "Only the jelly has varied – grape, strawberry, cherry, and sometimes orange marmalade."