Dr. Matt Warpinski was working in the emergency department of Botsford Hospital in Farmington Hills, Mich., when the radio crackled with a call. An ambulance was bringing a baby who had a pacifier lodged in his throat.
In 10 years in emergency medicine, he had never seen or heard of a child choking on a whole pacifier. He and his colleagues decided that the paramedic meant the baby had part of a pacifier stuck in his throat, blocking his airway.  
"[The paramedics] were saying the vital signs were trending down … we had an idea he was in rough shape, [we] just didn't know it was the entire pacifier," says Warpinski.
"I have never seen anything [like] this before."
The incident took place in August, but is just now coming to light. Mom Adrienne Herrick says she was told by a daycare worker that 5-month-old Cameron was bouncing on her lap with his pacifier in his mouth, chewing on it. He stumbled and pushed the pacifier into his mouth. When she tried to pull it out, Cameron took a huge breath and sucked the pacifier into his throat. When she realized she couldn't retrieve it, she called 911.
Warpinski and his colleagues suspect that as Cameron struggled to inhale, the deep breaths pulled the pacifier farther into his throat. Emergency room doctors quickly intubated the child, allowing him to breathe. When his vital signs stabilized, they sedated him and surgically removed the pacifier through his mouth. It had started falling apart so surgeons pulled the pacifier out piece by piece.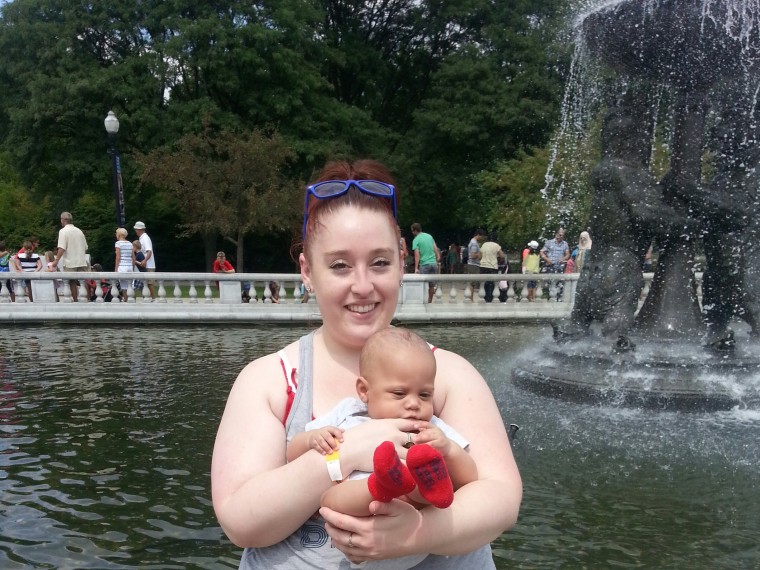 Herrick was met by a police officer in the lobby who explained what had happened.
"I thought, 'How did that happen?'" she says. "It felt like years until [doctors] came out [to tell me he was okay]."
While Cameron was in a medically induced coma on a breathing machine for two days after the accident, he woke on Aug. 14, Herrick's birthday. He remained in the hospital for nine days because he needed a feeding tube to eat. Two months later, Cameron is a happy, healthy boy.
"He's doing amazing," says Herrick. "He's trying to walk."
Dr. Gary Smith, an American Academy of Pediatrics spokesman on injury, says that children almost never choke on pacifiers because of standards set by the Consumer Product Safety Commission. Prior to these regulations, children commonly choked on pacifiers.
"The shield that goes outside the mouth is supposed to be large enough that it won't allow passage [past] the gums, the teeth, and back into the throat," he says.
He also notes that pacifiers have holes in them, so if they do become stuck, air can pass through it. These holes might have helped save Cameron.  
Pacifiers made in other countries might not meet these strict standards, causing accidental choking, but Smith worries more about food, such as grapes and hot dogs, or small parts from toys.
"[Choking is] one of the top five causes of injury in kids under four," says Smith, director of the center for injury research and policy at Nationwide Children's Hospital in Columbus.
He encourages parents to check out the Child Injury Prevention Alliance's resources to learn more about reducing hazards.
"[Choking] is a common issue and something the parents need to be really aware of. Part of it is because kids like to explore the environment and don't have a sense of danger and all that adds up to a choking [episode]."