If you haven't experienced it personally, you've seen it or, at the very least, heard tales of the dreaded curse of separation anxiety: Moms who sit nervously in their cars in the preschool parking lot, contemplating whether or not to drive away. The friend who expresses her frustration with her toddler's daily tantrums on Facebook. Teachers commiserating with co-workers about the kids whose tears won't stop, and the parents who worry too much. 

It's nearly two months into the school year. So, why are your child's drop-off tears still flowing and how do you get them to stop? Experts say the answer comes in rituals, routine, and a little bit of a reality check. 
Sarah Vanderhoff of Centreville, Md., still battles daily with the tears, drama and emotions each morning as she drops off son Chase, 3, at his preschool.  

Vanderhoff says the first day of preschool went great, with Chase showing no sign of separation anxiety. But while he was eager to go to school on day one, each subsequent day has proven to be a struggle. "Most days he has anxiety about school. Some days he goes without a problem, but I can still tell he's nervous," Vanderhoff says.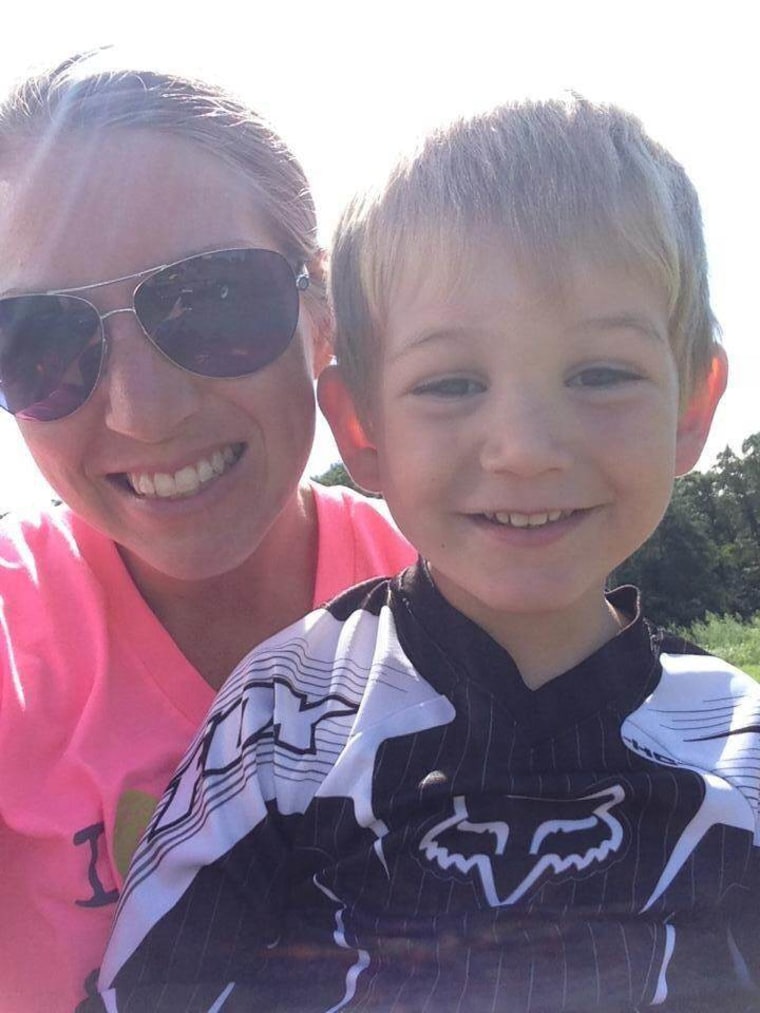 "As a mother, it makes my heart hurt. It makes me sad and a little stressed, but I'm confident that I am leaving him in good hands and doing the right thing by giving him the little push out of the nest that he needs to become a strong and independent boy."

Vanderhoff says while she has put certain measures into place to make mornings easier for both Chase and herself, she is often at a loss as far as how to handle her son's tears.
"I tell him, 'Mommy will be back in a few hours, have a good day at school,' and hand him off to the teacher and leave. I try to be as quick as possible for both of our sakes," she says.
Dr. Laura Horsch, a child psychologist in Menlo Park, Calif., says that separation anxiety is a normal occurrence in preschoolers, and suggests parents stick to daily routines to encourage toddlers to overcome their issues.
For starters, says Horsch, it's important for parents to keep their morning goodbyes consistent and short.
"Lingering in response to crying or tantruming may inadvertently reinforce those behaviors," explains Horsch.
Horsch says the rule of thumb in such situations is to strive for a short goodbye process.
"Parents are encouraged to prepare their children for what to expect, acknowledge their child's feelings, engage their child in a goodbye ritual (for example, hug, wave, etc.), and reassure their child that they will return," she says.
Horsch says parents should provide other opportunities for practicing coping with separation, such as leaving the child with a backup caretaker or enrolling he or she in other activities.
And it's crucial for parents to talk openly with their children about their feelings. Read a book about kids going off to school and then discuss with your child. And remind them that Mommy or Daddy will always come back to get them.  
Chrystal Horst of Waynesboro, Pa., is the mom of 3-year-old Levi, who has shown no signs of anxiety at drop-off time.
"Levi has not cried at all at preschool," says Horst. "He goes right in and finds the toys, and could care less that I am leaving."
Horst attributes part of Levi's comfort to the fact that she and her husband had a full range of coping mechanisms prepared before the start of preschool.
"We used to talk about preschool several times a week. We'd discuss how he was getting to be a big boy and was going to get to play, learn and have fun with new friends," said Horst. "We read stories about preschool, and even drove past a nursery school in our neighborhood to talk about what his new school would be like."
Horsch reminds parents that being tearful before going to school is common and natural. "Remember that these challenges are likely a normative part of healthy child development. These experiences are part of a child's building resilience and emotion regulation."
And she adds that there is almost always a silver lining: "Most children calm down quickly and enjoy their school day shortly after their parents' departure."
Terri Peters is a mom of two from Pasadena, Md., who is thankful that her days of dealing with drop-off tears are over. Read her blog at www.monkeybeanmomma.blogspot.com.