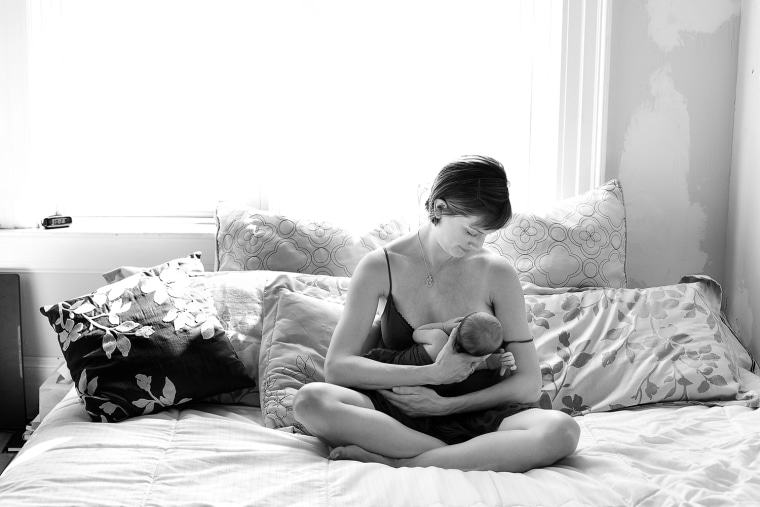 Dannette Sharpley had a tough time nursing her first child. Her milk came in late and her son had jaundice, among other things. So when daughter, Maria Lillian, was born in August, and Sharpley's milk came in soon after, she was relieved and excited.

"I felt like I'd accomplished something spectacular," Sharpley says, describing how after nursing, the baby passed out, milk drunk, clutching her nipple. Sharpley celebrated the moment with a selfie — a breast-feeding selfie, that is. It showed her sleeping baby holding onto her breast.
"My mom was like, 'Don't put it on Facebook,'" says Sharpley, 40, a stay-at-home mom in Durham, North Carolina. "And I said, 'Of course I'm gonna put it on Facebook.'"
"I thought it was beautiful," she says. "People had really kind things to say. I loved being able to share that moment with friends of mine who are also nursing."
Sharpley's mom may not have been thrilled about her daughter's bare breast being on the Internet, and some of the online services themselves are carefully watching the trend. Some women have complained Facebook has pulled breast-feeding photos because it deemed them in violation of its policy on the display of nudity. 
Meanwhile, Scout Willis -- the 22-year-old daughter of Bruce Willis and Demi Moore – recently took a topless stroll around New York to protest Instagram's decency policy, which bans nude and partially nude photos. She posted the uncensored pictures on her Twitter account -- some with the hashtag #FreeTheNipple, a call for a more relaxed view of topless females in social media.

In today's selfie/Instagram culture, moms are documenting every bit of their babies' day-to-day life and sharing it with the world. Since breast-feeding takes up a lot of the day — and moms often have their smartphone handy — breast-feeding selfies are more and more common.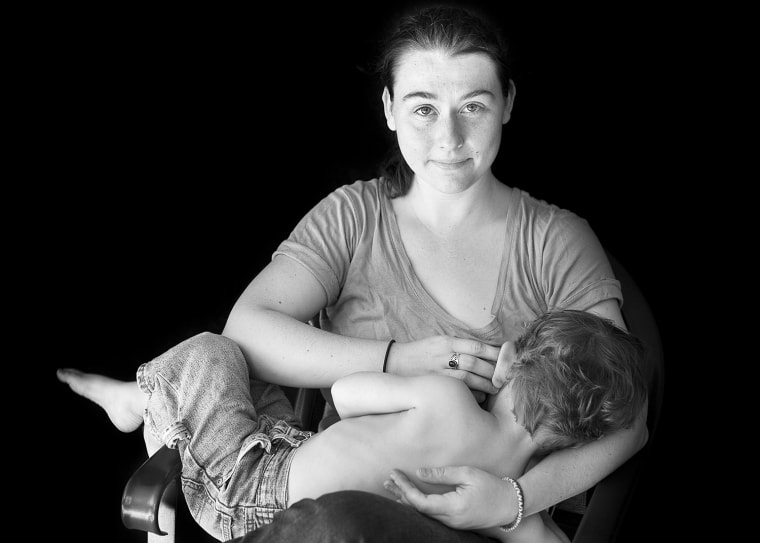 Atlanta photographer Heather Goodbread, 27, says she "took tons" of breast-feeding selfies and encourages moms to also hand the camera to someone else so the mom's whole body can be in the picture, too. "It's a really good thing to have," Goodbread says.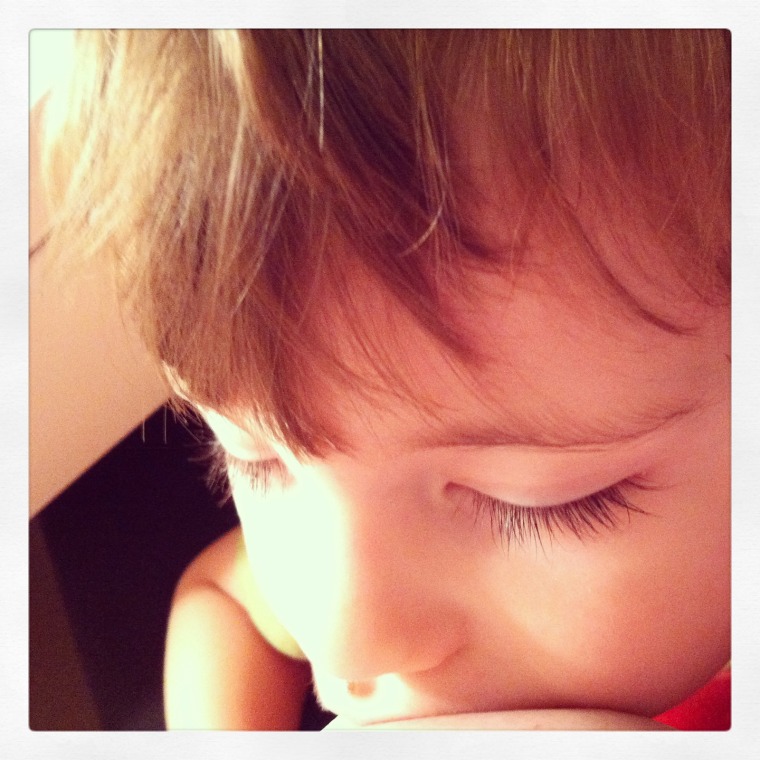 It is an awkward angle to take a selfie while breast-feeding, says Stacie Turner, a photographer in West Hartford, Connecticut. The ones she took while nursing her twins just show the tops of their heads.
"But even those bad pictures are pretty precious to me now," Turner says. "Because now they're big kids who play Little League and have reading homework."

Goodbread and Turner are both part of a growing number of photographers across the country offering artistic nursing portraits — photographing moms breast-feeding outside in fields of flowers or at home in their nursery. But even if you don't want to hire a professional photographer, take the picture, Turner says.
"Just get the shot," she says. "You're gonna want it. Even if it's not something you want to put on Facebook or hang on the wall, it's a really important part of life for women for a really long time."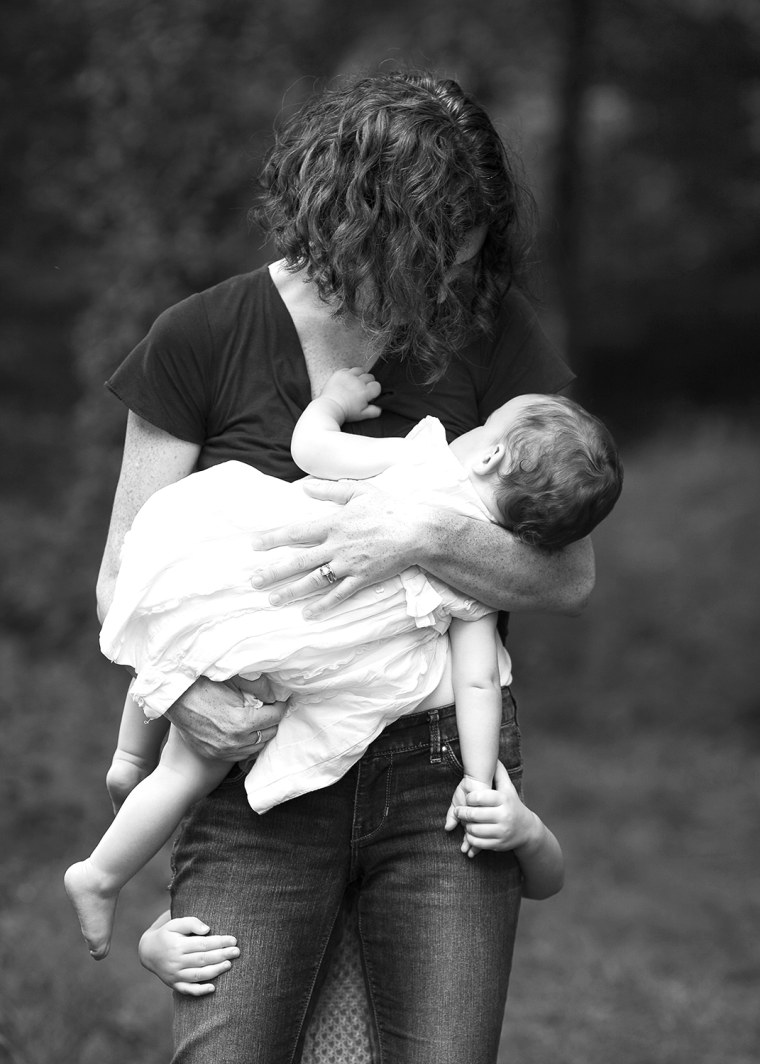 During Cate Vallone's holiday card shoot, Turner asked if she wanted to take some nursing photos, too.

"It hadn't occurred to me," says Vallone, a 36-year-old Pilates instructor.
Since then, she's become friends with Turner, and has done about eight more nursing sessions over the last three years. The black and white photos are framed going up the stairs at her house and a couple are blown up poster-sized in her mother's pregnancy chiropractic office.
"I'm so glad I have them," Vallone says. "I know I'm going to be looking at these for the rest of my life."
In Atlanta, Goodbread has done more than 20 nursing portraits in the past year. In October, she photographed 33-year-old Meredith Jacobsen nursing her then 9-month-old daughter.
"I knew that in the blink of an eye she wasn't going to be nursing — she was going to be a toddler running around talking — and I didn't want it to slip by," Jacobsen says.
Breast-feeding was very important to Jacobsen. She went through years of infertility treatments before getting pregnant. She had a difficult birth—57 hours of labor, four hours of pushing and then a C-section. 
"I'm a doula, natural birth is my thing. It was all very disappointing and frustrating and I had lost faith in my body. I couldn't get pregnant, I couldn't birth my baby — my body was broken. But breast-feeding fixed that. I didn't feel broken anymore," she says. "I wanted to have something tangible to remember that time. I knew it would go fast."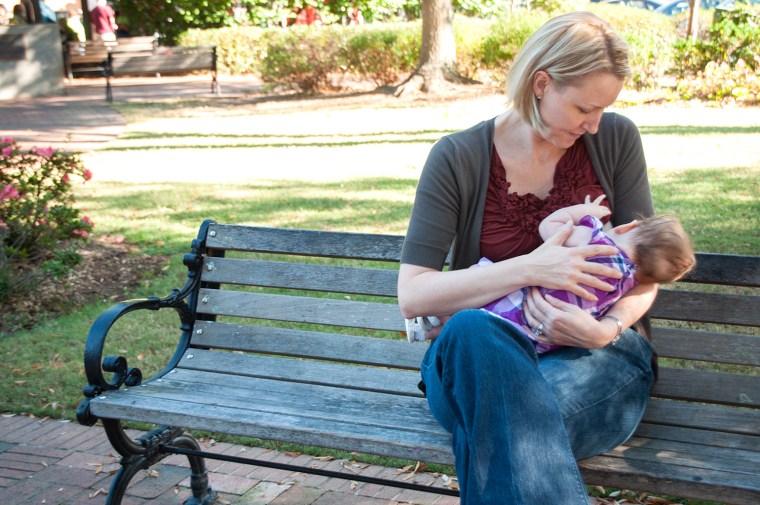 Jacobsen became a certified lactation counselor when her daughter was a few months old. She recently weaned her now 16-month-old daughter and is pregnant with twin boys due in October.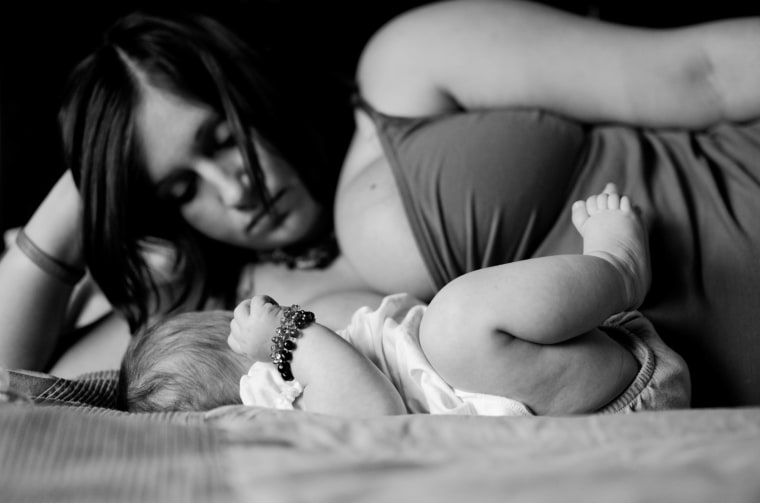 Bonnie Hussey, a photographer in Tacoma, Washington, took a self-portrait nursing her youngest, Delilah. She put the camera on her bed, ran around, and latched the baby before the 10-second time went off.

"I think it's one of the most valuable pictures that I have of my children," says Hussey, 30, who has photographed 11 breast-feeding women this year. 
"It documents a special time between mother and baby. Our babies are only babies for so long. There's just a different kind of relationship between a nursing mom [and baby]...It's very personal — and it's beautiful."