It's official: The family of a toddler with autism who has blossomed thanks to his interaction with chickens will get to keep the birds.
The City Council of DeBary, Fla., unanimously approved a resolution on Wednesday evening that allows the parents of 3-year-old J.J. Hart to raise the three hens in their backyard as a reasonable accommodation under the Federal and Florida Fair Housing Acts. The resolution notes that "the chickens are primarily utilized for the purpose of enhancing the child's life."
"J.J. won… I'm glad," DeBary Mayor Bob Garcia, who knows the Hart family well and has been a vocal supporter of their quest to keep the hens, told TODAY Moms.

"Maybe this will take the smudge off the city of DeBary that we don't care about people with disabilities, and we can get back to the norm of how great the city really is."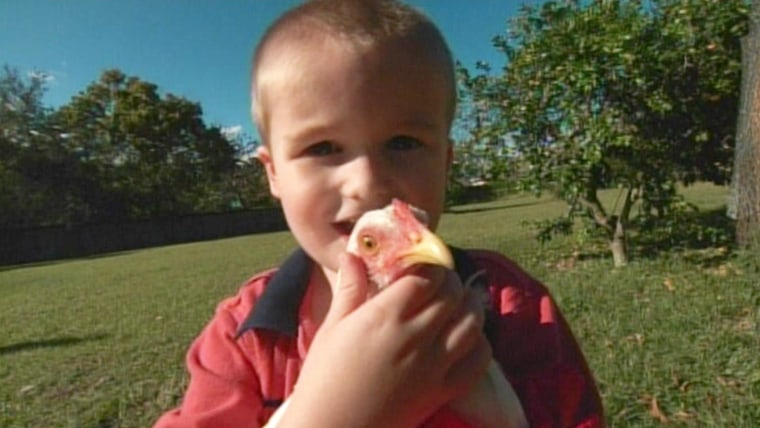 The small town near Orlando has been under intense pressure to take action since earlier this month, when the City Council voted to end a one-year "Urban Chicken Pilot Program" that allowed city residents – including J.J.'s family -- to keep chickens in their backyard. Like many communities, DeBary limits the kinds of animals that can be kept in residential homes.
The decision devastated his parents, who say the feathered creatures did what physical, occupational and speech therapies couldn't: Bring J.J. out of his shell. He likes to run after them and hold them, and he smiles when they are around.
After TODAY featured the family's story, Garcia said he received more than 1,500 emails from across the country and as far away as Canada, Jamaica and Puerto Rico urging the city to help the boy. Many people also left angry messages on the city's Facebook page.
While DeBary residents still won't be able to raise chickens in their backyards, the resolution passed on Wednesday specifically allows the Harts to keep the three hens while J.J. lives at the home.

Garcia has observed a "drastic difference" in J.J. ever since his parents bought the birds, and praised J.J.'s mother for being persistent in trying to get the City Council to accommodate the little boy. Ashleigh Hart, in turn, said she's grateful and relieved.
"I'm very thankful," the mom told The Orlando Sentinel. "It feels good that this is finally done."