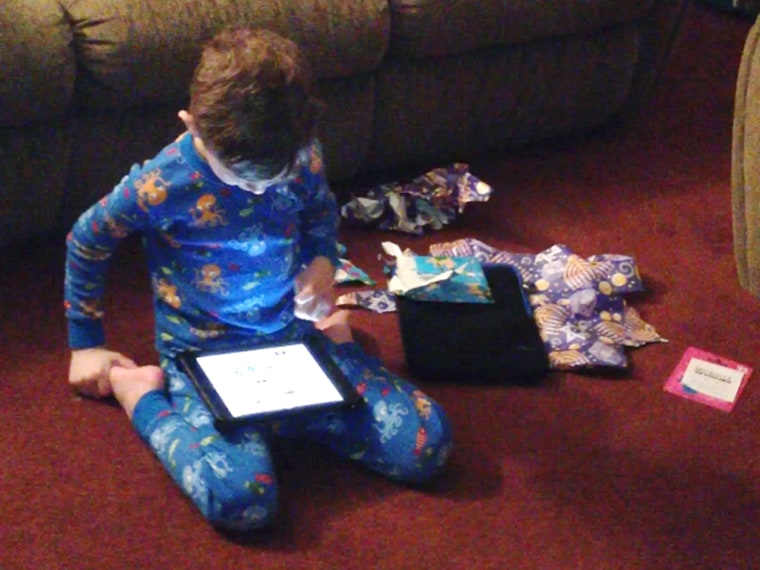 From the time he spies the first holiday decoration, Ethan Funk cannot wait to celebrate: "Is it Hanukkah soon? Is it Christmas soon? How many more days?"
With divorced parents and two gift-giving holidays to enjoy with many loved ones, Ethan, 6, has an annual season overloaded with presents and filled with family fun. And like many kids, he finds it hard to feel it all come to end.
When last year's holidays had passed, he was "extremely whiny and crying," recalled his mom, Jenni Funk. Ethan didn't want her to go back to work, he didn't want to get up and go to school, and he wanted the Christmas tree and the Hanukkah menorah to stay on display. 
The holidays greet children with mountains of presents, adoring grandparents who lavish them with attention, and days of unstructured time off from school. But after months of build up and anticipation, when the gifts have all been torn open, the festive meals savored, the relatives have traveled home and the enforced bedtime has returned, it can be enough to leave some kids (and their parents, too), feeling down.
"He's definitely let down, but I think he has so much fun he thinks it's not going to happen again," says Funk, of Massapequa, N.Y. "He had tears in his eyes when everything went away."

"They may feel a little bit sad it's all over," said Mary Alvord, a family psychologist in Maryland who specializes in teaching resilience. "They may cry, and ask, 'Why are all these people leaving? Can't this keep going on?'"
Alvord says parents can talk with their children about how they are feeling and remind them that the holidays come every year, but should not try to fix the feelings because it's OK for kids to experience  sadness. "We have to learn how to deal with disappointment," she said. "That's a skill of resilience."
Funk says reassuring Ethan that the holidays will come again next year has helped: "I explained that we do this every year." Funk takes out her calendar to help Ethan, a visual kid, get through the trying end of the happy time. He loves to know what's coming next, Funk says, so she points out Valentine's Day, his birthday in March, the start of summer camp, back to school, Thanksgiving, and finally, Christmas and Hanukkah once again.

While some kids might not feel any letdown once all of their new toys and books have been put away, others may feel wistful, irritable or a little grumpy, says Peter Goldenthal, a psychologist in Narberth, Pa., who focuses on families with young children. Kids may cry a little and not want to follow parental instructions.
"It's a little sense of loss," he said. "A parent doesn't need to say 'Don't be sad,'" he said. "You're much better to acknowledge the feeling and provide whatever support is needed."
That support could mean letting a child stay up an extra 15 minutes (but not another night until midnight, please!) or having hot chocolate by the fire and having a good time as a family.
The family togetherness is something that can be extended year-round. "The parties can't continue, but what kinds of little things can we do to make our time special?" Alvord says, stressing the importance of family time over more material objects.
"You can have game night every Friday night or pizza night or something so that there is always something special" even when the hectic days of homework and after-school activities resume, she advises. "It's making sure there is carved-out time so that you don't go from complete immersions with adults and gifts to 'See you next Christmas.'"
Of course, kids may simply be upset if they didn't get the special gifts they wished for. Marie Cervantes-Roth experienced that sadness with her daughter last year.
For about a week after Christmas, her daughter, Gabriele, was "mopey and she was a little down," said Cervantes-Roth, of Trinity, Fla. The mother kept asking her daughter, now 7, what was wrong before she finally let loose.
"The tears were flowing," Cervantes-Roth said. "She was bawling, and said, 'Santa didn't get me anything on my list.'"
When she realized her daughter was right (because her wish list included several highly popular gifts that had sold out), she focused on all of the nice presents her daughter did get and hoped she felt grateful.
"It made me feel so sad, not realizing that the list was so important," Cervantes-Roth said. "It made me feel like something from the magic of Santa was taken away from her. That she might not believe as much."
This year, she shopped before Thanksgiving to make sure Gabriele will get at least two gifts she requested. "It's very important to make her happy but not to spoil her," Cervantes-Roth said.
Alvord says parents should do just what Cervantes-Roth did, stressing the positive.
"When we're teaching resilience, we're teaching kids to be flexible in their thinking," Alvord says. "It's not all or nothing. When you're a kid, you think in terms of concrete, literal terms and we need to teach all those different shades in between."
Lisa A. Flam is a news and lifestyles reporter in New York.