You've got your bag packed for the hospital, your stash of onesies and diapers ready for the new baby... but do you have your birth wreath?
If you're thinking, "my birth what?" you're probably not from the South.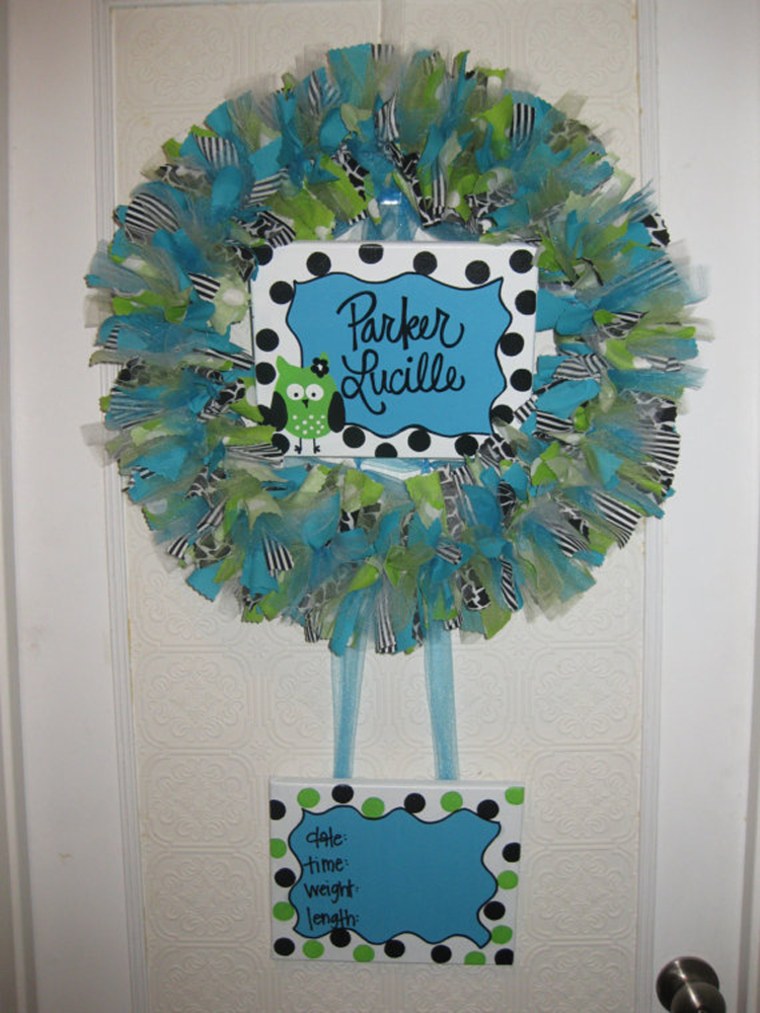 These uber-decorated, creative and crafty wreaths hang on the hospital room door after baby is born, usually with a plaque listing baby's vital statistics. A recent thread on BabyCenter reveals they're all the rage in southern states, where many hospital maternity wards feature hooks on patients' doors to better display the festive creations.
New parents sometimes transfer the wreaths to their front door after baby comes home to let the neighbors know all is well, similar to those big stork signs that were popular a few years ago. A quick Pinterest search reveals wreaths can be made of just about anything — tulle, fabric initials, tiny socks, even diapers. Shannon Langston, who makes birth wreaths for friends and family says, "They are often made of geo mesh (a type of fabric), which we southerners like these days."
Expectant moms who aren't crafty often outsource. By day, Suzannah Ledford is an accountant in Petal, Miss. At night she makes birth wreaths and sells them for $75 on Etsy — more than 300 of them in the last two years. Ledford sells these wreaths to sisters, friends, mothers, and husbands all over the country. "I love when a mom says she had the cutest wreath in the hospital!" Ledford says. She customizes each wreath using pictures of the baby's room or bedding style.
Birth wreaths are hot now, but the trend is not new. Earlier birth wreaths were floral, like a homecoming mum (sort of a corsage on steroids -- another Southern thing.) As the daughter of a pediatrician in Texas, Grace Duffy remembers seeing birth wreaths throughout the 1980s and 1990s. "The wreaths were either pale blue or pink and had fake flowers and ribbons," says Duffy. "You could get them in the hospital gift shop or any florist."
Little Rock, Ark. mom Christie Ison's mother "went just a tiny bit crazy" when her now 11-year-old daughter was born. The proud grandmother decorated a wreath with silk flowers from Ison's wedding, as well as tiny plastic naked babies. "I think they may have been on the cake from her own shower for me!" says Ison. "As weird as it sounds, it was actually pretty cute." And these birth wreaths have staying power. Ison's hung on her daughter's door for years and still holds a place of honor on the bookshelf.
Many hospitals have hooks installed for hanging birth wreaths, but Austin, Tex. OB/GYN Maggie Landwermeyer says some hospitals advise patients not to hang it on the door unless they are in a locked, secure baby unit. "It might advertise to someone looking to steal a baby," she says, adding that people often hang the wreaths inside the room instead.
Baby wreaths: Sweet and celebratory new tradition or just another darnthing for the new mom to keep track of?
Lela Davidson is the author ofBlacklisted from the PTA, and Who Peed on My Yoga Mat? Her thoughts on marriage, motherhood, and lifeafter40 have appeared in hundreds of magazines, websites, and anthologies.