Rebecca Kilburn's OB-GYN delivered a memorable piece of advice after she gave birth to her son Eric Jr.
"He said, 'This kid has the biggest feet I've ever seen in my life. Do not go out and buy baby shoes because they're not gonna fit,'" Kilburn, 36, tells TODAY.com.
"We laughed about it at the time," Kilburn says.
But Kilburn and her husband, Eric Sr., aren't laughing anyore.
Kilburn still can't easily find footwear for Eric Jr. now, 14, who stands 6 feet, 10 inches and wears a size 23 shoe. According to the American Academy of Orthopedic Surgeons, the average American male shoe size is 10.5. (But once Shaquille O'Neal heard of Eric Jr.'s woes, he stepped in to donate five pairs of sneakers from Reebok that were originally made for him. The basketball legend even called Eric Jr. to share how he had similar struggles finding shoes as a teen.)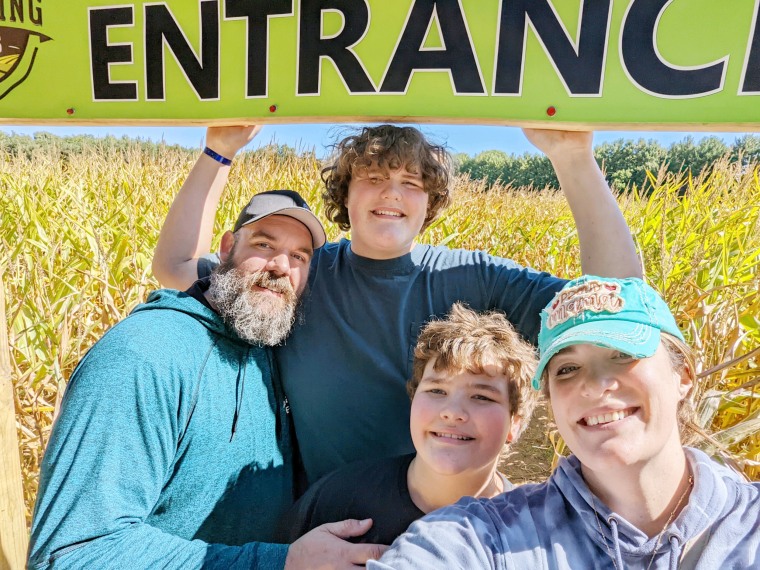 Kilburn notes that Eric Jr., who is still growing, does not have an endocrine disorder. The Michigan mom is 6 feet, 2 inches, while Eric Sr. is 6 feet, 5 inches. Eric Jr.'s 11-year-old brother Graesyn, is 5 feet, 11 inches. 
Eric Jr., suffers from painful calluses, blisters and ingrown toenails caused by ill-fitting shoes. In the fall of 2022, the high school freshman sprained his ankle playing football because he didn't have cleats.
"I have spent hours crying feeling like I've failed my child because I'm not able to find what he needs," Kilburn says.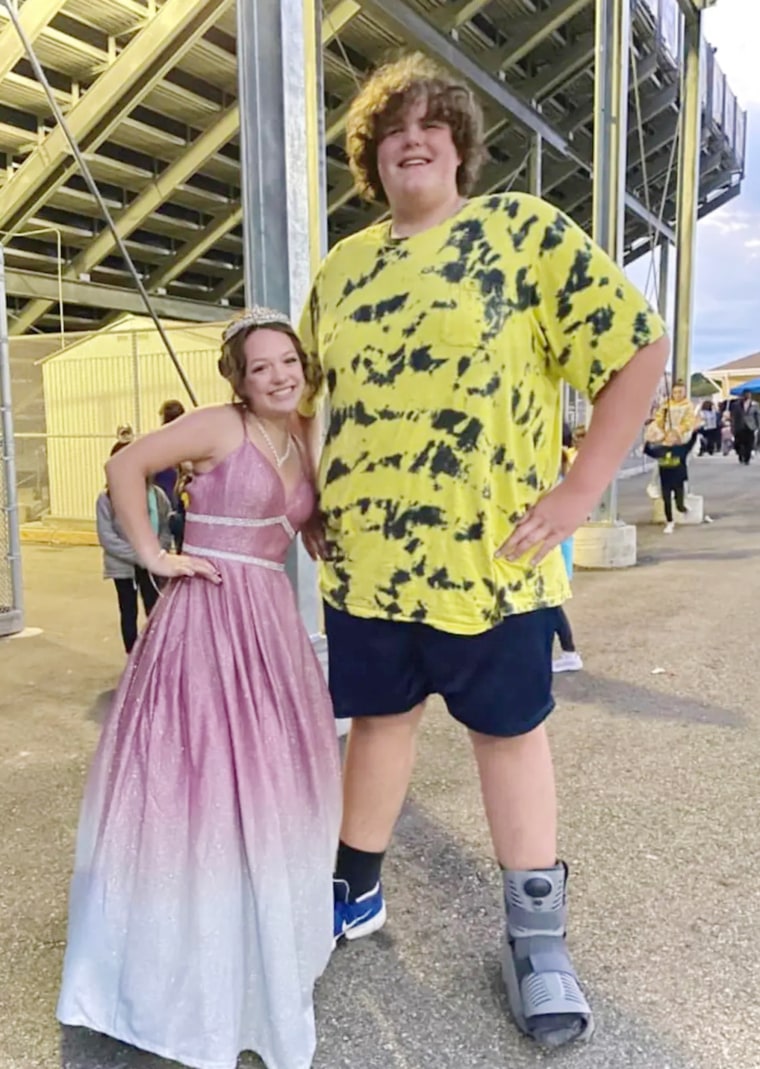 Kilburn recalls how Eric Jr. wore Crocs for two years straight — even on snowy winter days in Michigan — because there were no other options available aside from $1,500 custom orthotics that he would grow out of quickly.
The price would have "strained" the family's budget, but Kilburn offered to buy her son a pair. She would do anything to see Eric Jr. not have to suffer.
"The orthotics catalog was mainly Velcro shoes. Eric was like, 'I'd rather be barefoot.'" Kilburn says. "It's hard enough to stand out like he does. You don't want to be the giant kid walking down the hallway in old man Velcro shoes."
"People stare at me a lot," Eric Jr. tells TODAY.com, noting that he wants to start handing out business cards that list answers to the questions he gets everywhere he goes. (No, he doesn't play basketball — at least not yet.)
Kilburn says that when Eric Jr. was playing football, she would often overhear parents on the opposing team joking about wanting to see his birth certificate. 
"Those nasty comments bring out the mama bear in me," she says.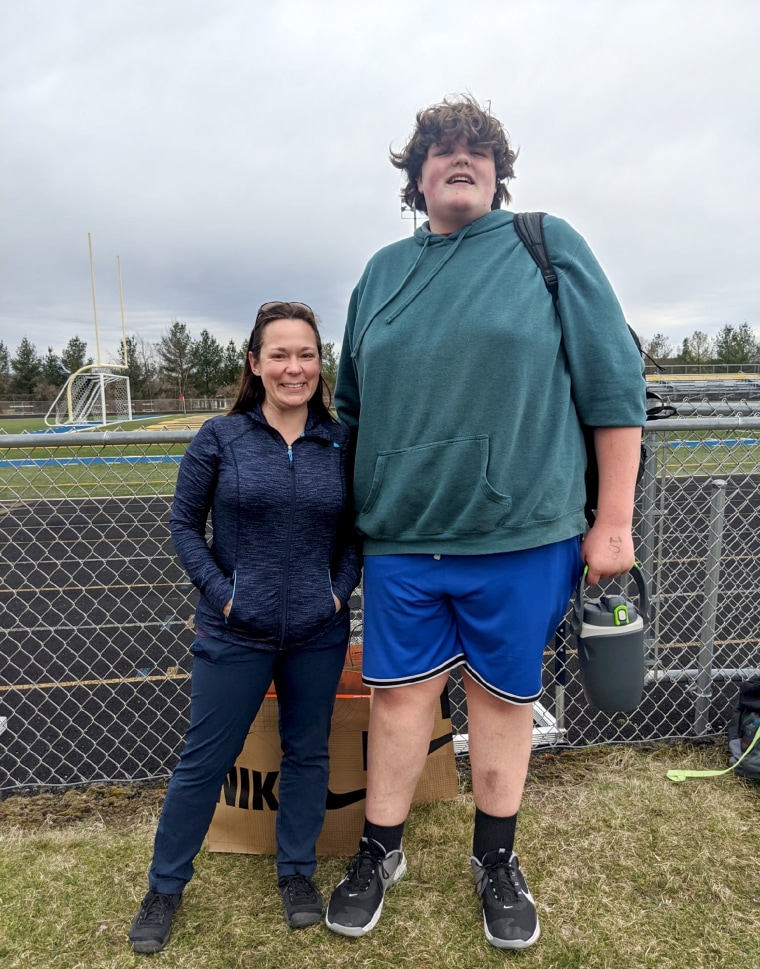 At the moment, Eric Jr. is wearing size 22 Nike sneakers that family friend Kara Pattison found at an outlet store. The sneakers had been made for a professional athlete, as Nike only goes up to a size 18.
"But his feet are so big and wide, that we had to have the 22s stretched," Eric Kilburn Sr. says. 
But the days of stretching shoes — and bandaging bleeding toes — are over.
After a local reporter at Hometown Life published a piece about Eric Jr.'s plight to find shoes that fit, his story went viral — and the family was inundated with people wanting to help. 
For years, Kilburn's calls and messages to shoe companies were met with, "Sorry there's nothing we can do."
"It has restored my faith in humanity," she says.
Under Armour and Puma will be creating custom shoes and cleats for Eric Jr., while Cat footwear wants to send him boots. But strangers are also reaching out. A GoFundMe has raised more than $18,000 dollars. According to the fundraising page, the Kilburns plan to use the money towards future footwear and specialized sports equipment for Eric Jr.
Meanwhile, Kilburn saw an unmet need and started a Facebook group called, "Big Shoe Network," for people to post large shoe finds for purchase.
"I hit so many dead ends with people laughing when I called to ask about shoes," she says. "It was a very lonely feeling. And now we're overflowing with support, generosity and kindness." 
Related video: