After Ben Hebert and Mindy Shore got engaged earlier this year, they decided they weren't in any rush to tie the knot.
They looked ahead to 2025 and planned for a small dinner with Hebert's family in New Orleans, a big reception with their friends in Chicago and some sort of ceremony.
But three weeks ago, while Hebert was headed to work, he received a text: Would they like to get married on TODAY?
If it sounds like a crazy thing to commit to, they understand. But it sums up who they are as a couple.
"We have vibrant, big personalities, and we love being with friends and entertainment," Shore, 29, tells TODAY.com the day before the wedding.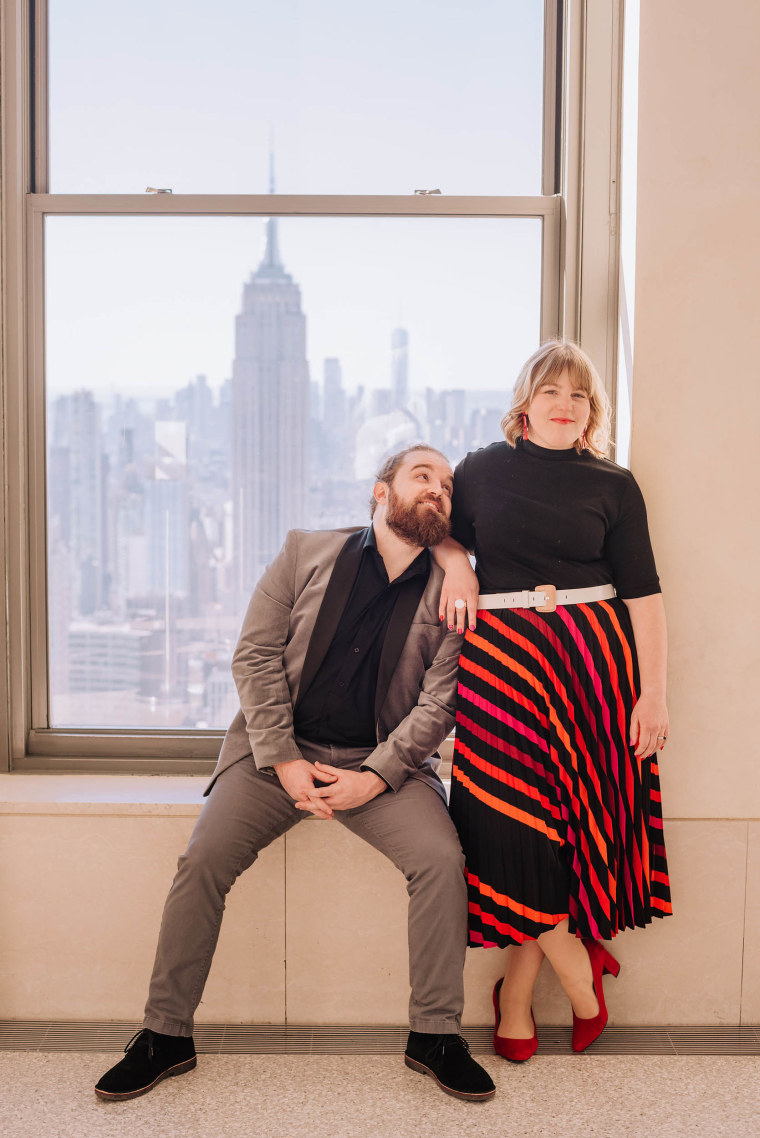 It's also a fitting development in an already TODAY-centric story: the couple's engagement occurred on the show, with Shore's idol Hoda Kotb smiling on.
Immediately after, they joked that they should ask Kotb to officiate down the line. But it was a dream Shore never thought could come true.
Then they received the TODAY producer's message. And while Shore's first reaction was a pragmatic, "I'm in a meeting," the couple later decided that there were no cons.
"The fact that I have such an affinity for Hoda, and we have such fond memories coming to New York, it just seemed like this wild and crazy, spontaneous thing that felt so right for who we are as a couple," Shore says.
Shore says she never wanted a traditional wedding ceremony at a banquet hall or a hotel. "That just always seemed so boring to me," she says.
Whatever they planned, it was going to be something different.
"This is a better wedding in terms of not just scale and fun things that we get to do, but a more personal and appropriate wedding for us than anything we would have been able to put together on our own," Hebert, 30, says.
Becoming a TODAY superfan
Shore says her relationship to the show originates with her mom. She grew up watching TODAY. Then when she went to college, it became part of her morning routine. Without fail, at 10 a.m. in her sorority house, she was watching TODAY.
"I couldn't miss it," Shore says. "I thought it was very silly that they would drink wine at 10 in the morning and gossip, and they felt like my friends, just chatting."
For her 20th and 21st birthdays, she visited New York with her mom and visited the TODAY plaza. On that first trip, she held up a sign that read, "365 Days Until I Can Drink with Kathie Lee and Hoda."
"Al Roker came over, and he chatted with us, and I remember he was asking my mom, 'Are you proud of her for this sign?' and she was like, 'Yeah, absolutely!'" Shore recalls.
Later, the plaza coordinator invited them up to the studio to meet the co-hosts.
"I got to clink glasses with Kathie Lee," Shore says. "I think ever since then it just became this thing that felt so special to me and my mom."
Dating a TODAY superfan
Shore and Hebert went on their first date in August 2020 in Chicago.
"Just the age old story of matched on an app, went on one date, and now we're about to get married on television — it happens all the time," Hebert jokes.
Early in their relationship, Hebert learned just how much of a TODAY aficionado his future fianceé is. Every morning, Hoda and Savannah Guthrie were on the TV screen. When he'd open the cabinets at Shore's place, he was greeted by an assortment of TODAY-themed mugs and Kathie Lee Gifford wine glasses.
But it didn't really sink in until that December. As he helped her get out her Christmas decorations, he found a roll of Kathie Lee and Hoda wrapping paper. He remembers it being almost empty, "and you can tell she's not using those last few rolls so she can hold onto it," he says with a laugh.
"Before that, it was just, 'Oh she likes TODAY' — and then I saw the wrapping paper," Hebert says. "That was when it sunk in exactly, the depths of her relationship with TODAY and specifically Hoda Kotb."
Proposing to a TODAY superfan
After two years, Hebert and Shore were starting to talk about marriage. He then came across a post on X, formerly known as Twitter, from TODAY, looking for couples who were thinking about getting engaged.
"When I saw that post about couples looking to get engaged, I was not expecting it to be for something that would happen a month later," he says, citing his experience going on "Jeopardy!," which took nearly two years from the first audition.
He heard back from TODAY that they were one of the couples selected for the segment, set to air in three weeks, and panicked.
But he made it to the TODAY plaza Feb. 14, having only told Shore "what she needed to know." After a short conversation with Hoda, Hebert got down on one knee and addressed an immediately sobbing Mindy.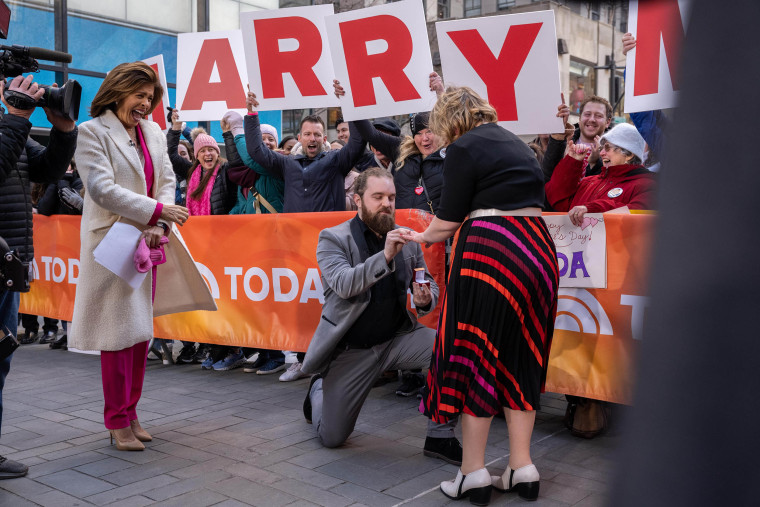 "I've known for a long time that I wanted to do this, and this is exactly how I wanted to do it — at 8 in the morning on live TV, Hoda Kotb silently judging me," Hebert started. "So I now kneel before you and America. Mindy, there's no one else I'd rather spend my life with. Will you marry me?"
Hebert just nodded, before the two kissed. And Shore got to celebrate her engagement with Hoda.
Marrying a TODAY superfan
After Shore and Hebert agreed to get married on TODAY, they had to tell their families.
"They were all business," Hebert says.
They managed to wrangle 25 of their closest friends and family to be in New York for the ceremony.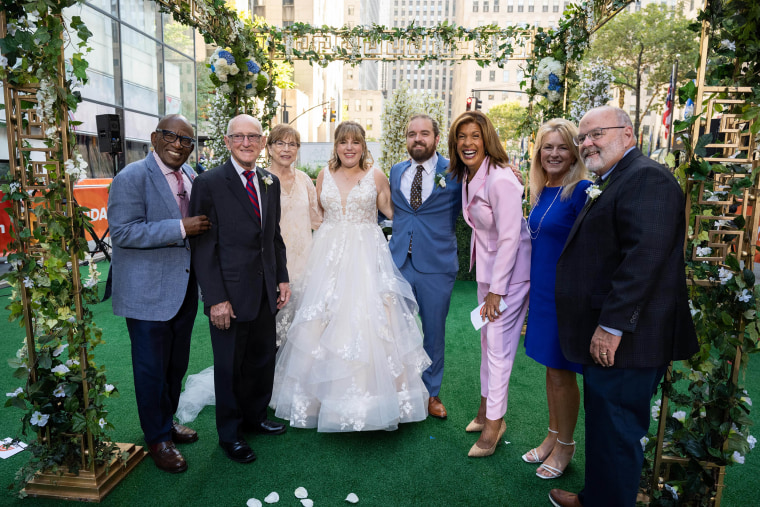 Since their arrival, they've been met with a flurry of appointments. Hebert will be dressed by Men's Warehouse and Shore by Kleinfeld Bridal, which let her have her "princess" moment while fulfilling her childhood dream of being on "Say Yes to the Dress."
"I had my dress on and they put the veil on and they handed me the bouquet, and the woman working was like, 'I have the big question,' and they asked me if I'm saying yes to the dress — it felt like such an out of body experience," Shore says.
After the wedding, the couple will begin their honeymoon in perfect New York fashion — seeing the Broadway show "Shucked."
Inside the wedding, officiated by Hoda
The couple was kept apart all morning, in line with tradition. Mindy made her debut on the Plaza escorted by Al Roker, who walked her down the aisle. Shore's dad passed away recently and her mother was unable to travel for the event.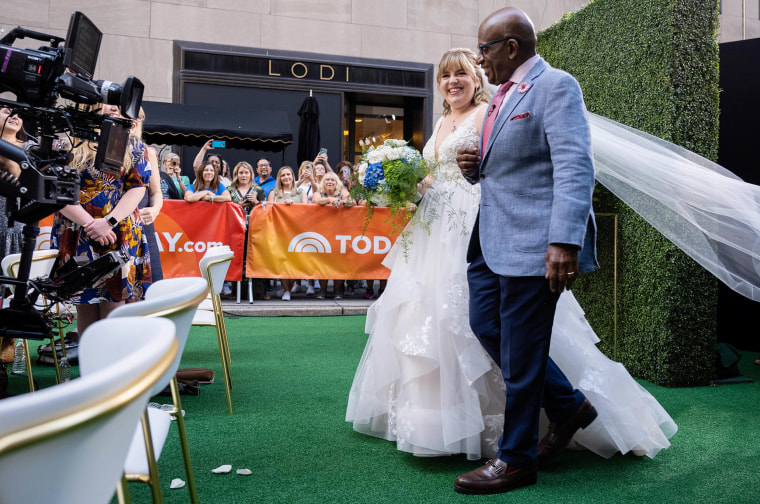 Hoda was witness to Shore's 20th and 21st birthdays, her engagement — and now, her wedding. She served as the wedding officiant.
"It's a special place for you, for your mom, for your family, and we're so honored that you decided to choose us for the place to get married. We hope you have a memory that you'll have to take through your beautiful lives together," Hoda said.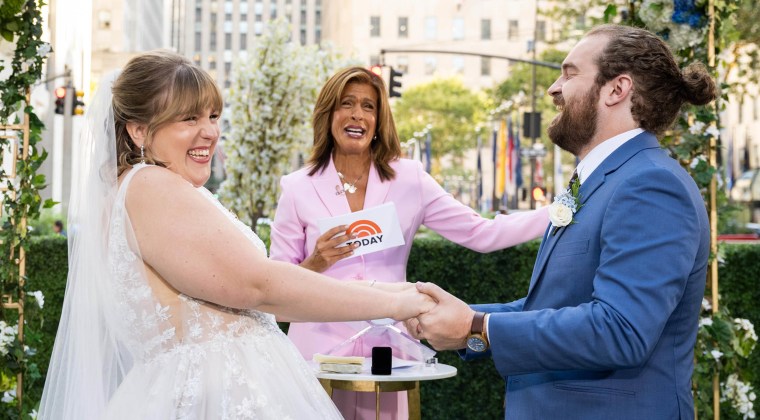 The couple wrote personal vows to one another, which they shared on TV.
"I promise to built the fun, colorful, spontaneous life that we've always dreamed of," Shore said, in part.
"I promise that as long as I am all yours and you are all mine, I will never stop striving for a new best day of our lives," Hebert said.
Tears in their eyes, the couple exchanged rings, followed by Hoda pronouncing them husband and wife. Their first kiss as a married couple was captured in a closeup shot, with the flags of 30 Rock waving in the background.