A little love (note) goes a long way.
"Sending love notes may seem like a small gesture, but it's actually a grand gesture in keeping the two of you connected and in love—especially if your sweetie's love language is words of affirmation," Michelle Mouhtis, LCSW, a licensed therapist and relationship coach, tells TODAY.com. Fret not, you don't have to be a poet to write a love message that'll touch her heart: "The most important aspect is that it's in your own words in a way that's meaningful to you," Mouhtis adds.
Dr. Ashley Lowe-Simmons, DSW, LCSW-C, FSW, and host of Convos With a Clinician echoes Mouhtis' sentiment, adding that love notes "allow outward expression of inward feelings."
When it comes time to figure out what to write, Lowe-Simmons recommends the following formula: "Acknowledge your partner, boost up the areas that need improvement and acknowledge those things that are done well."
Mouhtis suggests tapping into your romantic — albeit cheesy — side. "It's OK to be corny! What matters is that the message is meaningful and true to your love for your partner—no matter what that sounds like," she says.
Need a hand? Ahead, find an assortment of touching love messages for her, ranging in length and sentiment. There's a mix of short and sweet sayings for everyday moments to deeper messages to keep in your back pocket for whenever the mood strikes.
Now, here are all the ways you can say "I love you" with pen and paper.
Short and sweet love messages for her 
 Good morning, beautiful. I'm thinking of you today and every day.
A random "good morning" note will start her day with a smile on her face. "She will also appreciate hearing that you are thinking of her, especially if your lives are busy right now," Mouhtis adds.
Babe, every time I am in your presence it is a reminder of why I'm married to you. I just love being near you.
"This is a good message for your partner because it acknowledges the role of being present in the presence of our partners," Lowe-Simmons says.
Tailor this message to your relationship status. If you're not married, simply swap in "why you're my girlfriend" or "why you're my fiancée" for "why I married you."
I can't wait to see you later. Be ready in your PJs to watch our show.
"Nothing makes her more excited than knowing she can be her full comfortable self around you," Mouhtis says. "When you reassure her that she can be in her pajamas and you still have a great time with her, you're saying to her that she can feel safe to be comfortable with you."
Plus, this message shows you're eager for a night together. "Telling her that you are excited to see her later will show her that even though you've been together for quite some time, coming home to her is still the best part of your day. Excitement keeps the spark alive!" 
You know what ... you're right baby!
This suggestion from Siera Phillips, M.S.Ed., LCPC, had us laughing, but it's so true. "Always tell a woman she's right no matter the circumstances," Phillips tells TODAY.com.
I'm your No. 1 fan!
"Showing her that you are fanatically infatuated with her will make her smile," Phillips says. If you want to make this message just a touch longer, consider adding one or two reasons why you're rooting for her so hard these days.
Just a reminder that you'll always be the Pam to my Jim.
Mouhtis suggests this funny love message for fans of The Office, but feel free to swap in any lovebirds from your go-to show. "A character's on-screen romance says a thousand words, and will be sure to bring a smile on her face."
I just sent some money to your account to go shopping!
Now, who would argue with this? "Need I explain more," Phillips echoes.
I loved you yesterday, I love you today, and I look forward to loving you every day for the rest of my life.
In one succinct sentence, you can sum up how much she means to you. "This love note is a promise to love your partner every day and is just so full of love," Sameera Sullivan, a matchmaker and relationship expert, tells TODAY.com.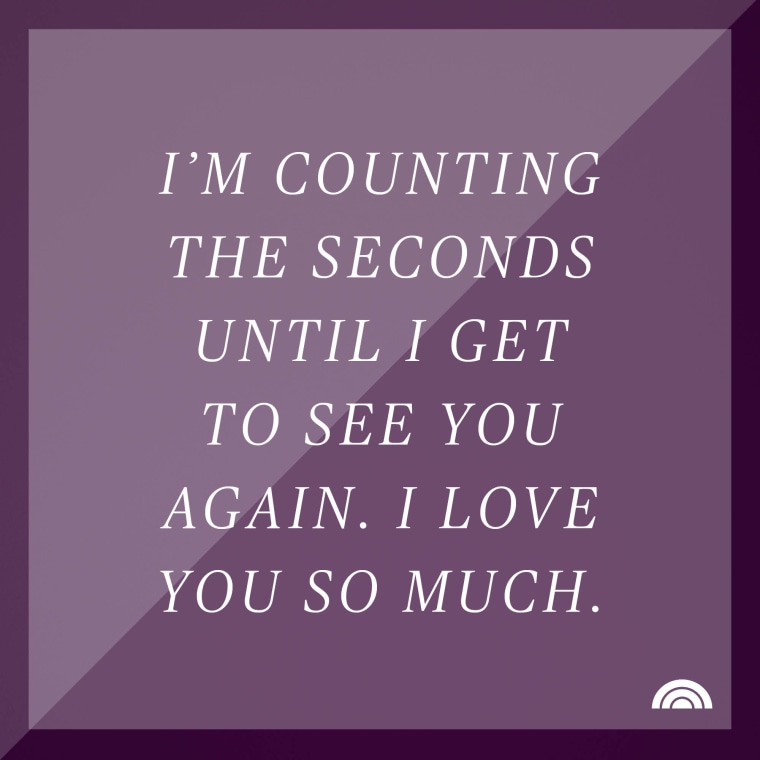 You are an answered prayer. I had a desire to have three things in a partner and you are all three of those things.
Think about all the qualities you dreamed of in a partner — and see how she stacks up. Lowe-Simmons suggests writing this note and seeing if she can guess what those three things are, or adding a few lines to explain it for yourself.
Babe, listen to this song, the lyrics were written specifically for you. I get speechless when I try to share how much you mean to me. This song is the perfect depiction of how you make me feel.
Hear a song that reminds you of her and can't help but smile? Let her know with this love message from Lowe-Simmons. (Or scroll down for some more love messages inspired by song lyrics to get the wheels turning.) 
I ran your bath water because I know how hard you work. I want to make sure you continue to take good care of yourself. When you come home, I'll be at the door waiting on your bags and you can head upstairs to take a moment to indulge in peace and quiet. 
As Lowe-Simmons puts it, this message "acknowledges the hard work that your partner does for the family." Not only are you showing appreciation for all that she does, but you're taking steps to help reduce her stress levels. "Stress weakens the immune system and increases susceptibility to illness. Partners have to support one another."
I could be anywhere in the world but the best place for me to be is right here with you.
Another sentimental expression of love from Lowe-Simmons. This one, in particular, reminds your better half how much you savor the quality time you share.
Babe, since I have been with you it helps me to understand the true meaning of partnership. I'm so blessed to have a teammate like you. I'll pass you the ball anytime, because I know that you know how to handle it. 
Lowe-Simmons says that this message allows your partner to understand that you need them and life is easier because of them. "This also expresses gratitude for your partner's action," she says. "Learning to work together and complement one another is an art. When you acknowledge appreciation it helps both you and your partner continue to put forth effort because it is working."
Darling, you are perfect. I love you for who you are. You make me better every day. 
"This message reassures your partner that they are perfect the way they are," Sullivan says. To really bring the message home, give an example or two of how she pushes you toward improving yourself. 
You are strong, confident, and such a great mother. I love the way that you care for our family.
If you're married with a child, expressing your gratitude for how your wife is both as a partner and mother is always nice to hear. In this short message from Lowe-Simmons, you more than cover that objective in just two brief sentences.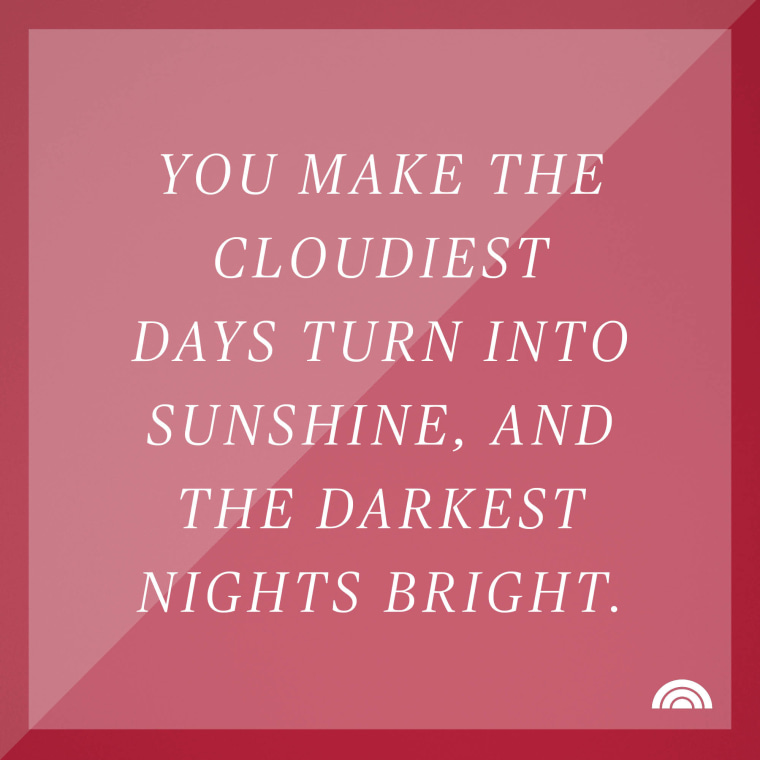 Deep love messages for her 
You are the light of my life and the sun in my soul.  I'm so grateful every single day that I get to call you mine.  You have brought meaning to my life in a way that can never be explained. My life was good before you, but my life is beyond my wildest dreams after you.
The beginning of this one may sound corny, but Mouhtis reassures us that "women love corny when it's coming from you." In just a few sentences, this love note spells out how much your sweetie has amplified your life in so many ways. "It'll be sure to make her swoon."
Thanks for being my best friend. I love your honesty, enthusiasm, courage, perseverance and smile. I love you more every day.
This missive from Sullivan will really make her keel over with delight. "This love note not only expresses your love for her but also tells her that she is your favorite person and highlights the qualities you appreciate the most about her," she says.
You make the cloudiest days turn into sunshine, and the darkest nights bright. 
This note might be brief, but it captures the depth of your love. Pair it with an "I love you" at the end to really seal the deal. "As small as it seems, she loves to hear the entire phrase 'I love you' versus 'Love you,'" Mouhtis adds. "The small details go a long way!"
 A love note of appreciation for you today and every day — thank you for being you. Wholeheartedly, authentically, and unapologetically you. I love you not in spite of your flaws, but because of them and all you are.
She'll definitely bookmark this love note for a rainy day. "Being appreciated for all of who she is — including her flaws — allows her to feel safe and comfortable to be herself with you," Mouhtis says. "And everyone loves to know that they are appreciated."
Your smile lights up a room, your laugh is contagious, and I just can't get enough of you.
Women love feeling adored, and this message does just that. "Your love will feel absolutely touched that you see her in this light," Mouhtis says. "Don't be afraid of being corny. When it's in the context of your relationship, it's absolutely poetic."
My love, how do you manage to turn our mundane routine into the most fun-loving adventures? The small yet tender moments we share feel like lifetimes of love in a single second. Thank you for making a regular Wednesday feel like a honeymoon. 
To give your significant other some credit, Mouhtis recommends this thoughtful love message for her. "Honor how you notice the small moments that, according to research by John Gottman [a renowned relationship expert, psychologist, and author], are actually the most meaningful parts of relationships — more than the grand gestures." 
At night when I lay next to you and you're sleeping, I lie my hands on your chest and smile. You bring me such joy!
"Your partner knows that they matter when you tell them and show them," Lowe-Simmons says. "Do not leave room for assumptions, communication is key to all relationships."
I know that we can get through anything together, as long as we always love each other first.  I know life has dealt us a tough hand right now, but I'm here to keep playing cards with you for the long haul — and make sure we share laughs and steal kisses along the way.  Everything is going to be okay because we have each other forever. 
"Going through a hard time with your sweetie and want to remind her that you're in this together?  This is the note to share," Mouhtis advises, stressing that all couples fall on hard times, whether it's within their relationship or outside forces.
"This note will reassure her that your feet are firmly planted in your relationship, and together you can get through the hardest of times — and come out even stronger on the other side."
I just want you to know how special you are to me. I love this life we are building together.  Being with you have been the best years of my life, and I can't wait for what's to come — but for now, I'm thankful to be here and in love with you.
Here is a way to recognize the life you are creating together. "You are also reminding her that your favorite moment is being in the here-and-now with her, while still acknowledging the past and future," Mouhtis adds.
Your smile makes my day the best it can be. I'm so glad I get to choose to be with you every day because it's the easiest decision I've ever made. 
"It's a very sweet yet strong love note telling your partner that they are the best thing that happened to you," Sullivan says. Also, every woman loves knowing their smile moves someone just so.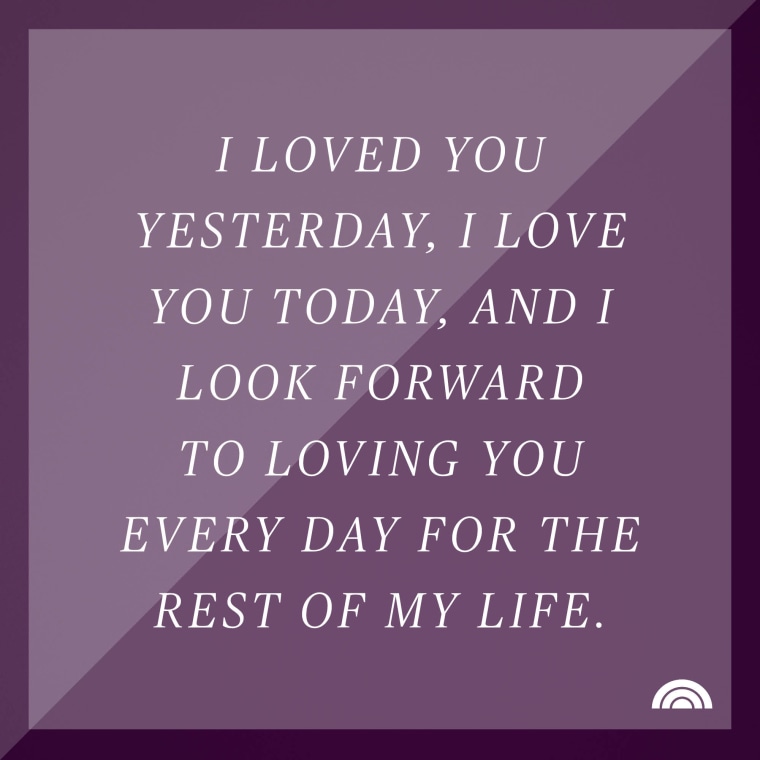 Love messages if you're in a long-distance relationship
Every day that passes is another day that we are closer to seeing each other again. Just know that you are on my mind every second of every day.  I'll be holding you in my arms before you know it. 
She'll be so moved by this one she won't know how to respond. "Combining your verbal affection toward your love, reminding her that you'll be together soon, and spelling out exactly how you want to be with her will help her feel close and connected to you despite the distance," Mouhtis says. "It'll also give her something to daydream about throughout her day!"
Sometimes I pull up your photo on my phone, lay my phone next to me and imagine you are here.
Consider Lowe-Simmons' message proof that distance really does make the heart grow fonder. It also gives her a sweet visual of just how crazy you are about her.
I'm counting the seconds until I get to see you again. I love you so much. 
In a long-distance relationship, it's important to remember you are going to see each other again. "When you remind her of this, it allows her to feel more connected to the moment you'll be reunited and ultimately to you," Mouhtis adds.
You are my love story with a fairytale ending.
"It's a cute and simple message for your partner, telling them they are all you have ever wanted," Sullivan says. We especially like this message for those in long-distance relationships since it subtly reminds your sweetheart that good times are ahead. Also, it's safe to say most people dream of a fairytale romance.
You, me and our favorite movie on FaceTime tonight. I can't wait to see your beautiful face.
 "A spontaneous date night will help you feel connected despite the distance," Mouhtis says. "Feel free to change to whatever your favorite long-distance date activity is."
I know the distance is hard, and I miss you so much it hurts — but we can get through this and anything together.
This message validates her feelings (and yours): Long-distance relationships are tough."You are seeing and acknowledging her feelings in this way, while also reassuring her that you are both a team and she's not alone in this," Mouhtis adds.
I'm lying here with my pillow in my arms pretending it's you. And soon it will be.
"Spelling out for your long-distance sweetie exactly what you wish you were doing together will help them imagine what it will be like when you are together again," Mouhtis says. "The added reminder that you'll be seeing each other soon is a bonus to help remind your beloved that this distance between you won't be forever."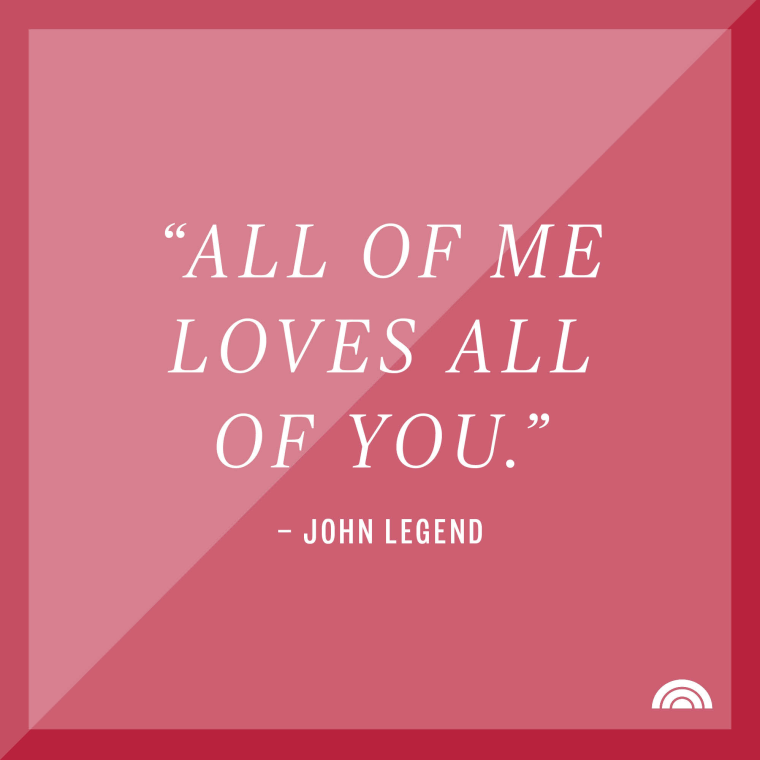 Romantic love messages inspired by famous songs and quotes 
"And here we are in heaven, for you are mine … at last."
This about sums up the feeling of being head over heels for someone. "This simple lyric from the Etta James song 'At Last' truly says it all — that even in the mundane, having your sweetie in your life feels like heaven," Mouhtis says.
"Love is patient, love is kind, love doesn't give up or give in and love is not forceful."
This riff on the Bible verse is timeless. "Love is the greatest value that we can possess as human beings," Lowe-Simmons says. This moving phrase exemplifies just all the powerful qualities love possesses. 
"All of me loves all of you." 
Mouhtis recommends this line from John Legend's "All of Me" since it emphasizes what true love is really about: "Loving each other for the entire person, not just parts of them."
"You can hear it in the silence / You can feel it on the way home / You can see it with the lights out / You are in love."
Because cards and gifts go together like you and your S.O.
Nobody writes about love quite like Taylor Swift. "These lyrics [from "You Are In Love" are able to masterfully convey the feelings of true love," Mouhtis says. Of course, if she's a Swiftie, she'll be even more over the moon for love-filled message.