Susan B. Anthony once remarked that in a true republic, men should have nothing more than their rights. And women? Nothing less.
That memorable comment was just one of many speeches and protests by Anthony and countless other trailblazers who helped pave the road to the 1920 constitutional amendment giving U.S. women the right to vote.
More than 100 years later, her words are more relevant than ever, reminding us that our work in ensuring equal rights for all is far from finished.
This collection of strong women quotes by Anthony, Michelle Obama, Maya Angelou, Eleanor Roosevelt and other famous females speak to the power of words and how at the very least, they motivate us to make change in our own lives. And at the most? Reshape the world.
Whether you're looking to reach a personal goal or hoping to galvanize the group in a rousing call to action, these short yet powerful quotes are sure to deliver all the inspiration you need.
After all, like Oprah Winfrey once said, "Life is about finding yourself, embracing your strengths and weaknesses, and being true to who you are."
With any luck, these empowering quotes will help you get there.
Short strong women quotes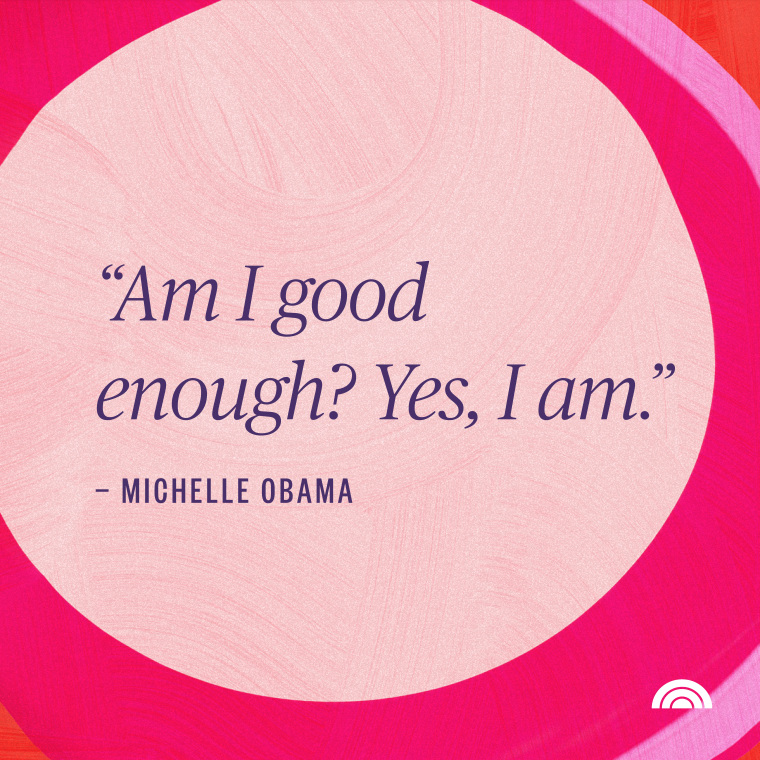 "Well-behaved women seldom make history." — Laurel Thatcher Ulrich
"Am I good enough? Yes, I am." ― Michelle Obama, "Becoming"
"I have as much muscle as any man, and can do as much work as any man." — Sojourner Truth, "Ain't I A Woman?"
"Courage is the price that life exacts for granting peace." — Amelia Earhart, "Courage"
"Her own thoughts and reflections were habitually her best companions." — Jane Austin, "Mansfield Park"
"I may be the first woman member of Congress, but I won't be the last." — Jeannette Rankin
"You may not control all the events that happen to you, but you can decide not to be reduced by them." — Maya Angelou
"The true republic — men, their rights and nothing more; women, their rights, and nothing less." — Susan B. Anthony
"You must never be fearful about what you are doing when it's right." — Rosa Parks
"Women belong in all places where decisions are being made. It shouldn't be that women are the exception." — Ruth Bader Ginsburg
"We are here, not because we are lawbreakers; we are here in our efforts to be law-makers." — Emmeline Pankhurst, "My Own Story"
"What I want young women and girls to know is: You are powerful and your voice matters." — Vice President Kamala Harris
"You have to believe in yourself when no one else does." — Serena Williams
"The future belongs to those who believe in the beauty of their dreams." — Eleanor Roosevelt
"I am no longer accepting the things I cannot change. I am changing the things I cannot accept." — Angela Davis
"A woman with a voice is by definition a strong woman." — Melinda French Gates
"Don't follow the crowd, let the crowd follow you." — Margaret Thatcher
"Nothing in life is to be feared; it is only to be understood." — Marie Curie
"Life is either a daring adventure or nothing." — Helen Keller, "Let Us Have Faith"
"As women achieve power, the barriers will fall." — Sandra Day O'Connor, "Women in Power"
"Love yourself first and everything else falls into line." — Lucille Ball
"Don't mistake politeness for lack of strength." — Sonia Sotomayor, "My Beloved World"
"I am a woman's rights." — Sojourner Truth, "Ain't I A Woman?"
"If you do what interests you, at least one person is pleased." — Katharine Hepburn
"Ignite the mind's spark to rise the sun in you." — Florence Nightingale
More strong women quotes that'll inspire you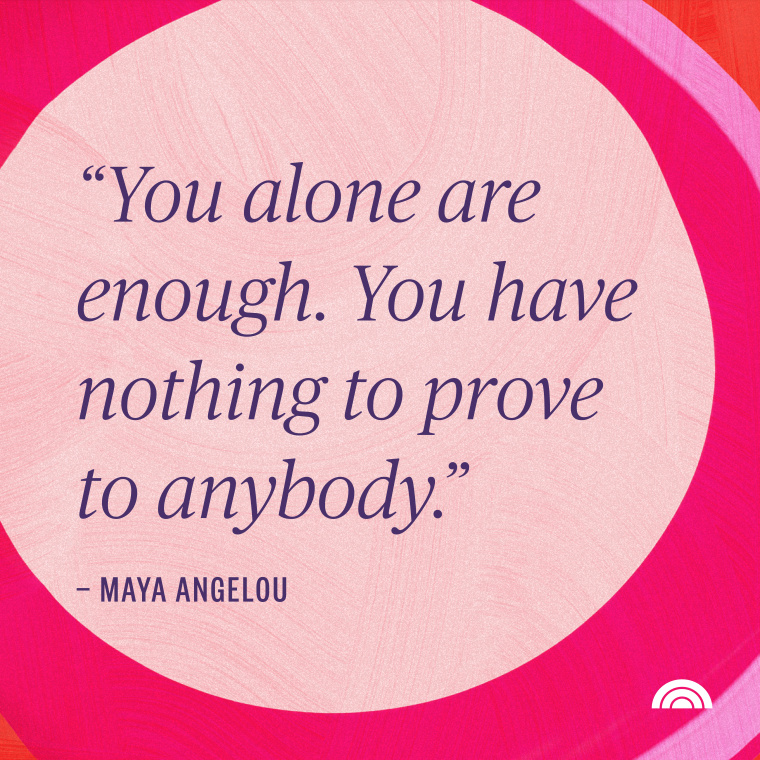 "Stand for something or you will fall for anything. Today's mighty oak is yesterday's nut that held its ground." — Rosa Parks
"I am like a falling star who has finally found her place next to another in a lovely constellation, where we will sparkle in the heavens forever." ― Amy Tan
It's not about being perfect. It's not about where you get yourself in the end. There's power in allowing yourself to be known and heard, in owning your unique story, in using your authentic voice." ―Michelle Obama, "Becoming"
"In politics, If you want anything said, ask a man. If you want anything done, ask a woman." — Margaret Thatcher
"How shall we explain to them the meaning of democracy if the same Congress that voted for war to make the world safe for democracy refuses to give this small measure of democracy to the women of our country?" — Jeannette Rankin
"Alone she goes to the gates of death to give life to every man that is born into the world." — Elizabeth Stanton, "Solitude of Self"
"The problems of our time will be solved only when all of the best mind, conscience and talent in the community are brought to their solution." — Jane Addams, "Speech on Woman Suffrage"
"My mother told me to be a lady. And for her, that meant be your own person, be independent." — Ruth Bader Ginsburg
"Women, whether subtly or vociferously, have always been a tremendous power in the destiny of the world." — Eleanor Roosevelt, "It's Up to the Women"
"Life is about finding yourself, embracing your strengths and weaknesses, and being true to who you are." — Oprah Winfrey
"The love expressed between women is particular and powerful because we have had to love in order to live; love has been our survival." — Audre Lorde, "Sister Outsider: Essays and Speeches"
"We must have perseverance and above all confidence in ourselves. We must believe that we are gifted for something and that this thing must be attained." — Marie Curie
"It has taken 232 years and 115 prior appointments for a Black woman to be selected to serve on the Supreme Court of the United States, but we've made it! We've made it — all of us." — Ketanji Brown Jackson, Supreme Court confirmation speech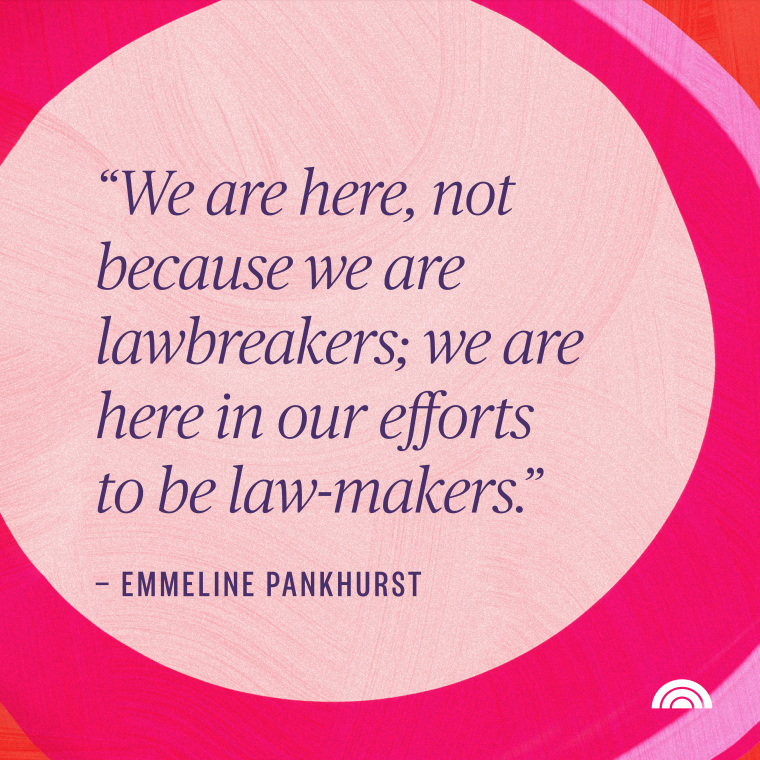 "The easiest way to disregard a woman's voice is to package her as a scold." — Michelle Obama, "Becoming"
"You alone are enough. You have nothing to prove to anybody." — Maya Angelou
"My mother told me to be a lady. And for her, that meant be your own person, be independent." — Ruth Bader Ginsburg
"My daily challenge to myself is to be part of the solution, to be a joyful warrior in the battle to come." — Kamala Harris
"For one thing we know beyond all doubt: Nothing has ever been achieved by the person who says, 'It can't be done.'" — Eleanor Roosevelt
"The future of life as we know it is being determined by everything we're doing — and not doing. Now." — Oprah Winfrey
"When I dare to be powerful — to use my strength in the service of my vision — then it becomes less and less important whether I am afraid." — Audre Lorde
"No pessimist ever discovered the secret of the stars or sailed to an uncharted land." — Helen Keller, "Optimism: An Essay"
"When you get into a tight place, and everything goes against you till it seems as if you couldn't hold on a minute longer, never give up then, for that's just the place and time that the tide'll turn." — Harriet Beecher Stowe, "Oldtown Folks"
"As society sees what women can do, as women see what women can do, there will be more women out there doing things, and we'll all be better off for it."  — Sandra Day O'Connor, "Women in Power"
"Chance is the first step you take, luck is what comes afterward." — Amy Tan, "The Kitchen God's Wife"
"We may encounter many defeats but we must not be defeated." — Maya Angelou