Nobody will love you like you do.
Before you can really show up for other people in your life, you need to focus on extending the same level of love, care, attention and praise to yourself. Maybe that means owning — and sharing — your well-earned achievements. Perhaps, it's relishing in some quality alone time or honoring the beautiful body looking back at you in the mirror.
It's quite simple, actually: Treat yourself like you'd treat your partner, best friend or anyone else you admire. Of course, we all know loving yourself is easier said than done. Instead of turning to the outside world for validation, look within to understand — and love — the incredible person that you are.
Not sure where to start on your self-love journey? Turn to Brené Brown, Michelle Obama, Beyoncé and other empowering voices for guidance. Below, we've rounded up a bunch of self-love quotes for every stage of your journey — the highs, lows, all of it.
Keep in mind that every relationship has ebbs and flows, including the one with yourself. Whether you're feeling on top of the world or lacking self-confidence, these short quotes are here to remind you just how special you are. (But if you're really feeling down, say a positive affirmation or two for good measure.)
"Maybe part of falling in love with someone else is also falling in love with yourself." — Nicola Yoon, "The Sun Is Also a Star"
"If only you could sense how important you are to the lives of those you meet; how important you can be to people you may never even dream of. There is something of yourself that you leave at every meeting with another person." — Fred Rodgers
"Self-love is an ocean and your heart is a vessel. Make it full, and any excess will spill over into the lives of the people you hold dear. But you must come first." — Beau Taplin
"Freeing yourself was one thing, claiming ownership of that freed self was another." — Toni Morrison, "Beloved"
"When you are content to be simply yourself and don't compare or compete, everyone will respect you." — Lao Tzu, "Tao Te Ching"
"how you love yourself is / how you teach others / to love you." — Rupi Kaur, "Milk and Honey"
"Love yourself first and everything else falls into line. You really have to love yourself to get anything done in this world." — Lucille Ball
"When we fulfill our function, which is to truly love ourselves and share love with others, then true happiness sets in." — Gabrielle Bernstein, "May Cause Miracles"
"Don't surrender all your joy for an idea you used to have about yourself that isn't true anymore." — Cheryl Strayed, "Tiny Beautiful Things: Advice on Love and Life from Dear Sugar"
"If you have the ability to love, love yourself first." — Charles Bukowski
"You may cut me with your eyes / You may kill me with your hatefulness / But still, like air, I'll rise." — Maya Angelou, "Still I Rise"
"In your own life it's important to know how spectacular you are." — Steve Maraboli, "Unapologetically You: Reflections on Life and the Human Experience"
"May you always be the one / Who notices the little things / That make the light pour through / And may they always remind you/ There is more to life and there is more to you." — Morgan Harper Nichols
"You and you alone are the only person that can live the life that writes the story that you were meant to tell. And the world needs your story because the world needs your voice." — Kerry Washington
"You are the best mother, father, sister, friend, cousin, and lover you will ever have." — Oprah Winfrey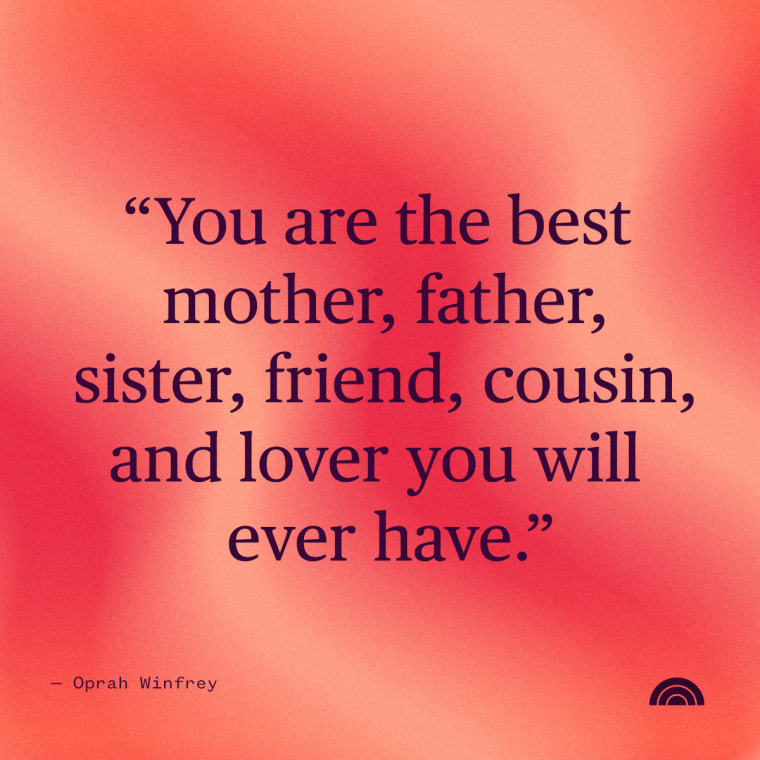 "Everyone of us needs to show how much we care for each other and, in the process, care for ourselves." — Princess Diana
"To find a happy ending with someone else, first you have to find it alone." — Soman Chainani, "The Last Ever After"
"If you don't get out there and define yourself, you'll be quickly and inaccurately defined by others." — Michelle Obama, "Becoming"
"Inner beauty should be the most important part of improving one's self." — Priscilla Presley
"Don't forget to tell yourself positive things daily! You must love yourself internally to glow externally." — Hannah Bronfman
"Beauty begins the moment you decide to be yourself." — Coco Chanel
"I'm really happy to be me, and I'd like to think people like me more because I'm happy with myself and not because I refuse to conform to anything." — Adele
"Your self-worth is determined by you. You don't have to depend on someone telling you who you are." — Beyoncé
"Friendship with oneself is all important because without it one cannot be friends with anyone else in the world." — Eleanor Roosevelt
"Be a master at loving yourself and people will follow." — Kim Guerra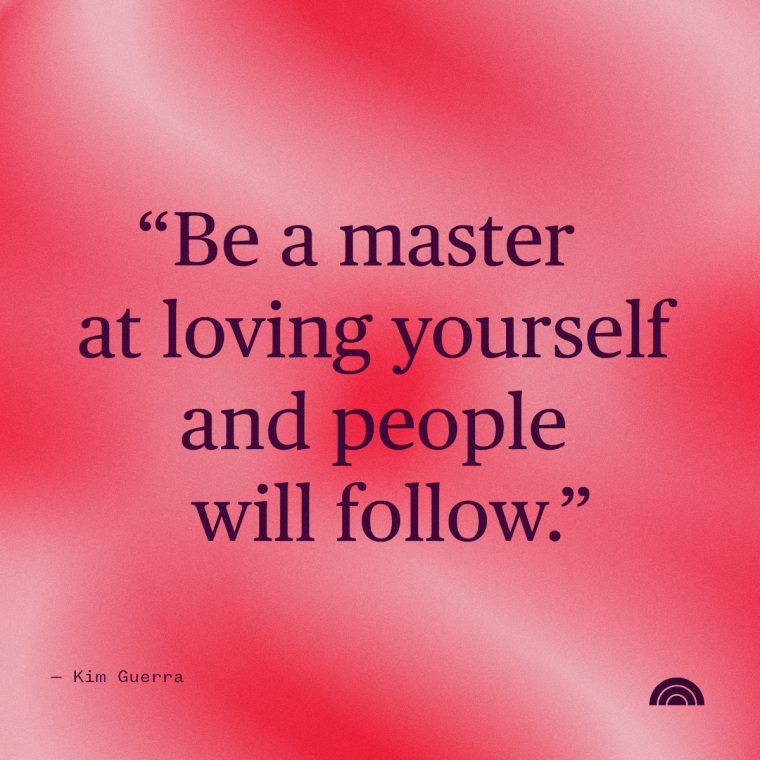 "You're always with yourself, so you might as well enjoy the company." — Diane von Furstenberg, "The Woman I Wanted to Be"
"This life is mine alone. So, I have stopped asking people for directions to places they've never been." — Glennon Doyle, "Untamed"
"I've come to a realization that I need to be able to forgive myself for making the wrong choice, trusting the wrong person, or figuratively falling on my face in front of everyone. Step into the daylight and let it go." — Taylor Swift
"Nourishing yourself in a way that helps you blossom in the direction you want to go is attainable, and you are worth the effort." — Deborah Day
"You deserve a love that's deeper than the ocean / A love that's brighter than the sun / A love that's higher than the mountains / A love that you can only find inside yourself." — Juansen Dizon, "Confessions of a Wallflower"
"If we stop defining each other by what we are not and start defining ourselves by what we are, we can all be freer." — Emma Watson
"If you're not someone who has a natural and effortless love for yourself, it's hard to let go of your desire to please other people, and that's really not an ingredient for a happy life." — Anne Hathaway
"But the most exciting, challenging and significant relationship of all is the one you have with yourself. And if you can find someone to love the you you love, well, that's just fabulous." — Sarah Jessica Parker as Carrie Bradshaw, "Sex and the City"
"We can only love others as much as we love ourselves." — Brené Brown
"I believe self-love is a by-product of integrity. Living true to your values—whether you feel like it or not." — Patricia Moreno 
"Remember who you were before they told you who to be." —Dulce Ruby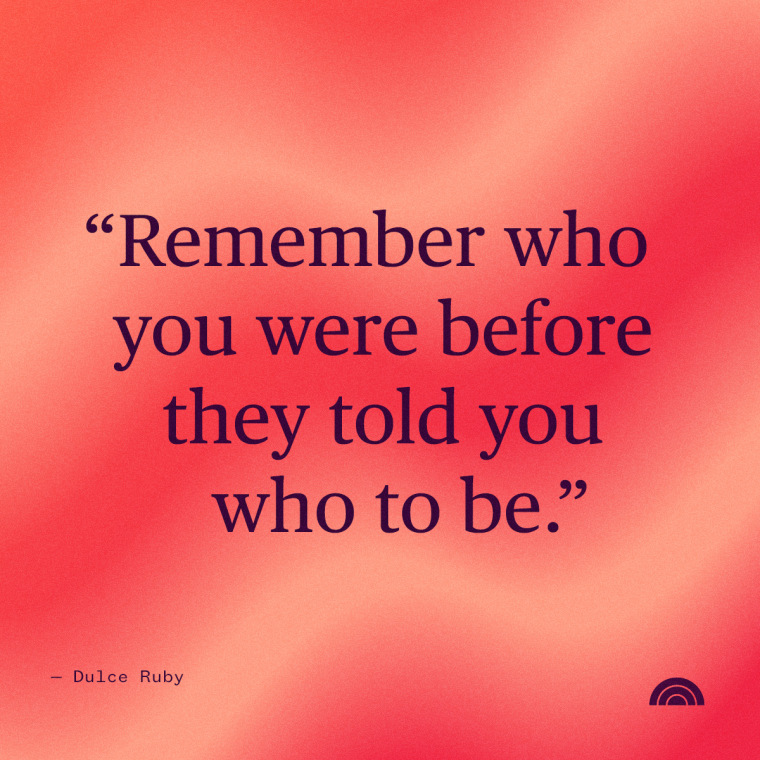 "And I can't help lovin' myself / And I don't need nobody else / If I was you I'd wanna be me, too." — Meghan Trainor, "Me Too"
"Knowing how to be solitary is central to the art of loving. When we can be alone, we can be with others without using them as a means of escape." ― bell hooks, "All About Love: New Visions"
"Do not let what he wants eclipse what you need. He is very dreamy … But he is not the sun. You are." — Sandra Oh as Cristina Yang, "Grey's Anatomy"
"I say it ain't bragging if you can back it up." — Muhammad Ali
"i found god in myself / and i loved her / i loved her fiercely." ― Ntozake Shange, "Lady in Red"
"Treat yourself like someone you love." ― Glennon Doyle, "Love Warrior"
"Nothing you resolve to do will make you worthy of love. You are enough right now." — Author Unknown
"look down at your body / whisper / There is no home like you.—Rupi Kaur, "thank you" from The Sun and Her Flowers
"I may be a senior, but so what? I'm still hot." — Betty White
"Let me fall if I must fall. The one I will become will catch me." —Baal Shem Tov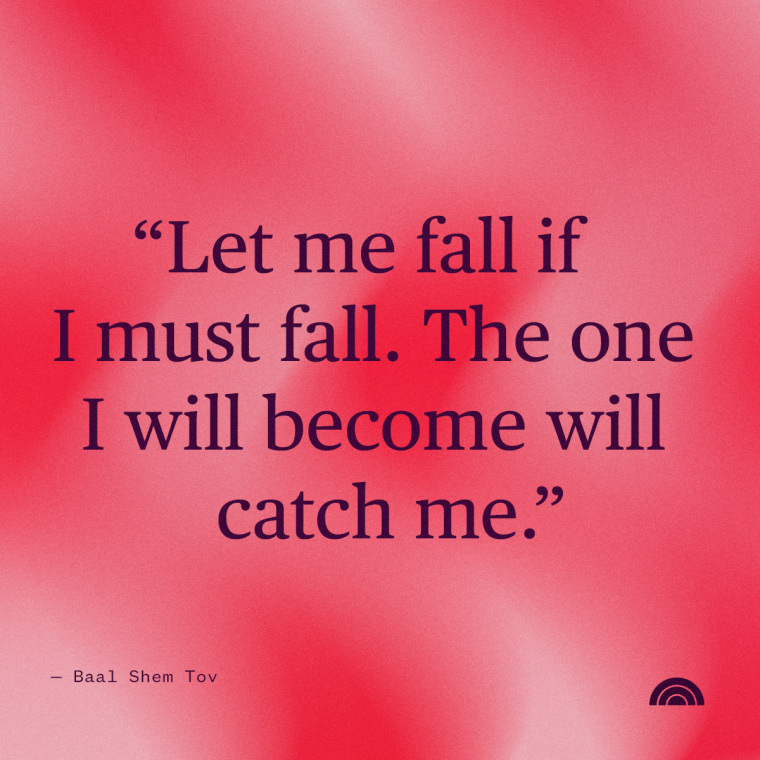 "Even when muddy / your wings sparkle bright / wonders that heal broken worlds." ― Aberjhani, "The River of Winged Dreams"
"Love is inside me. Other people might awaken it or threaten it, but as a capacity, it's mine." — Sharon Salzberg
"I read and walked for miles at night along the beach, writing bad blank verse and searching endlessly for someone wonderful who would step out of the darkness and change my life. It never crossed my mind that that person could be me." — Anna Quindlen, "Living Out Loud"
"You carry so much love in your heart. Give some to yourself." —Author Unknown
"Document the moments you feel most in love with yourself — what you're wearing, who you're around, what you're doing. Recreate and repeat." — Warsan Shire
"Self love is not a place we get to but a place we choose."—Shannon Kaiser, "The Self-Love Experiment"
"Loving yourself isn't vanity. It's sanity." — Katrina Mayer
"There is no beauty that can compare with the beauty of self-knowledge and the tranquility that comes when you accept yourself as you are." — Sophia Loren, "Women & Beauty"
"To love oneself is the beginning of a lifelong romance." — Oscar Wilde, "An Ideal Husband"