Spring has sprung, which means one thing: Easter will be here before you know it.
Falling on Sunday, April 9, what's not to love about a day devoted to sweet treats and ham dinners? To top it all off, let's take a paws to recognize everyone's favorite rabbit, the one who comes bearing baskets full of egg-citing goodies for the kids.
If you're enjoying our funny puns, don't worry because we've got more where those came from in this roundup of Easter wishes for friends, family, coworkers and just about anyone else you can think of.
Although it's easy to get lost in the fun that the holiday brings (like, say, decorating Easter eggs and egg hunts), don't forget to send Easter greetings to loved ones via text or, better yet, a handwritten card.
To help find just the right words, we've gathered a variety of joy-filled messages that are as easy as a song to use for whatever occasion you see fit.
Looking for cute Easter quotes to include in a card? Try this one: "Are you an Easter basket? Because you look sweet."
Want something to honor this holy day? No problem. We've got an array of psalms and sentiments to mark the Christian holiday, including "May God bless you with faith and family this Easter."
Whatever you're searching for, we've got the inspiration you need to wish everyone in your life a very hoppy Easter indeed.
Happy Easter wishes for friends and family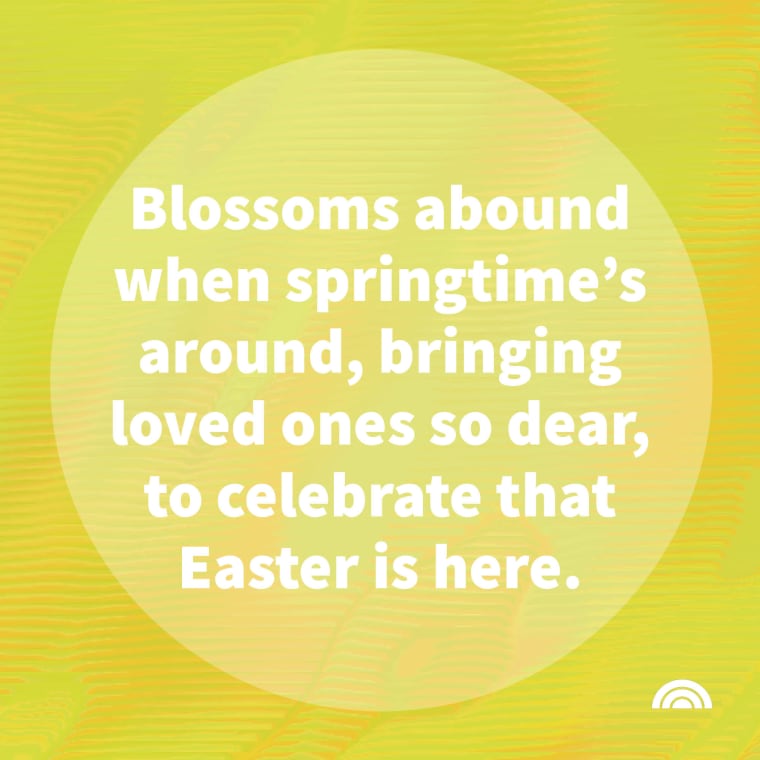 Easter: Hare today, gone tomorrow.
May the joys of Easter fill your heart with gladness.
Wishing you and yours peace this Easter season.
Sending Easter blessings today and every day.
May peace and love be in abundance this Easter Sunday.
Egg-scuse me, I just wanted to wish you a Happy Easter.
Happy Easter to a good egg.
A little peep told me that Easter's on its way.
I'm so egg-cited and I just can't hide it.
Have an Easter-ific holiday.
Hoppy Easter!
Bunny kisses and Easter wishes for a day that's truly egg-cellent.
Wishing you all the delights of a Sunday morning brunch this Easter.
Are your ears burning? 'Cause somebunny is thinking about you and wishing you a Happy Easter!
May the sun be shining, the jellybeans plentiful and the eggs easy to find. Hoppy Easter!
Sending warm fuzzies this Easter and a reminder that somebunny loves you!
Here's wishing you a bright Easter and a magical start to the spring season.
Sending Easter wishes and greetings to let you know that I carrot a whole lot.
Happy Easter! Thinking of you and sending love on this day.
Happy Easter! May you be inspired by the joy, hope and renewal found in this beautiful season.
Hoping your Easter celebration is sweeter than a marshmallow Peep and brighter than the spring sunshine.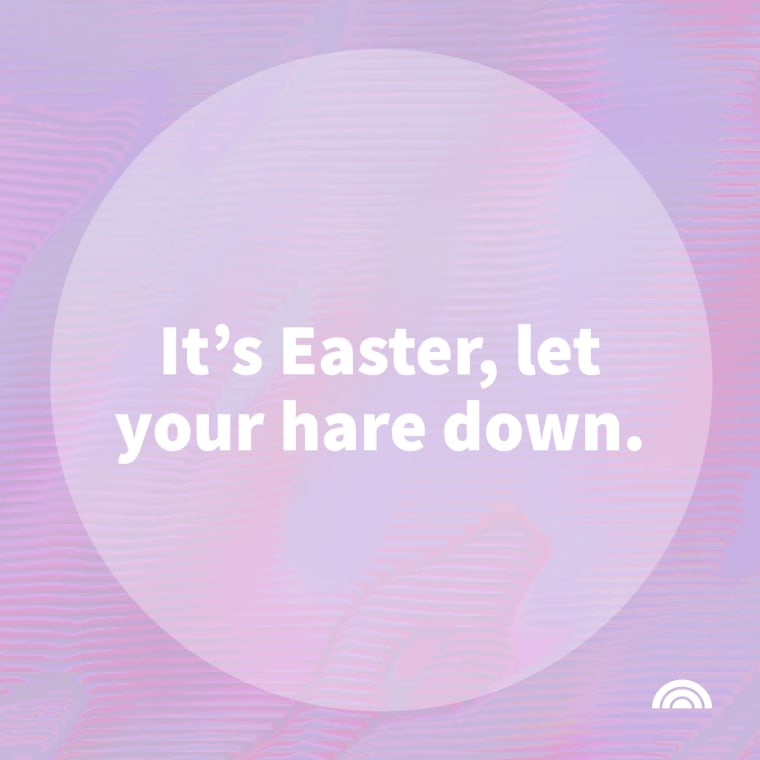 I wish you a day filled with whatever makes you smile and fills you with the hope of the Easter season. And chocolate, of course.
In this house, everybunny is welcome on Easter.
May spring flowers and colored eggs fill your season with joy.
Hippity hoppity, Easter's on its way!
Blossoms abound when springtime's around, bringing loved ones so dear to celebrate that Easter is here.
Wishing you plenty of painted eggs, chocolate bunnies and all things pretty this Easter.
Delivering Easter baskets along the bunny trail, here comes Peter Cottontail!
Celebrate and rejoice in the spirit of spring.
Easter greetings to those we love and wishes for a joyous day filled with blessings from above.
Sweet dreams and jelly beans this Easter day.
Embrace the reason for the season: chocolate bunnies.
Hope you get eggs-actly what you want for Easter.
Sending wishes for a 14-carrot Easter.
Happy Easter to all my favorite peeps!
Hope your Easter is a hop, skip and a jump.
Funny Easter wishes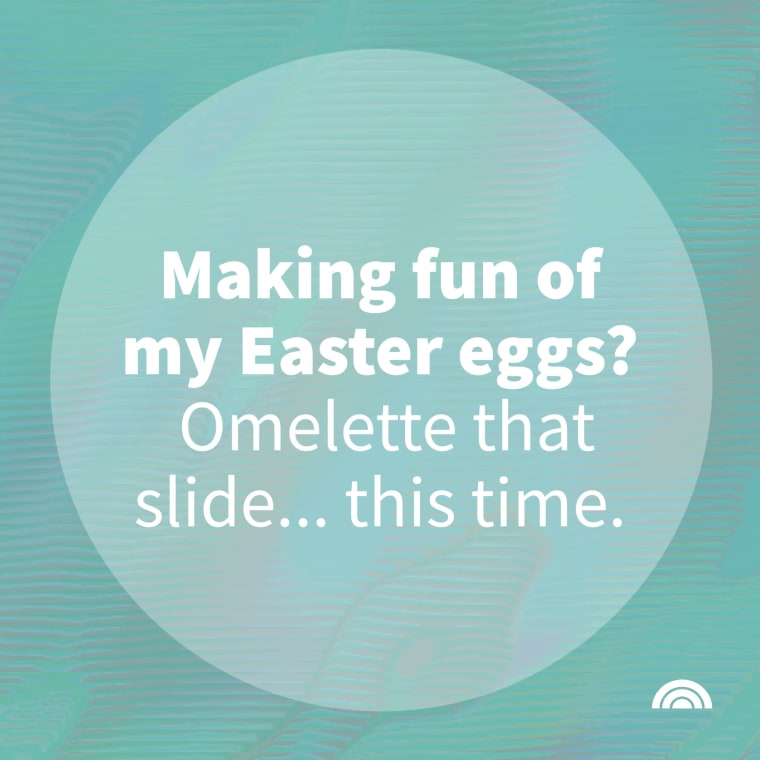 Just so you know, your Easter eggs are hard to beat.
It's do or dye. Happy Easter.
Thumbbunny loves you.
Chick out my Easter basket. It's egg-cellent.
Are you an Easter basket? Because you look sweet.
They said I could be anything I want. So, I picked the Easter Bunny.
My Easter eggs are better than yours and I'm dyeing to prove it.
Easter = trying to remember where you hid something 12 hours ago.
Don't put all your eggs in one basket. Literally.
The only rabbit that shows up at my house on Easter is a dust bunny.
Easter dinner with the family is best served in a bottle.
Hope the Easter Bunny brings you a little peeps and quiet this year.
It's Easter. Let your hare down.
I don't need Easter bunnies. I've got plenty of of chicks.
It's Easter for peep's sake!
Hope this year's Easter eggs are to dye for.
Wearing an Easter bonnet this year? Good luck with that.
Have an eggs-ceptional Easter.
Here's hoping your Easter ends the way it's supposed to. With an "r."
Got a problem with Easter? Speak now or forever hold your peeps.
I can't contain my egg-citement. Happy Easter!
You're a little eggs-stra, don't ya think?
Uh, eggs-cuse me, is this cheep taken?
My side dish this Easter is wine ... for one.
Don't worry, be hoppy.
This Easter, I'll be one hoppy camper!
Sorry, I can't come to Easter dinner. I'm having a bad hare day.
Looking for the Easter Bunny? I haven't seen nor hare of him.
Don't spend your Easter splitting hares.
Making fun of my Easter eggs? Omelette that slide ... this time.
Keep calm and tell me where the eggs are.
All we're sayin' is give peeps a chance.
Religious Easter wishes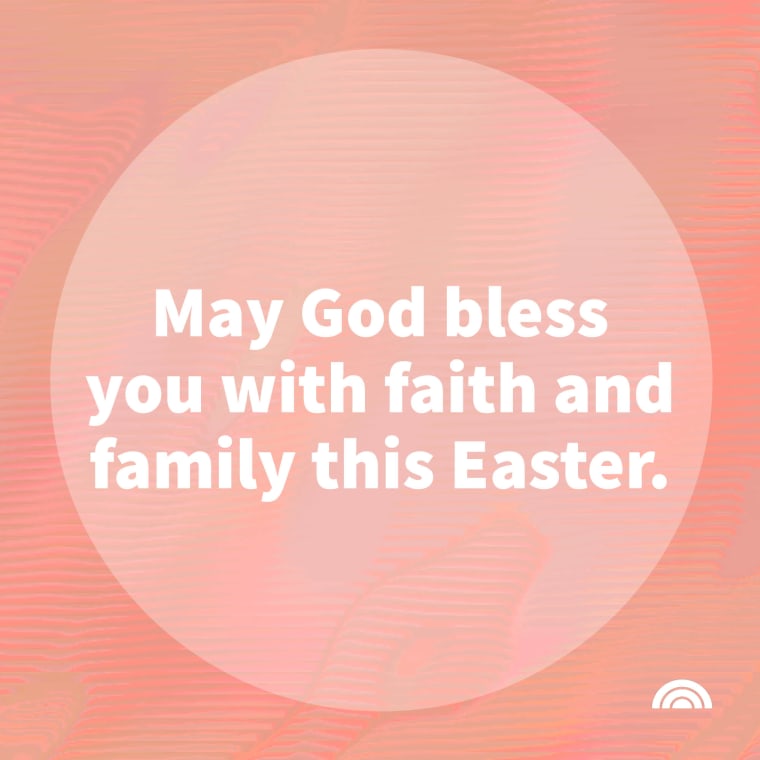 He is risen! Wishing you a delightful Easter filled with hope, joy and the wonder of God's blessings.
Honoring the sacrifice made His name and salvation on this blessed day.
May God bless you with faith and family this Easter.
Rejoice in the resurrection of the Lord, our savior.
"The Lord is my shepherd: therefore can I lack nothing. He shall feed me in a green pasture; and let me forth beside the waters of comfort." — Psalm 23
Happy Easter! May the miracle of this beautiful and sacred day stay with you all year.
"This is the day the Lord has made, let us rejoice and be glad in it." Psalm 118:24
My the light of the Lord fill your soul with joy today and every day.
"I am the resurrection and the life. The one who believes in me will live, even though they die; and whoever lives by believing in me will never die." — John 11:25-26
"Mercy, peace and love be yours in abundance." — Jude 1:2
Deep peace of the earth to you and yours on Easter Day.
Blessed are the doves who seek refuge under the wing of God's love.
"You make known to me the path of life; you will fill me with joy in your presence, with eternal pleasures at your right hand." — Psalm 16:11
"Wait on the LORD: Be of good courage, and he shall strengthen thine heart: wait, I say, on the LORD." — Psalm 27:14
"Take delight in the Lord, and he will give you the desires of your heart." — Psalm 37:4
The miracle of the season gives us reason to celebrate Easter.
May God's love surround you and your loved ones this Easter.