Spring is a time for renewal and growth, and all of that really comes to light on Easter Sunday.
For those who celebrate, Easter is all about hope — especially given that the holiday is centered on Christ's resurrection. And while it's rooted in religion, the holiday has become synonymous with decked-out eggs, pastel sweets, Easter egg hunts and plenty of family time.
But if you find yourself away from loved ones this year, you may be compelled to wish all the special somebunnies in your life a hoppy holiday from miles away. (Side note: Are you're impressed by our egg-cellent Easter puns?) In that case, turn to these inspiring Easter quotes from beloved authors, musicians and thought leaders to help you capture the essence of the holiday. From beloved blessings to popular Easter songs, our catalog of quotes runs deep so you can simply pick the one that's right for you and the recipient. Once you make your selection, share it far and wide by incorporating it into your Instagram caption or including it in your handwritten Easter message.
Without further ado, we present our Easter spread — of quotes, that is.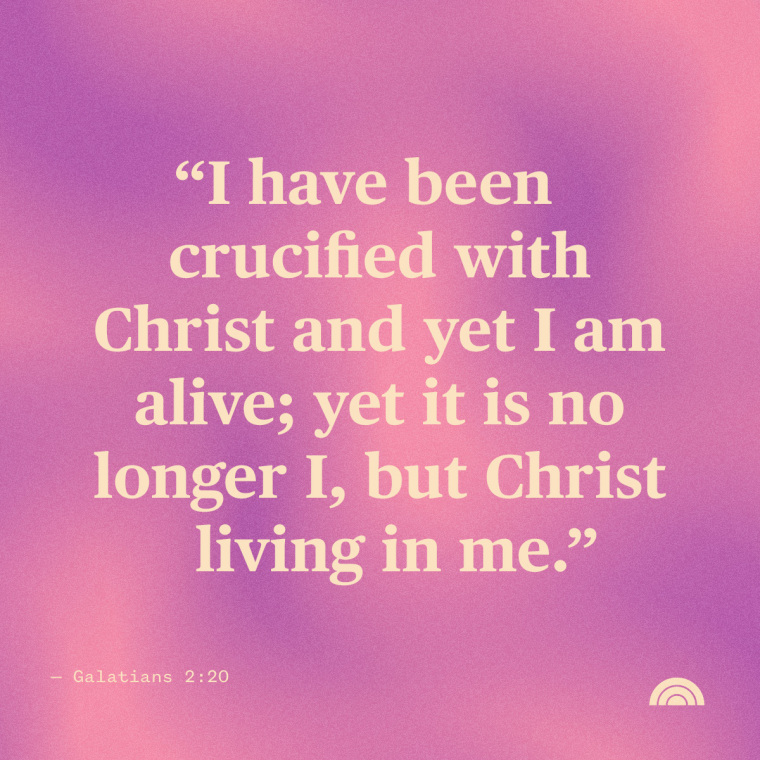 "Nothing ever seems impossible in spring, you know." — L.M. Montgomery
"Who taught the sun where to stand in the morning? / And who told the ocean, you can only come this far? / And who showed the moon where to hide 'til evening? / Whose words alone can catch a falling star? / Well, I know my Redeemer lives / I know my Redeemer lives / All of creation testifies." — Nicole C. Mullen, "Redeemer"
"Go quickly, and tell His disciples that He is risen from the dead." — Matthew 28:7
"Spring buds burst to bloom, and the river carries their song of life." ― Jayita Bhattacharjee
"Jesus answered him, truly I tell you, today you will be with me in paradise." — Luke 23:43
"I confess with my mouth and believe in my heart, / that You raised Jesus Christ, and He entered my life; / I've got to tell everybody, / I've got to tell everybody, / I'm so glad I'm saved." — John P. Kee, "Saved"
"Easter is the only time when it's perfectly safe to put all your eggs in one basket." — Evan Esar
"Where flowers bloom, so does hope." — Lady Bird Johnson
"'Is the spring coming?' he said. 'What is it like?' … 'It is the sun shining on the rain and the rain falling on the sunshine, and things pushing up and working under the earth.'" ― Frances Hodgson Burnett, "The Secret Garden"
"Well, Jesus kissed his mother's hands / Whispered, 'Mother, still your tears / For remember the soul of the universe / Willed a world and it appeared.'" — Bruce Springsteen, "Jesus Was an Only Son"
"If you declare with your mouth, 'Jesus is Lord,' and believe in your heart that God raised him from the dead, you will be saved." — Romans 10:9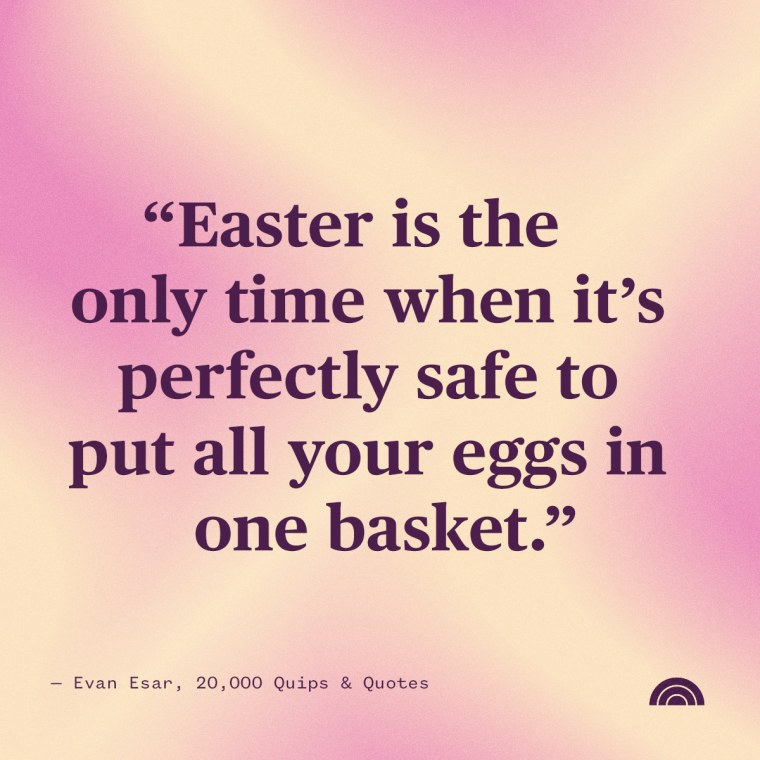 "That is one good thing about this world … there are always sure to be more springs." — Lucy Maud Montgomery, "Anne of Avonlea"
"I have been crucified with Christ and yet I am alive; yet it is no longer I, but Christ living in me." — Galatians 2:20
"April hath put a spirit of youth in everything." — William Shakespeare, "Sonnet 98"
"There are always flowers for those who want to see them." — Henri Matisse
"He got up / Death could not hold him / My savior He got up / An empty grave / Is there to prove / My savior He got up. — VaShawn Mitchell, "He Got Up"
"What do the dear little flowers say? / Listen, while slowly they bend and sway, / Bowing their heads in a reverent way, / This Easter day." — Lizzie DeArmond, "What Do the Flowers Say?"
"The very first Easter taught us this: that life never ends and love never dies. — Kate McGahan, "Only Gone from Your Sight"
'The celebration of your resurrection over death is a celebration of life that should continue well beyond the sunrise service and the music, rehearsed for days prior; it is beyond the sign of spring, beyond the lily, beyond new lambs grazing in open fields. Resurrection is a daily celebration over fear; man's greatest and most powerful enemy." — author unknown, "Easter Morning Prayer"
"Always / it's / spring / and everyone's / in love and flowers pick themselves." — E.E. Cummings, "Who Knows If the Moon's"
"Easter spells out beauty, the rare beauty of new life. Is life ever so sweet and beautiful as when it comes up fresh in the spring?—S.D. Gordon, "Day Dawn — A Quiet Talk on Easter"
"Easter is meant to be a symbol of hope, renewal and new life." — Janine di Giovanni
"Far from this foreign Easter damp and chilly / My soul steals to a pear-shaped plot of ground, / Where gleamed the lilac-tinted Easter lily / Soft-scented in the air for yards around. — Claude McKay, "The Easter Flower"
"The great gift of Easter is hope." — Basil Hume
"They say that oft at Easter dawn / When all the world is fair, / God's angels out of heaven are drawn / To list the music there. —Edna Dean Proctor, "Moscow Bells"
"Spring is nature's way of saying, 'Let's party!'" — Robin Williams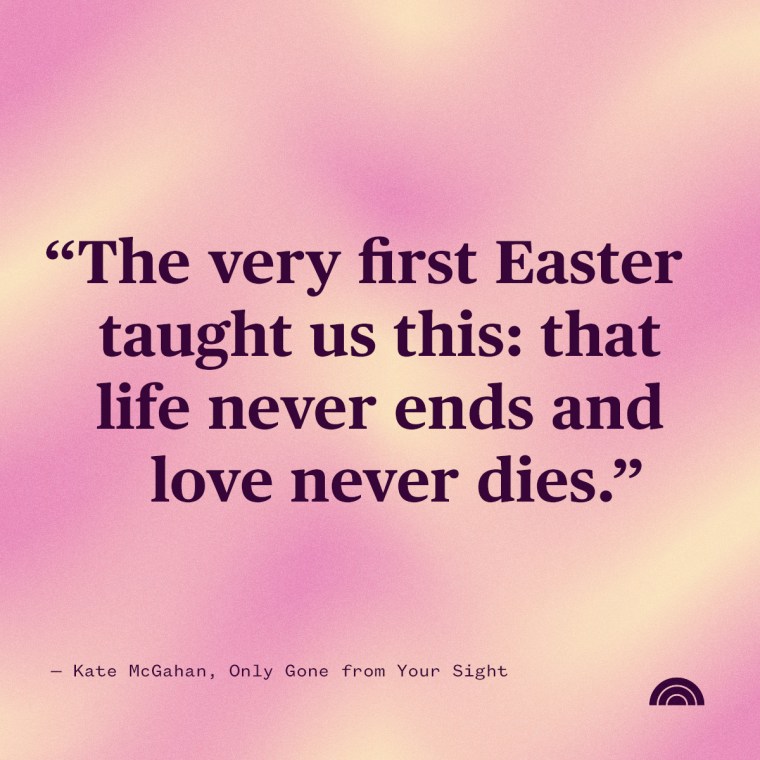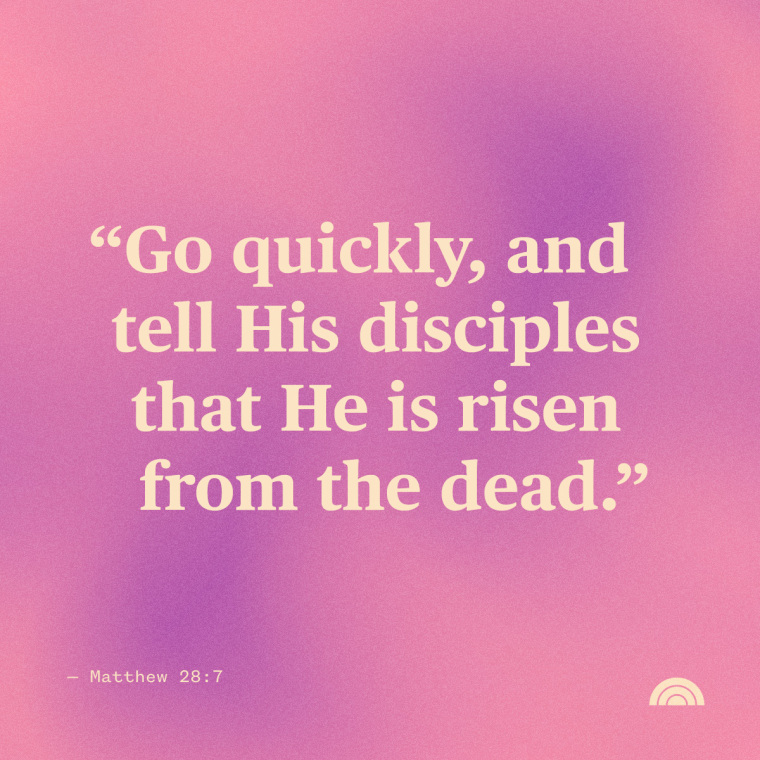 "Our savior displayed on a criminal's cross / Darkness rejoiced as though heaven had lost / But then Jesus arose with our freedom in hand / That's when death was arrested and my life began — Adam Kersh, Brandon Coker, Paul Taylor Smith and Ryan Heath Balltzglier of Death Was Arrested
"You can cut all the flowers but you cannot keep spring from coming." — Pablo Neruda
"Easter. The joy of candy, colors, creativity and costuming. A season unlike any other." — Grant Morrison, "Happy!"
"Let your light shine before others." — Matthew 5:16
"Here's for me the one big question: How do you get Crucifixion, Resurrection and then chocolate bunnies, colored eggs? How do you do that one? Even kids are going, 'Rabbits don't lay eggs. What is this?'" — Robin Williams
"Easter is very important to me. It's a second chance." — Reba McEntire
"I am going to try and pay attention to the spring. I am going to look around at all the flowers, and look up at the hectic trees. I am going to close my eyes, and listen." — Anne Lamott
"People come together with their families to celebrate Easter. What better way to celebrate than to spend a few hours going on the journey of Christ's life." — Roma Downey
"It is spring again. The earth is like a child that knows poems by heart." — Rainer Maria Rilke
"That He should extend His great love unto such as I / Sufficient to own, to redeem, and to justify / Oh, it is wonderful that He should care for me / Enough to die for me" — Charles H. Gabriel, "I Stand All Amazed"
"In the spring, at the end of the day, you should smell like dirt." — Margaret Atwood
"Our Lord has written the promise of the resurrection, not in books alone, but in every leaf in springtime." — Martin Luther, "Watchwords for the Warfare of Life"
"Do not abandon yourselves to despair. We are the Easter people and hallelujah is our song." — Pope John Paul II
"When Jesus says yes, nobody can say no." — Michelle Williams, "Say Yes"
"I still believe in Santa, the Easter Bunny, the Tooth Fairy, and true love. Don't even try to tell me different." — Dolly Parton
"I must have flowers, always and always." — Claude Monet
"Good idea: finding the Easter eggs on Easter. Bad idea: finding the Easter eggs on Christmas." — Jack Handey
"To plant a garden is to believe in tomorrow." — Audrey Hepburn
"For I remember it is Easter morn, / And life and love and peace are all newborn, / And joy has triumphed over loss and pain. — Alice Freeman Palmer, "On a Gloomy Easter"
"Spring adds new life and new joy to all that is." — Jessica Harrelson
"The Easter egg symbolizes our ability to break out of the hardened, protective shell we've surrounded ourselves with." — Siobhan Shaw
"Despite the forecast, live like it's spring." — Lilly Pulitzer
"The deep roots never doubt that spring will come." — Marty Rubin
"Bloom where you are planted." —the Bishop of Geneva, Saint Francis de Sales
Make your Easter egg-stra special