Rejoice! Spring is here, ushering in warm sunny days, pretty flowers and, of course, Easter.
If you're like most people, you probably plan to spend the day enjoying a traditional dinner with all the trimmings like ham, green bean casserole and scalloped potatoes.
Before digging in, give the crowd a chuckle by telling a festive joke or pun then follow it up with an Easter prayer to offer thanks for all your blessings.
Reciting grace before the big meal is a meaningful way to gather the family together in gratitude, especially if you're Christian and observe the holy day.
Cant' find the right words? We've collected Easter prayers from psalms, Bible scriptures, poets and more.
Some of the more traditional prayers have probably been staples at your dinner table for generations like "Bless us, Oh Lord, and these thy gifts, which we are about to receive from the bounty through Christ, Our Lord."
Others might be less familiar such as Helen Steiner Rice's sweet quote about finding God in all things spring.
However you choose to recite these thoughtful words is up to you, but all are certain to add inspiration to this year's Easter celebration.
God so loved the world that He gave His only Son, that whoever believes in Him shall not perish but have eternal life."

john 3:16
Thy word is a lamp unto my feet, and a light unto my path."

Psalm 119:105
May the Lord bless you and keep you; may the Lord make His face shine upon you, and be gracious to you; may the Lord lift up His countenance upon you you, and give you peace."

Numbers 6:24-26
Ask and it will be given to you; seek and you will find; knock and the door will be opened to you."

Matthew 7:7
Keep yourselves in the love of God, looking for the mercy of our Lord Jesus Christ unto eternal life."

Jude 1:21
I sought the Lord, and he answered me; he delivered me from all my fears."

Psalm 34:4
All-provident God, the good things that grace this table

remind us of your many good gifts."

Book of blessings
For food that stays our hunger, For rest that brings us ease, For homes where memories linger, We give our thanks for these.

Traditional mealtime prayer
Blessed is the Holy Spirit, who brings us together at this table of love. Blessed be God now and forever."

Catholic Household Blessings and Prayers
Bless this food [this bread] and grant that all who eat it may be strong in body and grow in your love. Blessed are you, Lord our God, for ever and ever."

Canadian Conference of Catholic Bishops, "A Book of Blessings"
Grant we pray that we who keep the solemnity of the Lord's resurrection may, through the renewal brought by your spirit, rise up in the light of life."

Pope Francis, 2021 Easter Mass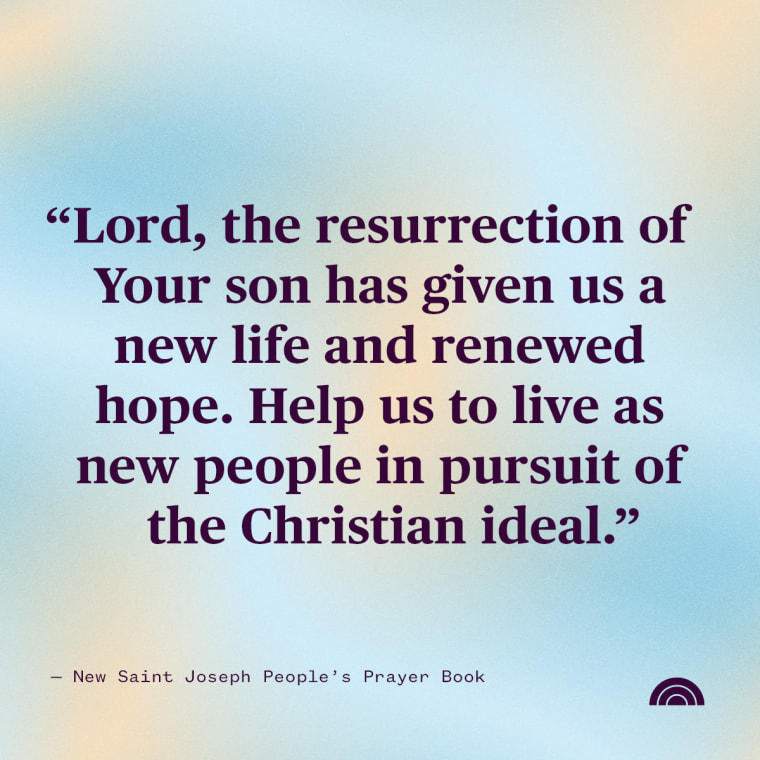 Blessed are you, spring. You invite us to sing songs to the frozen regions within and to bless the lessons of winter as we become your partner in a new dance."

Joyce Rupp and Macrina Wiederkehr, "The Circle of Life: The Heart's Journey Through the Seasons"
"God, give us eyes to see the beauty of the Spring, and to behold Your majesty in every living thing."

Helen Steiner Rice, "An Easter Prayer"
"You bless the Earth and abundance flows in its pastures; grant that by your blessing our fields may yield the food we need. For this we pray."

Catholic Household Blessings and Prayers
Thank you for the world so sweet, thank you for the food we eat. Thank you for the birds that sing. Thank you God for everything."

Child's blessing
Of mercy's never-failing spring, And steadfast judgment, I will sing; And since they both to thee belong, To thee, O Lord, address my song."

The Book of Common Prayer
Loving Father, we thank you for bringing us together for this meal: may we continue to live in your friendship and in harmony with one another. Bless this food, a sign of your loving care for us, and bless us in our daily lives."

Canadian Conference of Catholic Bishops, "A Book of Blessings"
Blessed are those who have not seen and yet have believed."

John 20:29
Hope your Easter's happy, hope your springtime's bright. Hope your skies are sunny, and hope your heart is light."

Helen Steiner Rice, "The Poems and Prayers of Helen Steiner Rice"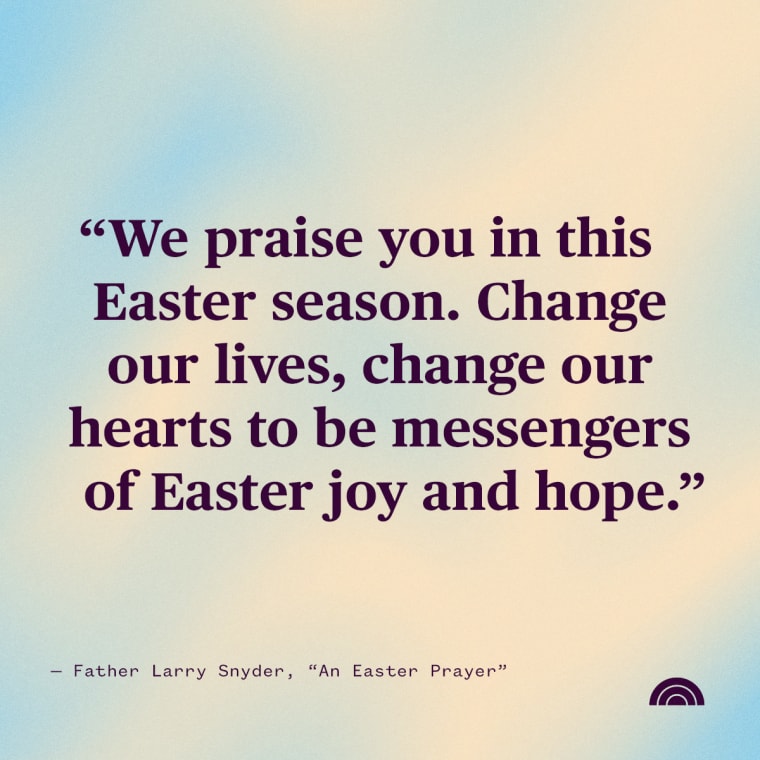 How blessed is this day, when earth and heaven are joined and humankind is reconciled to God!"

The Book of Common Prayer
Be present at our table, Lord, Be here and everywhere adored. Thy people bless, and grant that we may feast in paradise with thee."

John Wesley
Draw us forth, God of all creation. Draw us forward and away from limited certainty into the immense world of your love. Give us the capacity to even for a moment taste the richness of the feast you give us. Give us the peace to live with uncertainty, with questions, with doubts. Help us to experience the resurrection anew with open wonder and an increasing ability to see you in the people of Easter."

Traditional prayer
May the Risen Christ, our Lord and Savior, be our guest as we celebrate His resurrection with this Easter Sunday dinner. Bless those whose work to prepare this meal has truly been a work of prayer, and bless all of us who shall share it with Easter love and joy."

Edward Hays, "Prayers for the Domestic Church: A Handbook for Worship in the Home"
We praise you in this Easter season. Change our lives, change our hearts to be messengers of Easter joy and hope."

— Rev. Larry Snyder, White House Easter Prayer Breakfast, 2013
Create in me a clean heart, O God, And renew a steadfast spirit within me."

Psalm 51:10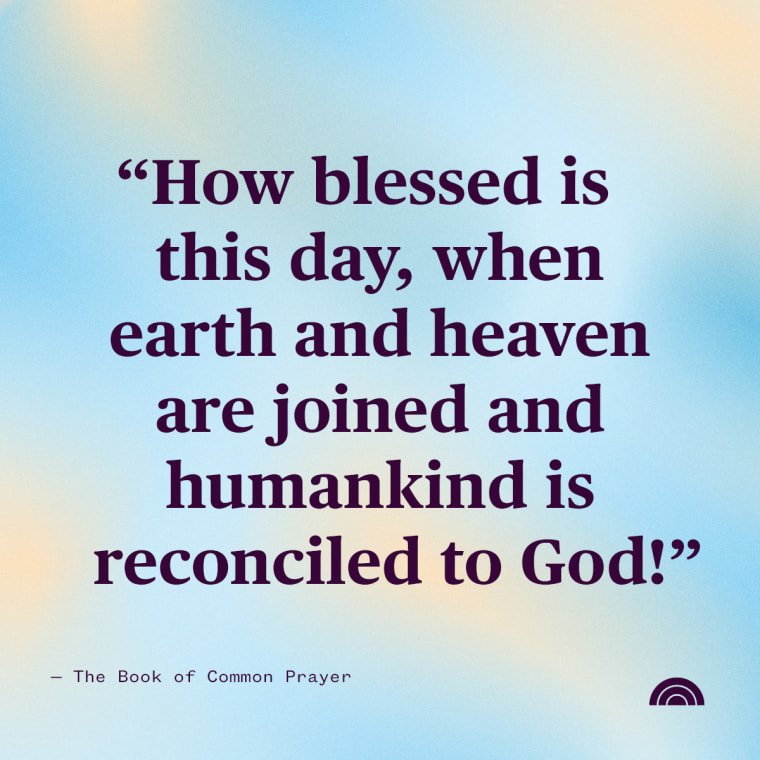 Lord, the resurrection of Your son has given us a new life and renewed hope. Help us to live as new people in pursuit of the Christian ideal."

"New Saint Joseph People's Prayer Book"
This morning, let us pray that we're worthy of His many blessings, that this Nation is worthy of His many blessings. Let us promise to keep in our hearts, in our souls, in our minds, on this day and on every day, the life and lessons of Christ, our Lord."

Barack Obama, Easter Prayer Breakfast, 2013
For flowers that bloom about our feet, For tender grass, so fresh, so sweet, For song of bird, and hum of bee, For all things fair we hear or see, Father in heaven, we thank Thee!"

Ralph Waldo Emerson, "For Flowers That Bloom"
Praise God from whom all blessings flow; Praise him, all creatures here below; Praise him above, ye heavenly host; Praise Father, Son and Holy Ghost."

The Book of Common Prayer
Bless us, Oh Lord, and these thy gifts, which we are about to receive from the bounty through Christ, Our Lord."

Traditional prayer
Let us gather in sanctuaries dedicated to worship and in homes blessed by family affection to express our gratitude for the glorious gifts of God."

John F. Kennedy, Proclamation 3560
So if the Son sets you free, you will be free indeed."

John 8:36