Ah, home sweet home.
A house is much more than a roof with four surrounding walls. It's about the life we live there and anyone we might share it with — including furry family members, too!
No matter the size or style of home you live in, what's most important is how you feel when you're there. Home is where you are free to be your most authentic self. It's where you can celebrate the good times and muddle through the bad times. It's where you enjoy the present and dream about the future. 
For some people, home might not even have a specific address. Instead, home is wherever they feel most comfortable and cherished. Like the Irish novelist Cecilia Ahern once said, "Home isn't a place, it's a feeling."
Whether you're at home reading this or simply thinking of the place where you feel the most loved and welcomed, these famous quotes about home are sure to warm your heart.
Short quotes about home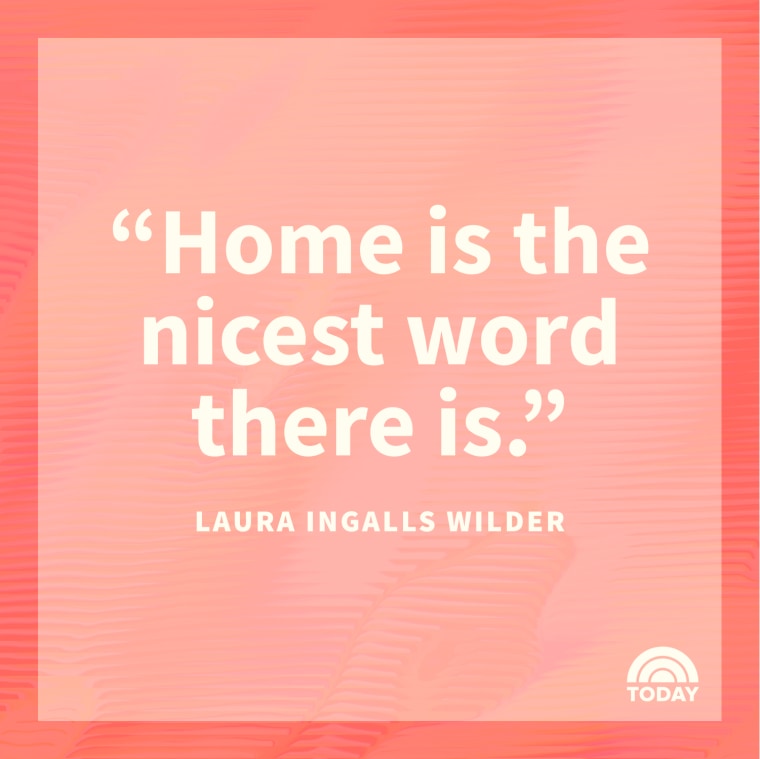 "Home is a shelter from storms — all sorts of storms." — William J. Bennett, former U.S. Secretary of Education
"No matter who you are or where you are, instinct tells you to go home." — Laura Marney, Scottish writer
"Peace, like charity, begins at home." — Franklin D. Roosevelt, former U.S. president
"Home is any four walls that enclose the right person." — Helen Rowland, American journalist
"The sun at home warms better than the sun elsewhere." — Albanian Proverb
"Home is the nicest word there is." — Laura Ingalls Wilder, American author
"There is no place more delightful than one's own fireside." — Marcus Tullius Cicero, Roman statesman and philosopher
"I would not change my blest estate for all the world calls good or great." — Isaac Watts, English minister and writer
"Every day is a journey, and the journey itself is home." — Matsuo Bashō, Japanese poet
"Home interprets heaven. Home is heaven for beginners." — Charles Henry Parkhurst, American clergyman
"Home is what you take with you, not what you leave behind." — N.K. Jemisin, American writer
"Home is where one starts from." — T.S. Eliot, English poet and dramatist
"If home is where the heart is, then may your home be blessed." — John McLeod, Scottish composer
"Seek home for rest, for home is best." — Thomas Tusser, English poet
"Peace — that was the other name for home." — Kathleen Norris, American poet and essayist
"The ache for home lives in all of us." — Maya Angelou, American memoirist, poet and civil rights activist
"Let your home be your mast and not your anchor." — Kahlil Gibran, Lebanese writer
"Love begins at home, and it is not how much we do… but how much love we put in that action." — Mother Teresa, saint and  founder of the Missionaries of Charity
"The home should be the treasure chest of living." — Le Corbusier, Swiss-French architect
"The longest road out is the shortest road home." — Irish Proverb
"There is nothing like staying at home for real comfort." — Jane Austen, English author
"Where thou art — that — is home." — Emily Dickinson, American poet
"If you go anywhere, even paradise, you will miss your home." — Malala Yousafzai, Pakistani education activist and Nobel Peace Prize laureate
"The home is the chief school of human virtues." — William Ellery Channing, American preacher and poet
Funny quotes about home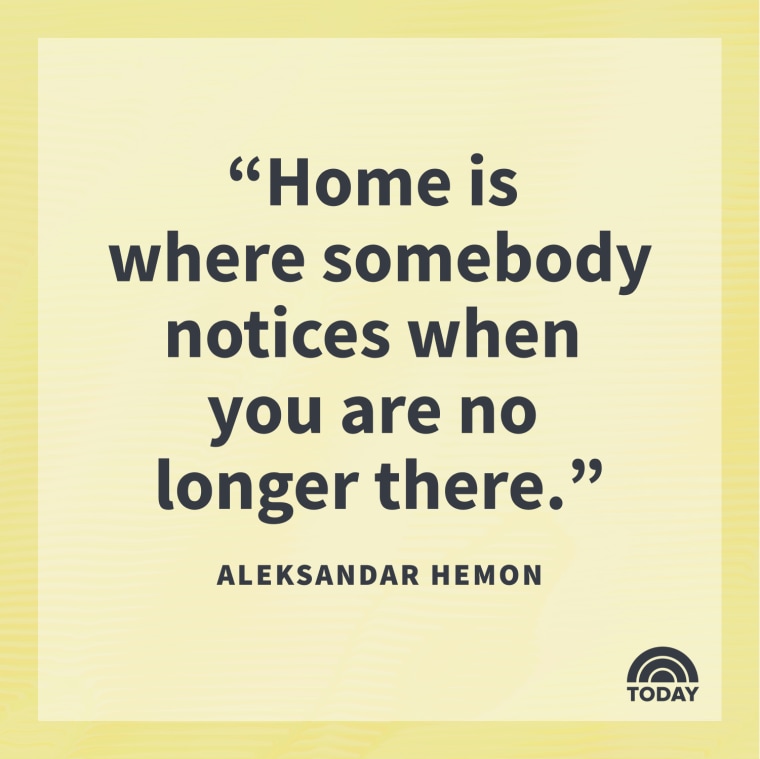 "Home wasn't built in a day." — Jane Sherwood Ace, American radio personality
"Home is where my habits have a habitat." — Fiona Apple, American singer-songwriter
"To be an ideal guest, stay at home." — E. W. Howe, American novelist and editor
"Home is where somebody notices when you are no longer there." — Aleksandar Hemon, Bosnian-American writer
"Maybe that's the best part of going away for a vacation — coming home again." — Madeleine L'Engle, American author
"Home is the place where, when you have to go there, they have to take you in." — Robert Frost, American poet
Sweet quotes about home and family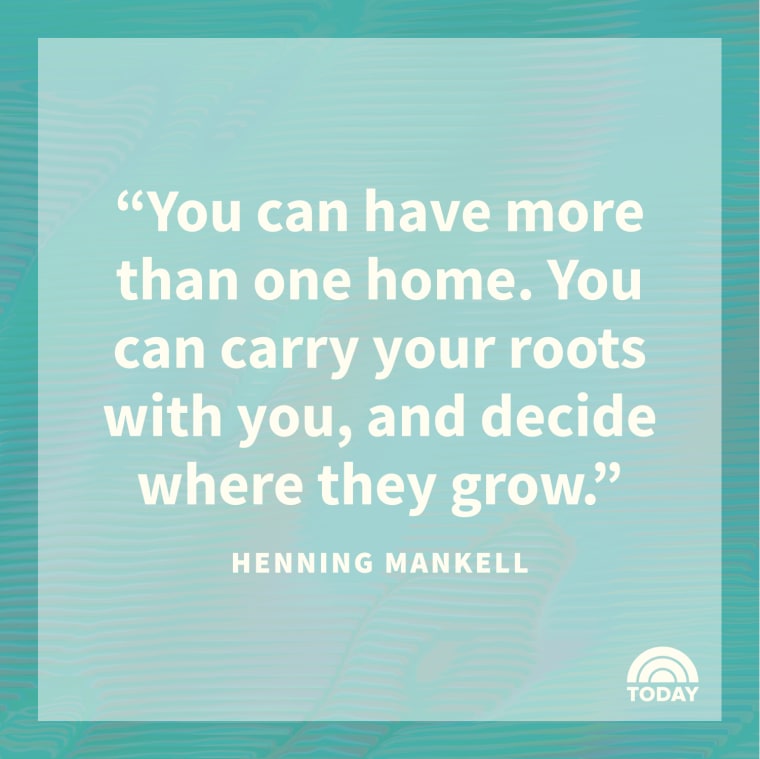 "Better to have a messy home and happy children than a perfect yard and unhappy children." — Catharina Ingelman-Sundberg, Swedish author
"Every happy home has a foundation of love and a framework of support." — Wes Fesler, American athlete and coach
"Good food and a warm kitchen are what makes a house a home." — Rachael Ray, American cook and TV personality
"Home is a name, a word, it is a strong one; stronger than any magician ever spoke, or spirit ever answered to, in the strongest conjuration." — Charles Dickens, English author
"Home isn't where you're from, it's where you find light when all grows dark." ― Pierce Brown, American author
"Home — the blessed word, which opens to the human heart the most perfect glimpse of heaven, and helps to carry it thither, as on an angel's wings." — Lyda M. Child, American abolitionist
"Homeward bound / I wish I was / Homeward bound / Home where my thought's escapin' / Home where my music's playin' / Home where my love lies waitin' / Silently for me" — Paul Simon, "Homeward Bound"
"A house is not a home unless it contains food and fire for the mind as well as the body." — Benjamin Franklin, Founding Father of the United States
"Mid pleasures and palaces though we may roam, Be it ever so humble, there's no place like home." — John Howard Payne, American actor and dramatist
"You can have more than one home. You can carry your roots with you, and decide where they grow." — Henning Mankell, Swedish writer
"Home, the spot of earth supremely blest, a dearer, sweeter spot than all the rest." — Robert Montgomery, American actor
"I long, as does every human being, to be at home wherever I find myself." — Maya Angelou
"One never reaches home, but wherever friendly paths intersect the whole world looks like home for a time." — Hermann Hesse, German-Swiss writer
"Strength of character may be learned at work, but beauty of character is learned at home." —  Henry Drummond, Scottish writer
"You can never go home again, but the truth is you can never leave home, so it's all right." — Maya Angelou
"He is happiest, be he king or peasant, who finds peace in his home." — Johann Wolfgang von Goethe, German poet and playwright
"There are a thousand ways to kneel and kiss the ground; there are a thousand ways to go home again." — Rumi, Persian poet
"A man travels the world over in search of what he needs and returns home to find it." — George Moore, Irish writer
"Where we love is home, home that our feet may leave, but not our hearts." — Oliver Wendell Holmes Sr., American physician and poet
"The power of finding beauty in the humblest things makes home happy and life lovely." — Louisa May Alcott, American author
More ways to spell out what's in your heart